Four in ten NHS nurses unable to sleep because of financial anxiety, survey finds
Staff organisations are lining up to ensure the Treasury makes firm commitments to fund pay rises in next weeks Budget
Alex Matthews-King
Health Correspondent
Wednesday 15 November 2017 02:15 Comments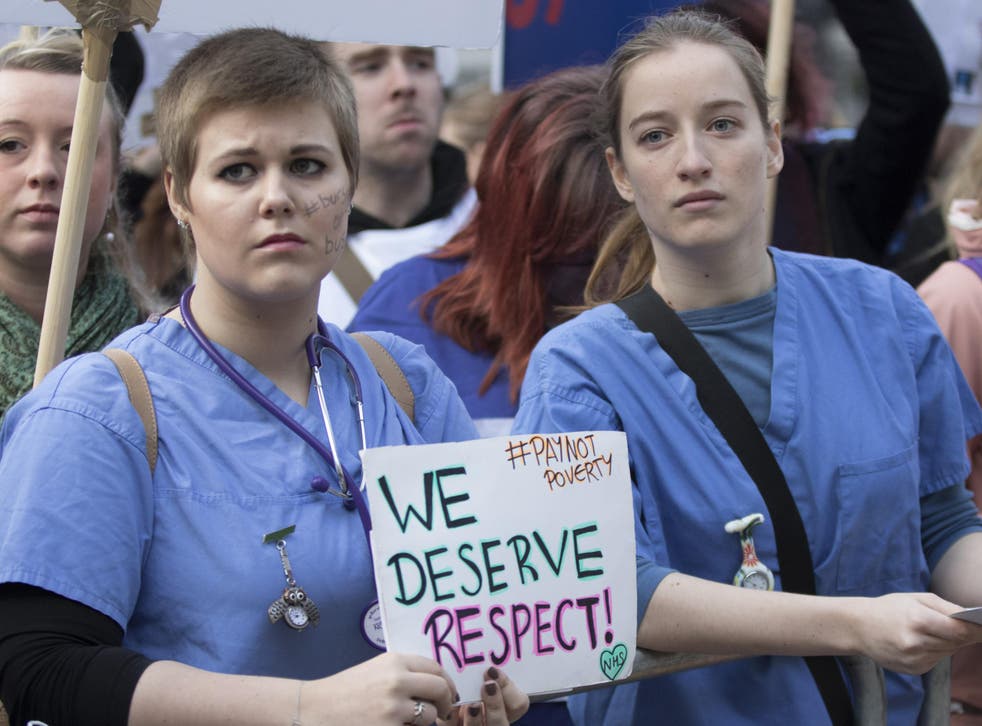 Financial pressures from years of Government pay restraint are keeping nurses up at night, as four in ten (41 per cent) said they "lose sleep because of money worries", a survey by the Royal College of Nursing has found.
Results from the RCN's 2017 Employment Survey released on Wednesday will keep the pressure on the Treasury in advance of next week's Budget to allocate funding to the NHS for staff pay.
The average nurse has seen a 14 per cent real terms pay cut since 2010, and earns £2,500 a year less than if wages had kept up with inflation, according to some estimates.
And while the Government says it has "scrapped" its 1 per cent cap on public sector pay rises, Health Secretary Jeremy Hunt has said pay rises will come for the sectors making "productivity" gains.
The findings show how years of austerity policies have left nurses disillusioned and overworked. Of 7,720 responses received from a representative sample of RCN members:
Three out of every four nurses (70 per cent) said they were financially worse off than they were five years ago, and just 6 per cent thought their position had improved;
One quarter (23 per cent) said they have taken on another job, such as working for a nursing agency or picking up extra shifts as NHS "bank staff" to boost their income;
In all, just 41 per cent of nurses would recommend their career to others, the lowest level for a decade.
The Nursing and Midwifery Council, which registers NHS nurses to practise in the UK, reported earlier this month that total numbers of registered nurses were at a four year low.
And while significant numbers of EU nurses were leaving the UK, or opting not to come in the first place, since the Brexit vote, there were also large numbers of UK nurses leaving as well.
Health news in pictures

Show all 40
This is also shown in the RCN survey with 37 per cent are looking for a new job, up from 24 per cent in 2007.
The RCN's chief executive and General Secretary Janet Davies said NHS efficiencies had only been possible because of the limits on staff wages.
"The shocking findings we're highlighting today demonstrate just how severe the financial pressure on nursing staff has now become," she said.
"The Chancellor must therefore give a clear signal in the Budget next week that the Government will award an above-inflation pay rise to hard-pressed nursing staff in the NHS."
Her appeal was echoed by the Royal College of Physicians, which represents 34,000 doctors, and has today written to the Chancellor Philip Hammond asking for resources to end the "relentless draw" on staff goodwill.
The letter says: "The system is reaching breaking point, staff are demoralised and the NHS workforce's priceless goodwill is being relentlessly and unsustainably drawn upon. "
"As we approach the 70th anniversary of the NHS – one of our nation's proudest achievements – we urge you to give health and social care the resources that they desperately need."
Labour's Shadow Health Secretary, Jonathan Ashworth MP, said the Government had given "warm words" and failing to deliver would be a betrayal.
"It's shameful in this day and age that nurses struggle to make ends meet and are pushed out of the careers they love because they can't pay their bills at the end of the month," Mr Ashworth said.
"In the Budget ministers must fully fund ending the public sector pay cap. Anything less would be a betrayal of hardworking nurses who care for all of us."
The effects of the pay cap being scrapped will not be felt until mid-2018, at the earliest, as NHS pay review bodies are not due to give their recommendations for ministers consideration until Spring.
A Department of Health spokesperson said: "Public sector workers, including NHS staff, do a fantastic job and the Government is committed to ensuring they can continue to deliver world-class public services.
"We have already confirmed that the across-the-board 1% public sector pay policy will no longer apply to pay awards for 2018-19."
"Public sector pay packages will continue to recognise workers' vital contributions, while also being affordable and fair to taxpayers as a whole."
Register for free to continue reading
Registration is a free and easy way to support our truly independent journalism
By registering, you will also enjoy limited access to Premium articles, exclusive newsletters, commenting, and virtual events with our leading journalists
Already have an account? sign in
Join our new commenting forum
Join thought-provoking conversations, follow other Independent readers and see their replies