Nurses vote on strike action after NHS pay cuts leave staff 'struggling to make ends meet'
Health service staff have received a one per cent pay rise but inflation is at 2.3 per cent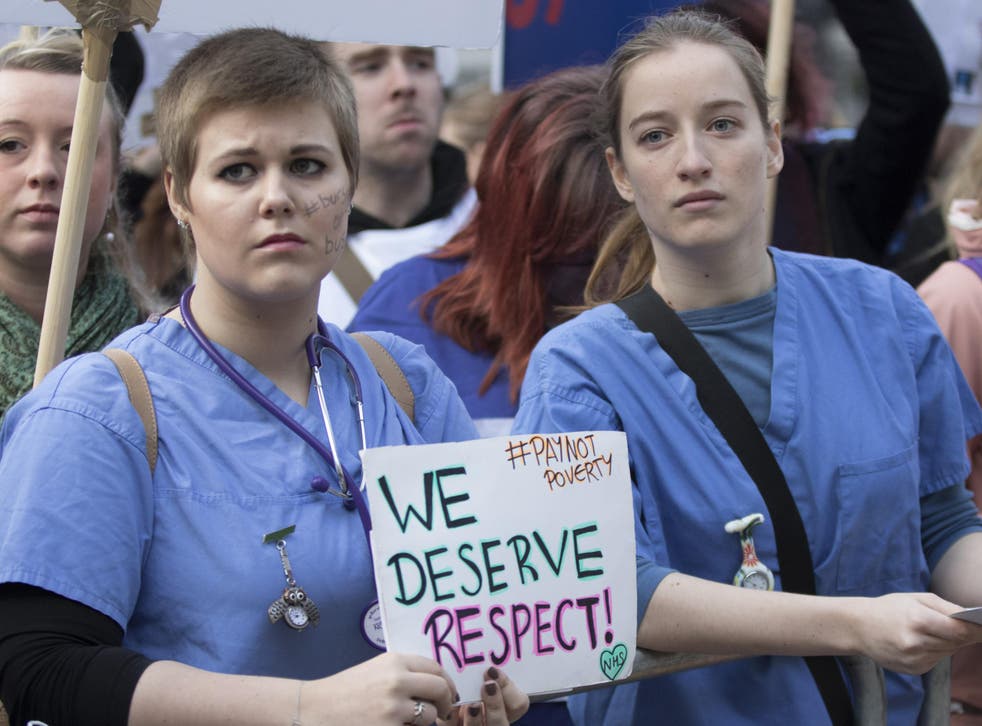 Nurses are considering a strike over low pay that is damaging patient care as it "drives people away from the profession", the largest nursing union has said.
The Royal College of Nursing (RCN) has asked its 270,000 members across the UK whether they want to take industrial action in protest at continuing cuts to their pay.
The union, which has never called a strike before, will decide whether to issue a formal ballot after the poll closes on 7 May.
Janet Davies, general secretary of the RCN, said patients would suffer because a public sector pay rise caps were fuelling a "recruitment and retention crisis" in the profession.
"If the Government expects to fill the soaring number of vacant jobs, it must value nursing staff more than it has in recent years. The false economy is driving people away from the profession," she said.
"Years of real-terms pay cuts have left too many struggling to make ends meet. Nurses should not have to fund the NHS deficit from their own pay packets."
Philip Hammond claims the Tories are 'the party of the NHS' during Budget 2017
NHS staff received a one per cent pay rise on 1 April – but this amounts to a pay cut in real terms, as inflation is at 2.3 per cent.
The RCN said that, since 2010, the Government has inflicted a 14 per cent real-terms cut on nursing pay. A formal pay cap of 1 per cent was introduced in 2015 after year-on-year pay freezes in the previous parliament.
Christina McAnea, NHS spokesperson for Union, said the latest decision added a "derisory" amount to pay "in the face of soaring fuel bills, rising food prices and increasing transport costs."
"This deal amounts to less than five pounds a week for most midwives, nurses, cleaners, paramedics, radiographers and other healthcare staff," she said.
The RCN says low levels of pay are responsible in part for tens of thousands of unfilled nursing posts.
Last year data obtained by the BBC showed there were more than 23,000 nursing vacancies across England, Wales and Northern Ireland – equivalent to nine per cent of the workforce.
The nurses will also be asked if they are willing to take other forms of industrial action, such as only working their contracted hours.
Great Ormond Street Hospital's history

Show all 10
The Department of Health said it had accepted independent recommendations about this year's changes to pay and praised the "dedication and sheer hard work of our nurses".
"Ensuring pay is affordable helps protect jobs – there are an extra 12,100 nurses on our wards since 2010 – which means frontline NHS services are protected at a time of rising demand," said a Department spokesperson.
At the time the pay changes were announced, Ms Davies said: "This deals a bitter blow to nursing staff across England. The nursing profession is rightly held in high regard but kind words don't pay the bills."
Join our new commenting forum
Join thought-provoking conversations, follow other Independent readers and see their replies