One in three women with female health conditions forced to wait three years for diagnosis
Exclusive: 'The women I see have been waiting for a long time. They are clearly suffering physically and mentally. It is impacting their work life, their family life,' consultant in obstetrics and gynaecology says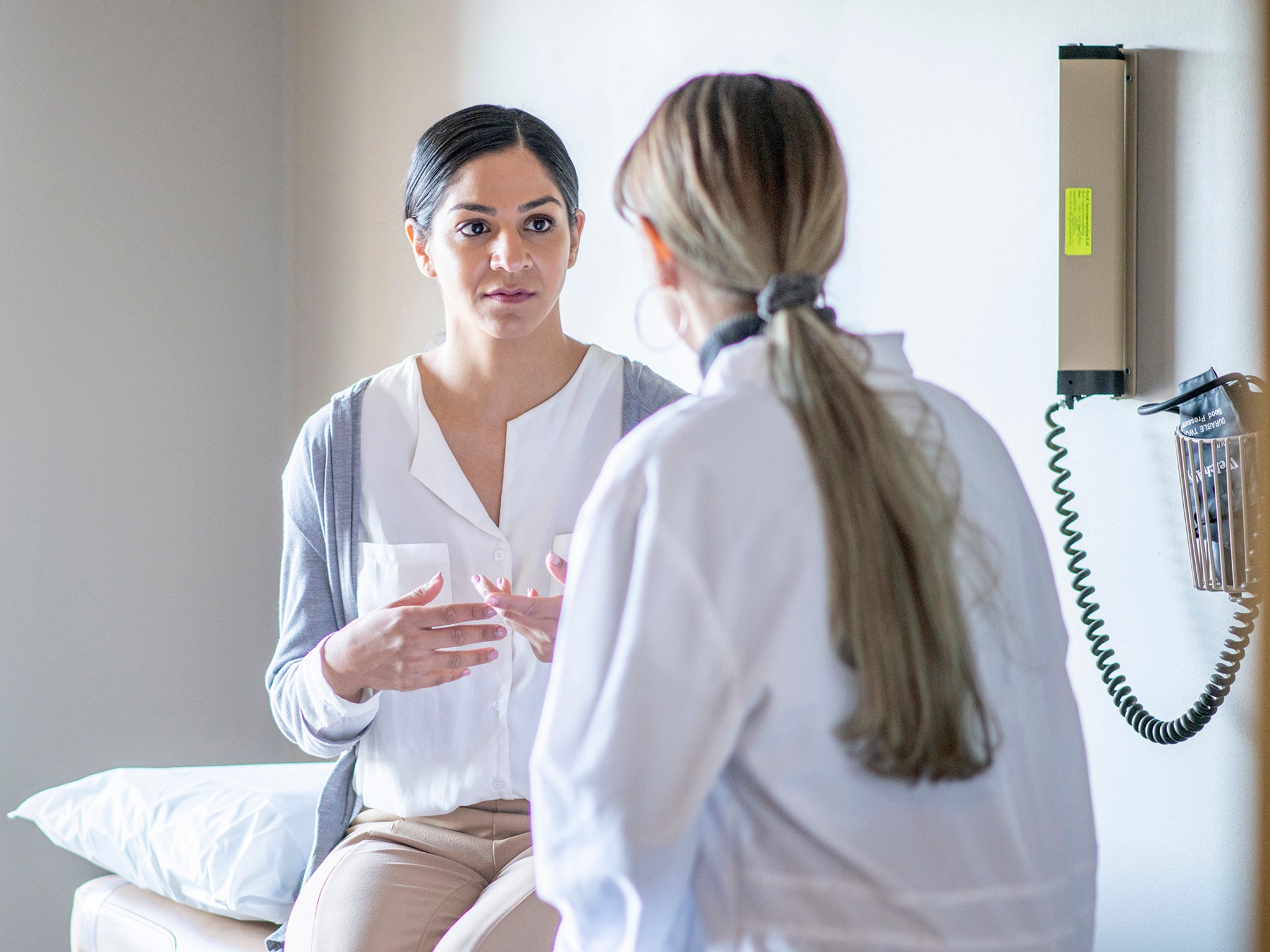 A third of those with a women's health condition have been made to wait three years or longer for a diagnosis, damning new research has revealed.
The same study found half of those women took a year or more to be given their diagnosis.
Gynaecologists told The Independent delays are harming women's mental health and placing their physical health at risk.
The report, shared exclusively with The Independent, found around one in ten women polled who sought medical help for women's health conditions are still awaiting a diagnosis.
Researchers from King Edward VII's Hospital, an independent charitable hospital, polled just over 1,000 women. They estimated almost three million women in the UK are grappling with symptoms of undiagnosed women's health conditions - with almost a third yet to be given a formal diagnosis and a quarter having not started seeking medical help.
The study found nearly one in four women enduring symptoms say the health issues have harmed their mental health, while almost half of women sought to ease their symptoms by undertaking lifestyle changes. This included diet and exercise, as well as curbing time spent working and socialising or forking out for alternative forms of therapy.
Women's health conditions included in the study ranged from endometriosis to heavy menstrual bleeding, fibroids, urinary incontinence, polycystic ovaries, overactive thyroid, underactive thyroid, ovarian cysts, menopause, fertility issues, sexual function problems, ovarian cancer, vaginal cancer, uterine cancer, vulvar cancer and cervical cancer.
Srdjan Saso, a consultant gynaecologist and surgeon who works with King Edward VII's Hospital, told The Independent: "A delayed diagnosis can mean a severe impact on quality of life both professionally and personally.
"It can have a significant impact on a woman's day-to-day life and hence needs to be addressed properly and seriously. From a more sinister perspective, in certain cases, it can be cancer and we are picking it up late."
Dr Saso, who works at Queen Charlotte's and Chelsea Hospital in London, warned the lengthy waiting times have been triggered by a range of issues spanning from the pandemic to wider economic issues.
"There are also complex historic and social reasons why women's health has been overlooked," he said. "It is something as a society we need to tackle head-on. We have come a long way but we are still not there."
Leah Deutsch, a consultant in obstetrics and gynaecology, told The Independent the findings were troubling as she explained they are attempting to catch up with backlogs at her hospital and are running additional clinics to handle this.
She added: "The women I see have been waiting for a long time. They are clearly suffering physically and mentally. It is impacting their work life, their family life and their all-round well-being.
"I have seen people who have been waiting for somewhere between six to 12 months - that is from a GP referral to seeing me. There is an element of desperation in the hope to resolve their problems."
Dr Deutsch said gynaecological delays are "massively pandemic related" as well as being linked to the "shrinking" NHS workforce due to staff "burnout" and increased demand for services.
"People are educating themselves and seeking help whereas before they may have been suffering in silence," Dr Deutsh said. "Clinics for gynaecology and elective procedures were cancelled at the beginning of the pandemic."
She noted messages centred around not overburdening the NHS during the pandemic potentially made some people less inclined to seek help as she noted the Covid crisis also made some people anxious about recieving healthcare in person.
"Women's health in general is an area that is deprioritised," Dr Deutsch said. "Women who suffer menstrual pain and heavy menstrual bleeding can often feel there is an attitude among the public and healthcare professionals that it is normal. There is a lack of regard for how severe and disabling these conditions can be."
Her comments come after research by the Royal College of Obstetricians and Gynaecologists last year showed gynaecology waiting lists have endured the largest increase of all medical areas.
A spokesperson for NHS England said they are "making significant progress in addressing the Covid backlogs that have inevitably built up including by virtually eliminating two year waits for care".
The representative added: "And so with staff also referring record numbers of patients for tests and checks, our message to women is clear if you are worried about your health please contact your GP, the NHS is here for you – it could be nothing but a simple check could save your life."
Join our commenting forum
Join thought-provoking conversations, follow other Independent readers and see their replies