The Independent's journalism is supported by our readers. When you purchase through links on our site, we may earn commission.
Arsenal football players donate wages to the cause of ending youth homelessness
Arsenal's first team squad and manager Arsene Wenger are giving part of their earnings from Saturday's Stoke City match towards The Independent's Young and Homeless Helpline fundraising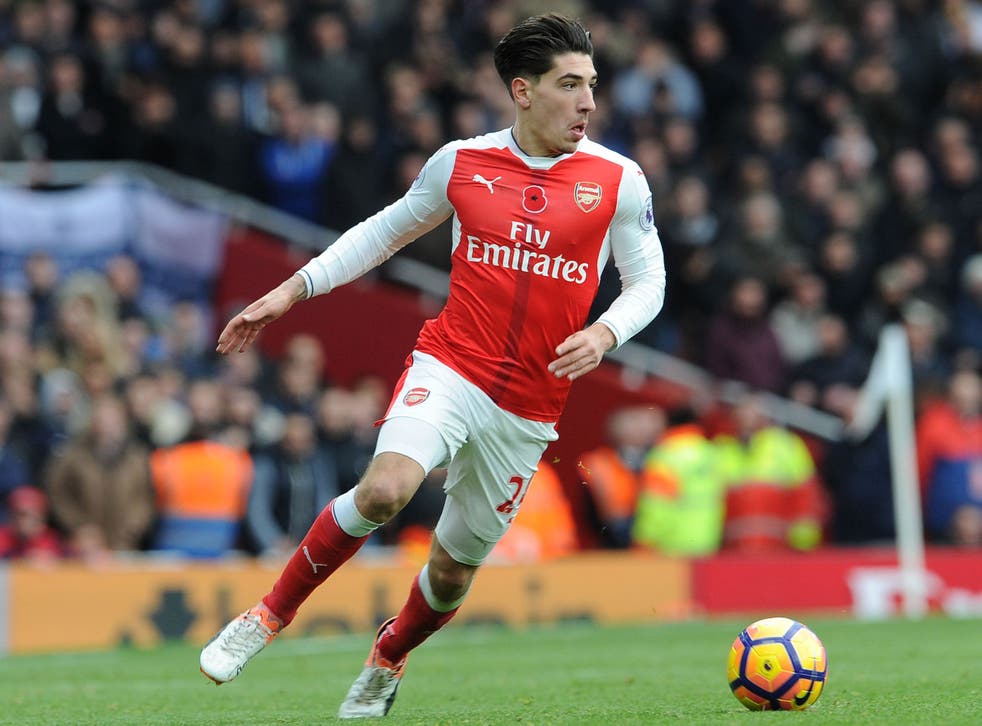 Arsenal stars are donating a day's wages to launch a football project helping young homeless people as part of The Independent's Christmas appeal.
The first team squad and manager Arsène Wenger are giving part of their earnings from Saturday's home match against Stoke City towards our Young and Homeless Helpline fundraising.
The £40,000 donation will fund the launch of a programme run by homeless charity Centrepoint and the Gunners to empower young people through football and help them into work.
The three-year, £120,000 scheme will be among the biggest homelessness and football academy projects in the country.
The club's players gave their support to the programme during a visit on Thursday to Centrepoint's service centre in Soho, central London.
Spanish international right back Héctor Bellerin said: "Using the Arsenal name and using football as a platform to give young people opportunities is at the heart of The Arsenal Foundation's philosophy.
"It's great that we can work together with Centrepoint to inspire even more young people in 2017."
England winger Alex Oxlade-Chamberlain said: "Our projects with young people in the community are not just about football. Football is often used as a tool to develop life skills and build self-confidence.
"Projects supported by The Arsenal Foundation motivate young people because they know the team is behind them. Donating a day's wages is more than just the money to fund a project; it's about them knowing we support them too."
The eight-week footballing programme, launching in early 2017 and based at The Arsenal Hub by the Emirates Stadium in north London, will look to help more than 200 16- to 25-year-olds each year.
Graduates could return as football coaches and mentors on the course, which teaches life skills. It will link into other employability programmes run by Centrepoint and Arsenal.
Centrepoint is the leading UK charity for homeless sport, running England's national street football body, the Street Football Association.
Gareth Parker, the head of Centrepoint Sport, said: "We are using the power of football to engage, motivate and allow us to empower the participants of the course who are in real difficulty in their lives to positively change their situation and change entrenched negative behaviours.
The causes of homelessness

Show all 7
"Through football workshops, we will teach vital skills like resilience, trust, teamwork, relationship building, and communication.
"Working with a football club like Arsenal allows us to harness the power of their badge to truly inspire young people. Football can be not just the engagement tool but the vehicle for change."
The donation to set up the academy is among a number of projects being funded by the club's annual charity matchday where the first team squad and players donate a day's wages.
The club has an ongoing relationship with Centrepoint. In 2011, it raised more than £500,000 to refurbish the charity's health and wellbeing centre for young people in Soho.
Our Christmas appeal is funding a helpline run by Centrepoint to give advice and support to young people living on the streets or on the cusp of homelessness.
Other donors include Selfridges, which is adding an opt-in £1 to every bill in all nine Selfridges restaurants this month, already raising more than £20,000 for the helpline.
Temple Spa has raised £50,000 through donations from sales and staff.
The beauty brand is giving 10 per cent of the cost of orders at templespa.com using promotional code TREAT16 to the helpline, along with a 10 per cent discount.
Teams from both companies also slept rough to raise money in the charity's Sleep Out last month.
How to donate to The Independent's Christmas Appeal
The Independent's Homeless Helpline appeal is raising money for the Centrepoint Helpline, a brand new support service that will save young people from ending up on the streets.
To donate you can:
Call
0300 330 2731
Text
HOME66 £5 to 70070
Post
Freepost RTKC-JRGU-ZYGT
Centrepoint
40-42 Phoenix Court
Hawkins Road
Colchester
CO2 8JY
Join our new commenting forum
Join thought-provoking conversations, follow other Independent readers and see their replies