Zero-hours contracts 'trapping young people in homelessness', charity warns
Centrepoint says the controversial contracts make it harder for young people to escape homelessness and contribute to them being saddled with rent arrears that lead to eviction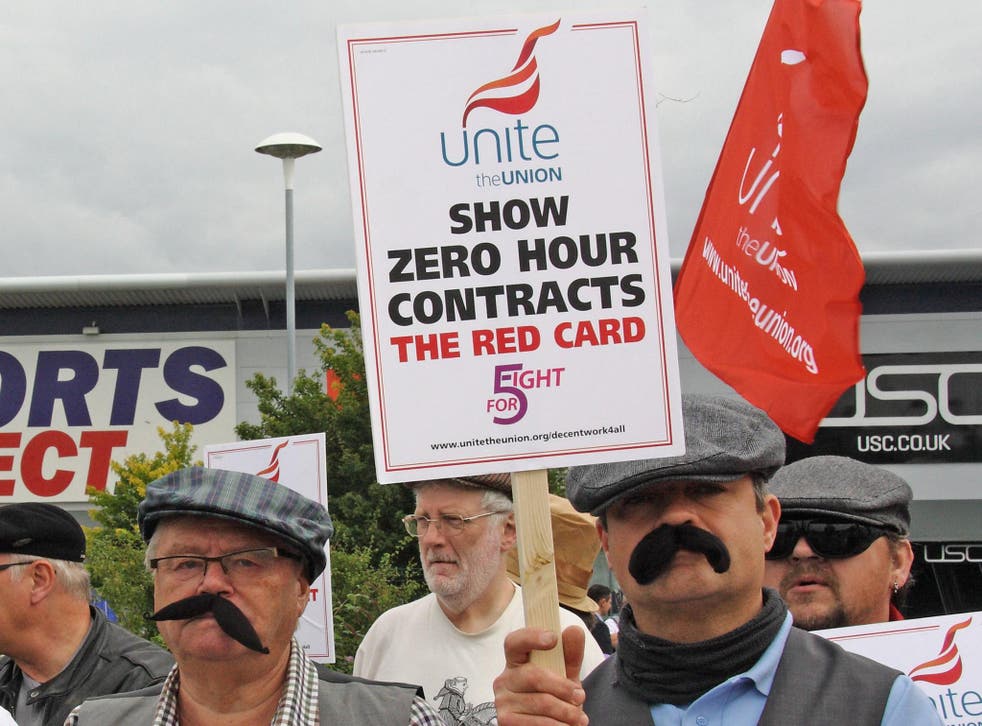 Zero-hours contracts are trapping young people in homelessness, a leading charity has warned.
Centrepoint has told The Independent that the controversial but increasingly common contracts are making it harder for 16 to 25-year-olds to escape homelessness and more likely for them to be saddled with rent arrears leading them being evicted.
The result, said Jennifer Barnes, head of policy and research at the youth homelessness charity, was young people trying to get back on their feet after having been homeless were effectively being penalised for "doing the right thing" and getting a job.
"They have done what they are supposed to do, and it's not delivering for them," said Ms Barnes. "We hear of people moving on from our services getting into trouble.
"They are desperate to get experience to improve their long-term prospects. They are being pushed by the Job Centre to take these zero-hours contracts. But if all they can access is a zero-hours contract, it will definitely be harder for them to escape homelessness in the long-term.
"These are young people who have already been through a lot. It's not the reward they deserve for doing the right thing."
Her warning was issued at a time when thousands of young people are likely to be working on zero-hours contracts in retail and cafes while shoppers enjoy the January sales.
Zero-hours contracts were banned in New Zealand in March, but are becoming increasingly common in Britain. The Office for National Statistics revealed in September that almost a million people are now on them in the UK – a record number and a rise of a fifth on the previous year.
The contracts provide no guaranteed minimum number of weekly hours of work or pay. Instead bosses can choose whether to call in staff or tell them to stay at home without getting any money.
Supporters say they help ensure the survival of businesses that have constantly fluctuating levels of demand, while offering people like students or parents with young children the flexibility they need to hold down a job.
Critics, however, say employers can exploit zero-hours contracts to get rid of anyone complaining about working conditions, while avoiding payments like pension contributions or sick pay.
The contracts came under particular scrutiny last summer when MPs compared conditions at the retailer Sports Direct's warehouse in Shirebrook, Derbyshire, to those of "a Victorian workhouse".
The criticism by the Business, Innovation and Skills Committee prompted Sports Direct's founder Mike Ashley, the owner of Newcastle United football club, to offer guaranteed hours to casual staff.
Mike Ashley reveals Sports Direct cleaning lady got £80,000 bonus
David Cameron, however, refused renewed calls to ban zero-hours contracts, insisting "for some people they want to have the choice of those contracts".
Ms Barnes said that for young people on zero-hours contracts trying to escape homelessness – to move off the streets or from temporary accommodation, hostels and sofa surfing – the first problem was getting a landlord willing to accept them as a tenant in rented accommodation.
With the current affordable housing shortage, she said, landlords could pick and choose tenants, and many viewed zero-hours workers as worse than jobless benefits claimants.
"Because people on zero-hours contracts haven't got a stable income, it makes them a risky tenant.
"But if someone is just on housing benefit they can say, 'here's how much I am getting, here's how much I am owed.' In some cases, the money can be paid directly to the landlord.
"They are in a much more stable position than someone doing their best and working on a zero-hours contract."
The causes of homelessness

Show all 7
Ms Barnes' analysis – which comes as Centrepoint campaigns with The Independent to raise funds for the first nationwide Young and Homeless Helpline to assist 16 to 25-year-olds facing homelessness – was echoed by landlords themselves.
Even some of the most sympathetic admitted reluctance to accept zero-hours tenants. On one internet forum, landlords who admitted to being "torn" about possibly refusing "hard-working" potential tenants on the contracts were told: "Avoid like the plague!"
On another – on the website landlordreferencing.co.uk – one landlord wrote: "These zero-hours contracts are a disgrace and should be banned."
But he admitted: "Surely a zero-hours tenant is worse than a tenant on benefit? The landlord is stuffed if the tenant says. 'Sorry, can't pay full rent this month as I haven't worked enough hours.' A housing benefit tenant looks a positive advantage."
"This is clearly so unfair," he added, "But what is a landlord do do!?"
Ms Barnes said that even after securing a tenancy, paying the rent could become "an administrative nightmare" if a young person was using housing benefit to top up a low zero-hours income.
She said that if their monthly hours and income were always fluctuating, they would constantly need to get the amount they received in housing benefit reassessed.
But, Ms Barnes said, while housing benefit was being reassessed, it was suspended, resulting in delays in the young person getting the money they needed.
There were, she said, similar delays involved Universal Credit, now being rolled out across the country, which is assessed and paid on a monthly basis.
"Private landlords will lose patience with this very fast," said Ms Barnes. "It definitely makes these young people more likely to become homeless again because they would potentially be the people evicted for rent arrears."
Ms Barnes added that similar problems were uncovered by researchers at King's College, London, who analysed people's lives five years after leaving homelessness.
Their 2016 study, Rebuilding Lives, found the ex-homeless on casual or zero-hours contracts received a lower median (average) income than even the unemployed.
They also had the highest average debts – £1,500 compared to £400 for the jobless.
Ms Barnes said: "People who were continually unemployed didn't have much money, but were ticking over.
"The people in casual work and on zero-hours contracts were the ones in real trouble. They were the ones facing eviction."
Register for free to continue reading
Registration is a free and easy way to support our truly independent journalism
By registering, you will also enjoy limited access to Premium articles, exclusive newsletters, commenting, and virtual events with our leading journalists
Already have an account? sign in
Register for free to continue reading
Registration is a free and easy way to support our truly independent journalism
By registering, you will also enjoy limited access to Premium articles, exclusive newsletters, commenting, and virtual events with our leading journalists
Already have an account? sign in
Join our new commenting forum
Join thought-provoking conversations, follow other Independent readers and see their replies