Claribel Alegria: Central American poet who gave voice to struggles in Nicaragua and El Salvador
Before she was a year old her family had to flee Nicaragua for El Salvador having fallen foul of the Americans stationed there – politics became the very lifeblood of her poetry and prose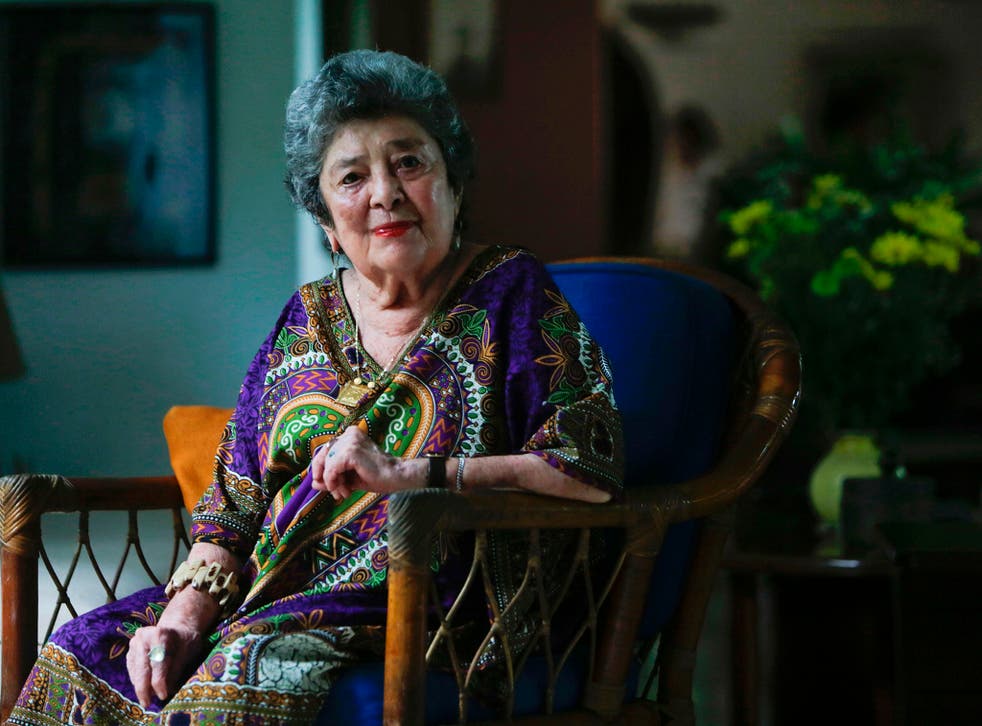 "In Latin America a writer can't live in an ivory tower," Claribel Alegria said. "Reality marks you. You can't shut yourself away."
Alegria, who has died aged 93, published poems, novels, essays and journalism, and was one of Central America's most celebrated writers.
She was born in Esteli, Nicaragua, to Daniel Alegria, a Nicaraguan, and Ana Maria Vides, a Salvadorean, in the 1920s – they belonged to a family of coffee-growers.
Daniel was a doctor and political firebrand whose opposition to his country's puppet government nearly got him killed by US marines before his daughter had turned one – after that incident the family fled to El Salvador.
In more than 40 books of poetry, fiction and historical "testimony", Alegria blended verse with prose that chronicled her own personal tragedies as well as the political violence that plagued her home countries of Nicaragua and El Salvador for decades.
From her parents she inherited a legacy of defiance, becoming a leading poet of suffering and anguish – a walking "cemetery", as she sometimes described herself, a conduit for voices of people killed by Salvadoran death squads in the 1980s and by the crossfire of Nicaragua's long-running civil war.
Alegria received early support from Jose Vasconcelos, a prominent Mexican intellectual who helped her make the move to the US – he also suggest she change her name from Clara Isabel to Claribel.
Juan Ramon Jimenez, a Nobel prize-winning Spanish poet, became a teacher and mentor to her.
Many critics labelled her a part of Latin America's left-leaning "committed generation" of reform-minded poets and novelists.
Alegria had witnessed a massacre aged seven, when hundreds of peasants were executed by the military in western El Salvador after a failed uprising. She went into a self-imposed exile from the country in 1980, after giving a book reading at the Sorbonne in which she condemned the assassination of Salvadoran Archbishop Oscar Romero by an unknown gunman.
When her elderly mother died in El Salvador several years later, her brothers called to tell her to stay away. "Don't come," they said, "because there will be two funerals instead of one." Alegria avoided the country until 1992, when its civil war came to a close.
With her husband, journalist and onetime US Foreign Service officer Darwin Flakoll, she collaborated on several novels and historical works about Nicaragua's Sandinista National Liberation Front, the left-wing party that seized power in 1979 under Daniel Ortega.
Alegria supported the group, giving readings and lectures in the US to counter the Reagan administration's support of the Contra rebels, but largely avoided partisan politics to focus on writing that addressed the daily lives of ordinary Nicaraguans.
"She tried to speak on behalf of those who were suffering and didn't get too involved in the polemics of the time," said Carolyn Forche, an American poet whose translations of Alegria's writing include the 1982 poetry collection Flowers From the Volcano, her first book in English. "She had a wonderful lyric cadence, very imagistic, incantatory," Forche said. "It was almost like a chant."
Recalling the process of translating the autobiographical novel Luisa in Realityland (1987), Forche wrote: "In matters regarding torture, disappearance, imprisonment and the struggle for social justice, dictionaries and grammars were of little help. I found it difficult to distinguish the literal from the metaphorical: were a prisoner's fingers actually cut off, or did the poet mean to suggest that the imprisoned musician no longer felt moved to play his guitar? The answer was yes, the musician's hands had, in fact, been mutilated."
Alegria attended a progressive school founded by her uncle in Santa Ana, El Salvador, and recalled keeping her young love of writing secret. "It was still not socially acceptable for a woman to write," she said in 1991. "Boys wouldn't come near you. They thought you were either a pedant or completely mad."
She said she committed herself to poetry at 14, when she read Letters to a Young Poet by German-language poet Rainer Maria Rilke. The book – a collection of letters sent to an aspiring poet, a young man who is unsure how or whether he should commit himself to the craft – presaged a pivotal letter Alegria sent to Jimenez, who was then living in Washington.
The future Nobel laureate encouraged her to move from Louisiana, where she had completed finishing school, to Washington, where he tutored her three afternoons a week and eventually selected the poems that appeared in her first book, Ring of Silence, in 1948.
​Alegria graduated from George Washington University that same year and lived abroad – including stints in Mexico, Chile, Uruguay, Paris and the Spanish island of Majorca – before returning to Nicaragua after the Sandinistas overthrew the US-backed regime of Anastasio Somoza Debayle in 1979.
Flakoll, her husband of 47 years, died in 1995. Alegria said that spurred her to produce some of her finest work, including the bilingual poetry collection Saudade/Sorrow (1999). Addressing her husband's death in one poem, she wrote:
I don't know what seas
rivers
or secret passages
you have to cross
but I'm waiting for you today
at sunset
so we may listen together
to a Bach fugue.
Death, she said, was an increasingly central theme in her work. "Since I was very young the two main themes in my writing have been love and death," said. "When I was young, however, death was distant. Now death is near, especially since [Flakoll] passed away. Now death is my friend. I speak to her."
Claribel Alegria, born 12 May 1924, died 25 January 2018
Register for free to continue reading
Registration is a free and easy way to support our truly independent journalism
By registering, you will also enjoy limited access to Premium articles, exclusive newsletters, commenting, and virtual events with our leading journalists
Already have an account? sign in
Register for free to continue reading
Registration is a free and easy way to support our truly independent journalism
By registering, you will also enjoy limited access to Premium articles, exclusive newsletters, commenting, and virtual events with our leading journalists
Already have an account? sign in
Join our new commenting forum
Join thought-provoking conversations, follow other Independent readers and see their replies