Peter Alliss: The voice of BBC golf coverage for half a century
As a player, he won three PGA championships and was a member of the British Ryder Cup team eight times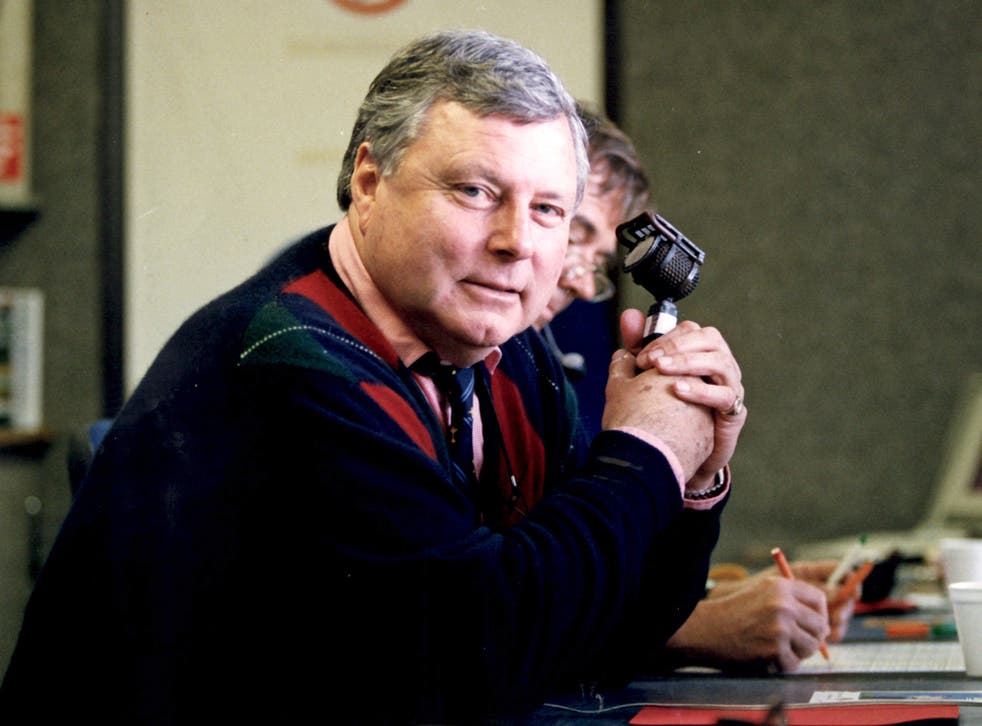 Peter Alliss, who has died aged 89, was a professional golfer who switched from birdies and bogeys to microphones and musings to become a commentator synonymous with BBC television coverage of the sport for more than 50 years.
He described the ups and downs of golfing greats such as Tony Jacklin, Gary Player, Jack Nicklaus, Greg Norman, Seve Ballesteros, Nick Faldo, Tiger Woods and Rory McIlroy with humour and colourful observations.
"It's like turning up to hear Pavarotti sing and finding out he has laryngitis," Alliss said of Woods's disappointing third-round score of 81 at Muirfield in the 2002 Open Championship.
When, three years earlier, French golfer Jean van de Velde was out in the lead at Carnoustie for the Open and waded into a river, minus shoes and socks, to play a shot before abandoning it, Alliss intoned: "What on earth are you doing? He's gone gaga. To attempt to hit the ball out of there is pure madness."
The commentator's longevity earned him the title the Voice of Golf, but his male-orientated views from a bygone era did not endear him to all.
At St Andrews in 2015, when American golfer Zach Johnson's wife was caught on camera as her husband headed for victory in the Open, Alliss ventured: "She is probably thinking, 'If this goes in, I get a new kitchen.'"
The BBC apologised, but Alliss made clear that he saw no problem with his remark.
Another accusation of sexism followed a year later when he publicly supported a decision by the Honourable Company of Edinburgh Golfers, owner of the Muirfield venue, to continue excluding women from membership. A ballot of members narrowly failed to get the two-thirds majority needed to bring about change.
"If somebody wants to join, well, you'd better get married to somebody who's a member," he said on BBC radio.
Alliss's influence went beyond the courses he navigated as a player and the tournaments he covered as a commentator.
While combining the two roles, he was chosen to coach Sean Connery for a scene in the 1964 James Bond film Goldfinger where 007 shares a high-stakes round with Gert Fröbe's villain of the title.
His celebrity status also enabled him to run a business designing more than 50 courses, including The Belfry, near Sutton Coldfield, Warwickshire, home of the Professional Golfers' Association.
Peter Alliss was born in 1931 in Berlin, Germany, where his Yorkshire-born father, Percy, a successful British golfer, was finishing a five-year stint as the professional at the Golf-und-Land Club in the suburb of Wannsee.
At 14lb 11oz, he was believed to be the heaviest baby born in Europe to that date.
His father and mother, Dorothy (née Rust), returned to Britain with Peter and his older brother, Alec, when Percy became the professional at the Temple Newsam club, Leeds.
Peter was given a set of 2ft-long clubs when he was two and showed signs that he would follow in his father's footsteps.
When Percy moved on to Ferndown, a Dorset club, Peter attended Queen Elizabeth Grammar School, Wimborne, and then the private Crosby House School, Bournemouth.
He began his working life as an unpaid assistant at Ferndown, turned professional as a player at 16 and, in 1948, took third place in a tournament at Mere, near Manchester.
After national service in the RAF (1949-51), he continued to impress on the golf course and his powerful swing was evident in 10 appearances for England in the Canada Cup (1954-66) and its successor, the World Cup (1967).
Alliss was also selected eight times (1953-69) for Great Britain in the Ryder Cup tournament against the US.
In 1958, he scored a hat-trick of victories in the Italian, Spanish and Portuguese Open Championships.
His other achievements included winning three PGA championships (1957, 1962 and 1965), five top-10 finishes at the Open (competing between 1947 and 1969) and twice taking the Harry Vardon Trophy, for leading European player of the year (1964 and 1966).
At the end of Alliss's round in the Open at Birkdale in 1961, he was invited to the BBC commentary box to describe how the course was "playing".
This led to stints as a commentator that became regular after he retired as a player in 1969, when his long-time weakness at putting – he eventually held the club cross-handed – was at its most evident in the singles match he lost to Lee Trevino in the Ryder Cup at Royal Birkdale. "I began to twitch on the short putts," he said.
In 1978, Alliss became the BBC's senior golf commentator following the death of Henry Longhurst.
He also hosted International Pro-Celebrity Golf (1975-84) and passed on tips to aspiring players in Play Golf (1977).
His amiable, "clubhouse chat" style was centre-stage in Around with Alliss (1979-86), where he was seen talking and playing golf with celebrities ranging from comedian Jimmy Tarbuck and actor Tom Courtenay to House of Commons speaker Bernard Weatherill and wartime RAF hero and double amputee Douglas Bader.
Alliss was inducted into the World Golf Hall of Fame with a Lifetime Achievement award in 2012 and delivered his final commentary, on the US Masters last month, from his Surrey home.
He wrote three autobiographies, the last in 2004, and other books that included Play Golf with Peter Alliss (1983), Alliss' 19th Hole: Trivial Delights from the World of Golf (2005) and Golf: The Cure for a Grumpy Old Man (2008).
His first marriage, to Joan McGuinness (1953-68), ended in divorce. He is survived by his second wife, Jackie (née Grey), whom he married in 1969, their children, Sara, Simon and Henry, and the children of his first marriage, Gary and Carol. Victoria, another daughter of the second marriage, was born with brain damage and died in 1982, aged nine.
Peter Alliss, golf player and commentator, born 28 February 1931, died 5 December 2020
Register for free to continue reading
Registration is a free and easy way to support our truly independent journalism
By registering, you will also enjoy limited access to Premium articles, exclusive newsletters, commenting, and virtual events with our leading journalists
Already have an account? sign in
Register for free to continue reading
Registration is a free and easy way to support our truly independent journalism
By registering, you will also enjoy limited access to Premium articles, exclusive newsletters, commenting, and virtual events with our leading journalists
Already have an account? sign in