Razan al-Najjar: 21-year-old Palestinian medic who became a symbol in Gaza
'Women are often judged. But society has to accept us. If they don't want to accept us by choice, they will be forced to accept us. Because we have more strength than any man'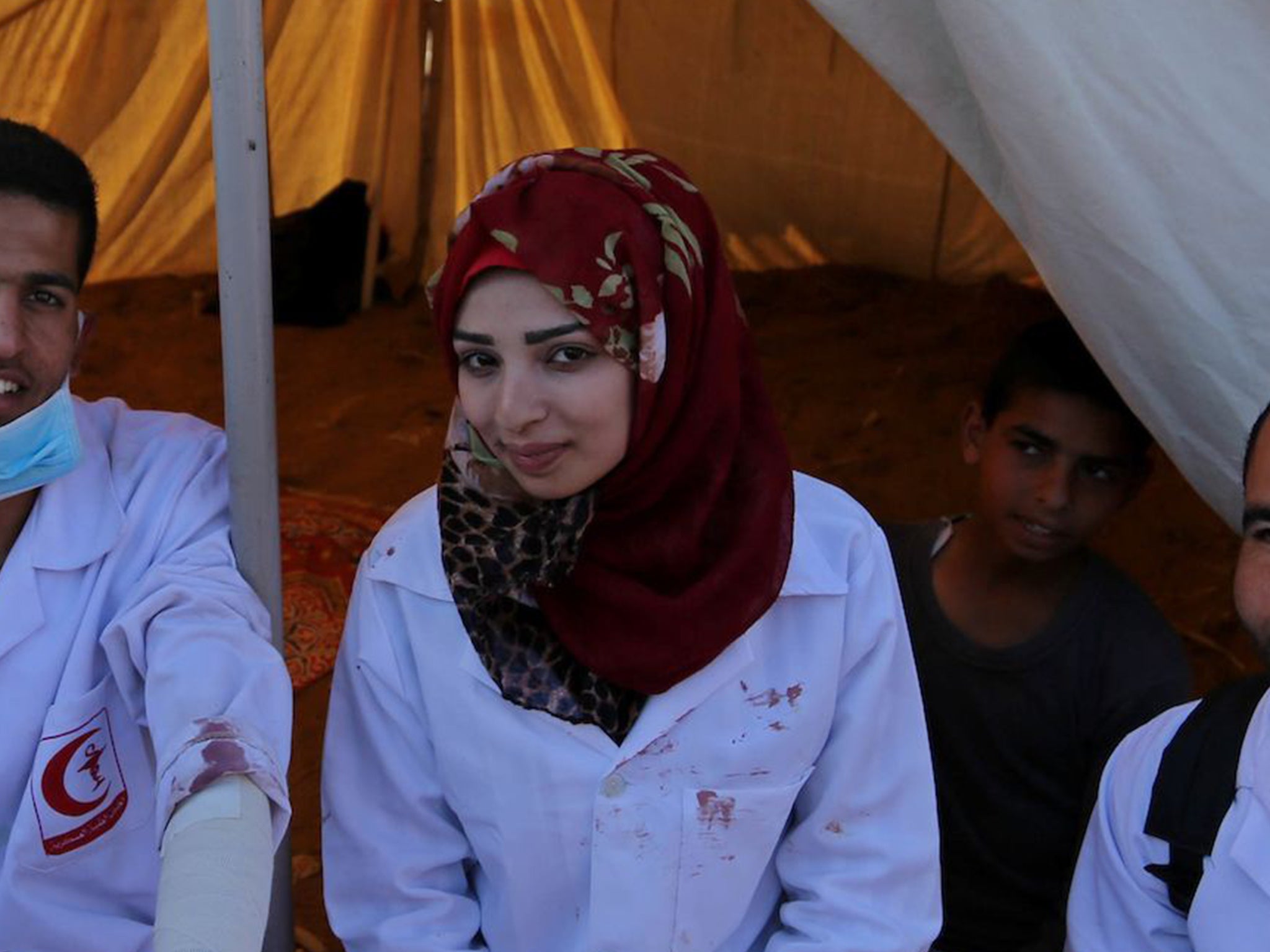 Razan al-Najjar, a 21-year-old volunteer paramedic from Gaza, had become an icon before her death on 1 June. In recent weeks, images of her were being widely circulated online; a recognisable fixture at Gaza's weekly demonstrations, she was often photographed wearing her white medic uniform with colourful headscarves and a determined expression on her face as she entered dangerous terrain in order to treat the wounded.
Najjar was an unarmed first responder helping victims of the demonstrations dubbed the "Great March of Return" in Gaza, the coastal strip which was occupied by Israel for 38 years until 2005, when she was shot by Israeli soldiers. The protest, organised by Hamas, aims to lift the decade-long blockade by Israel and Egypt and allow Palestinian refugees and their descendants to return to their ancestral homes, which were taken by Israel when it was established in 1948. The Jewish state has rejected any right of return; in part due to demographic consequences, which would result in a non-Jewish majority.
As a medical emergency worker, Najjar was frequently photographed with the blood of her patients spattered on her white coat. "I'm here at the front line as a human shield and rescuer for the injured," she said in an interview. According to the Japan Volunteer Centre, a partner organisation with non-governmental health organisation the Palestinian Medical Relief Society (PMRS), Najjar herself had been wounded twice before during demonstrations.
Najjar was defiant and wanted to prove that women were able to play an active role in her conservative society. "Being a medic is not only a job for a man," she said during an interview at a protest camp in May. "It's for women, too." The Gazan population has largely rejected any past attempts towards strict Islamisation by the strip's rulers, Hamas, but the doors to women's equality are still only partially open.
"Women are often judged. But society has to accept us. If they don't want to accept us by choice, they will be forced to accept us. Because we have more strength than any man," Najjar said. She had begun to make many appearances in the media, providing both an image for Palestinians to rally around and the world to see the struggle in Gaza.
Najjar was born on 11 September 1996 in Khuza'a, a farming village east of the town of Khan Younis in the southern Gaza Strip, near the border with Israel. She was the eldest of six children and the family of eight lived in an apartment owned by relatives in Khuza'a. Najjar did not attend university, but instead completed two years' paramedic training at the Nasser hospital in Khan Younis. She then became a volunteer for PMRS.
Her father, Ashraf Al-Najjar, had worked in the scrap metal industry in Israel before most Palestinian workers had been prevented from crossing the border. He then ran a shop in Gaza selling spare motorcycle parts. However, Mr Najjar has been unemployed ever since the shop was destroyed in an Israeli airstrike during the 2014 war, which was sparked by the kidnap and murder of three Israeli teenagers by Hamas members. This seven-week offensive occurred while Najjar, whose entire adolescence had been scarred by conflict, was 17, and their neighbourhood suffered some of the worst devastation in Gaza.
Najjar's father said that on the Friday of his daughter's death, she got up early to eat before the Fajr prayer at dawn and the daily, sunrise-to-sunset, Ramadan fast. That was the last time he saw her. He told AFP that he never expected his daughter would be targeted during her humanitarian work.
According to her colleagues in the field, the health worker took all necessary precautions. She was wearing a clearly identifiable white medic's uniform and raising her hands in the air to show she was unarmed as she tended to the wounded on the eastern border of Khan Younis.
She had been less than 100 yards from the fence bandaging a man struck by a tear gas canister, who was then taken away in an ambulance. Israeli soldiers fired from across the fence, according to a witness, hitting Najjar in the upper body. She fell to the ground.
Gazans protest as US embassy moves to Jerusalem – in pictures
Show all 37
One of her relatives was on the scene – he carried her away and accompanied her in the ambulance. She arrived at a field hospital in a critical condition and was then transferred to the European Gaza Hospital in Khan Younis, where she was pronounced dead in the operating room.
Najjar was the 119th Palestinian killed since the protests began in March, according to Gaza health officials. She lost her life in the southern Gaza Strip town on the same day as four other paramedics.
News of her death sparked protests in front of United Nations and World Health Organisation headquarters in Gaza City. In Ramallah on the West Bank, humanitarian workers, political and religious figures, accompanied by convoys of ambulances, participated in a funeral procession. Participants in the convoy chanted slogans condemning Najjar's murder and called on the international community to intervene urgently to protect the Palestinians and their medical institutions.
The Arab League has blamed Israel for the killing, calling it a "deliberate murder" and called upon international bodies to compel Israel to respect international treaties on the work of doctors and paramedics. The targeting of medical facilities and paramedics is a war crime.
According to the Israeli army, Palestinian gunmen were attacking its forces along the border with bullets and grenades. A preliminary Israeli investigation found "no shots were deliberately or directly aimed towards" Najjar.
Israeli officials have sought to discredit Najjar, accusing her of being an accomplice to terrorists. A spokesman for Israeli prime minister Benjamin Netanyahu shared a video with text asking: "Was Razan Najjar just a medic?" and the IDF released footage of a misleadingly edited interview where Najjar says she has come to the protest to act as a human shield, supposedly at Hamas's request. The unedited version of the video makes no mention whatsoever of Hamas.
Najjar once said in an interview: "We have one goal which is to save lives and evacuate people; to send a message to the world that without weapons, we can do anything." Najjar's last Facebook post on 31 May reads: "Your conscience will be comforted as much as possible since God always knows your intention. #sleep_well Be good."
Razan al-Najjar, volunteer paramedic, born 11 September 1996, died 1 June 2018
Join our commenting forum
Join thought-provoking conversations, follow other Independent readers and see their replies