Alicia Keys leaks own nude photo 'to create a kinder and more peaceful world'
The #WeAreHere 'movement', set up by Keys, aims to raise awareness of social issues that 'cannot be solved in isolation'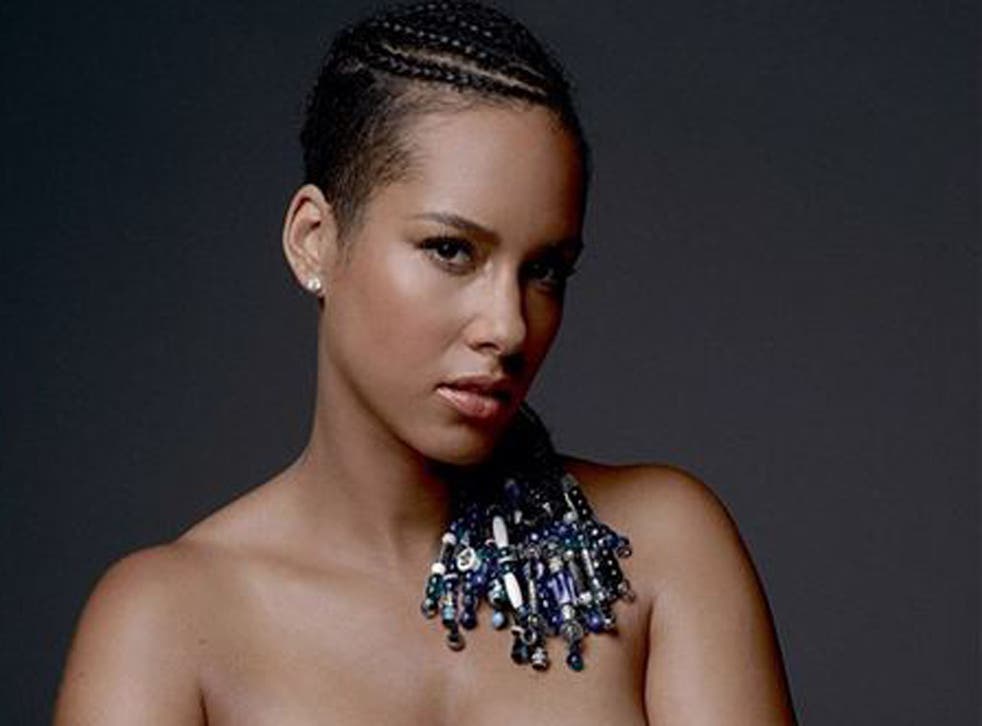 Alicia Keys has not fallen victim to the latest spate of nude photo leaks.
Instead, the singer has made the decision to post a topless image of herself pregnant, with the Peace sign daubed across her stomach, in order to raise awareness of a new social ecology campaign, #WeAreHere.
The "movement", set up by Keys, aims to raise awareness of issues around the world that "cannot be solved in isolation", a message on the website reads.
"We are joining together to give birth to a movement based on the idea of social ecology - that we're all related and need to work in harmony to create a kinder and better world for all. Click on an issue below to learn about our visionary partners and how you can take action to make a difference."
These include issues of poverty, gender discrimination, children of war, accessible healthcare and racial injustice.
"I believe we can help each other, that we're all here for the better," she says at the start of a video message related to the post. "I believe we all have a voice, we just want to know how it can be heard.
"So I want to hear from you. Sign up and tell me how you're feeling, what you're feeling, why are you here? What is your gift for the world? Tell me what's going on where you live that you want to bring attention to with the hashtag #WeAreHere.
"Because it's not about me, it's about 'We'. And together, we can ignite the change that will create a more peaceful world for all children and that's the truth."
So far, the campaign has attracted a number of famous endorsees, including Madonna, who posted the following on Instagram:
The ever-keen Pharrell Williams got involved with this:
Other names who have lent their faces to the campaign include Sean Penn, Jimmy Fallon, Usher and Kelly Rowland, among others.
Her well-timed post came as a second wave of naked images, purportedly of female stars including Kim Kardashian and Rihanna, emerged online.
The actresses Vanessa Hudgens and Aubrey Plaza, designer and former child star Mary-Kate Olsen, and US soccer player Hope Solo are reportedly among those apparently vicitimised.
Several of the images – in particular, two of Hunger Games starLawrence – quickly circulated on Twitter.
The original list had also included Olsen and Hudgens, as well as Ariana Grande, Jessica Brown Findlay, Mary E Winstead, Mary E Winstead, Cara Delevingne, Kate Bosworth, Selena Gomez, Kate Upton, Kirsten Dunst and Kaley Cuoco.
The FBI and Apple are both conducting investigations into the apparent widespread invasion of personal accounts thought to be connected to the iCloud service.
A spokesperson for Lawrence said at the time: "This is a flagrant violation of privacy. The authorities have been contacted and will prosecute anyone who posts the stolen photos of Jennifer Lawrence."
Justice and Grande both said that the pictures were fake, although Lawrence's spokesperson verified their authenticity.
Representatives for Upton said they were "looking into" the authenticity of the intimate images.
Ricky Gervais went on a back tracking spree on the social media site after he was criticised for 'victim blaming', while Emma Watson also took to Twitter to voice her condemnation of the breach.
Join our new commenting forum
Join thought-provoking conversations, follow other Independent readers and see their replies