Foo Fighters 'Rickroll' Westboro Baptist Church in parody picket
The evangelistic group responded with a parody video of their own - but it's yet to get as much attention as Grohl and co's efforts
Daisy Wyatt
Monday 24 August 2015 11:48 Comments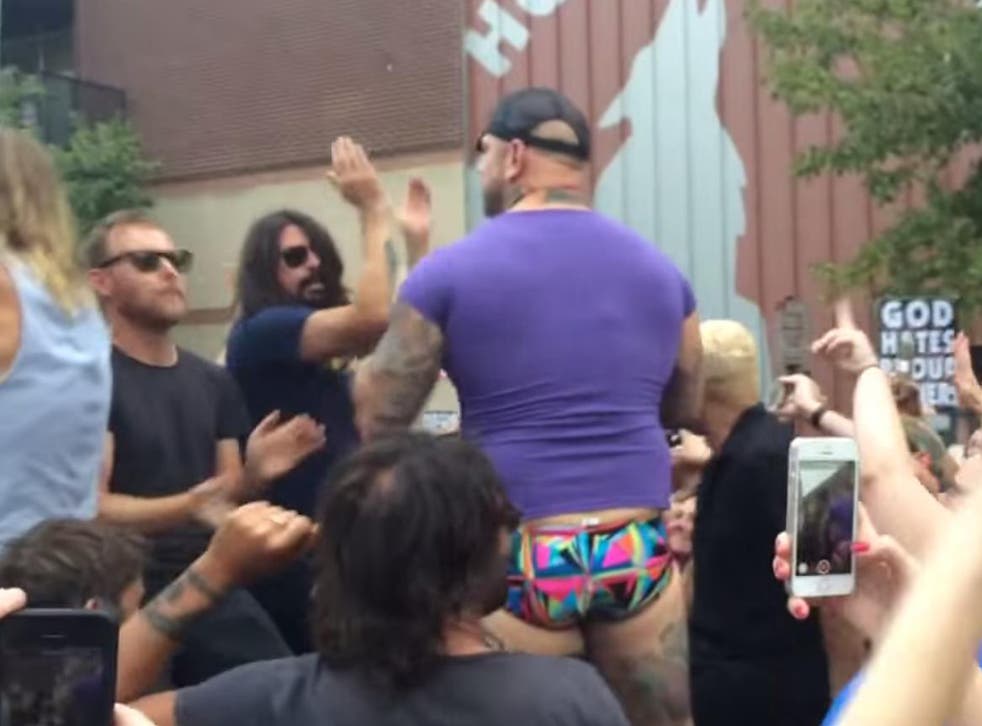 Foo Fighters responded to a Westboro Baptist Church picket outside their Kansas City concert with the power of music – and a little bit of Rickrolling.
The band danced on the back of a truck to Westboro picketers holding homophobic slogans, blasting Rick Astley's 1987 single "Never Gonna Give You Up" in their own take on trolling.
The Foos held signs saying "Keep it Clean" and "You Got Rick Roll'd Again", while Dave Grohl clapped enthusiastically and blew kisses to the Westboro picketers.
Rickrolling refers to the 2007 internet meme that fooled people into watching Astley's music video when they thought they were clicking through to something else.
Westboro Baptist Church responded with their own parody Rickrolling video, but with just three retweets and one favourite on Twitter it has yet to have the same reach as the Foo Fighters' effort.
Foo Fighters previously fought back against the anti-gay protesters in 2011, singing a concert on a back of a truck in celebration of "man muffins".
Grohl performed "Keep it Clean (Hot Buns)", including the lyrics: "Driving all night, got a hankering for something. Think I'm in the mood for some hot man muffins / Mmmm, sounds so fine yes indeed", to rile the picketers.
He said in a speech: "I don't' care if you're black or white or purple or green, whether you're Pennsylvanian or Transylvanian, Lady Gaga or Lady Antebellum, it takes all kinds! Men loving women, women loving men, and men loving me, and women loving women…God bless America!"
And here's the Rick Astley video, in case you'd forgotten:
Register for free to continue reading
Registration is a free and easy way to support our truly independent journalism
By registering, you will also enjoy limited access to Premium articles, exclusive newsletters, commenting, and virtual events with our leading journalists
Already have an account? sign in
Join our new commenting forum
Join thought-provoking conversations, follow other Independent readers and see their replies