Donald Trump supporters get their news from a strange media universe – and it's frequently fact-free
Concern over the presence of fake news websites has grown during the election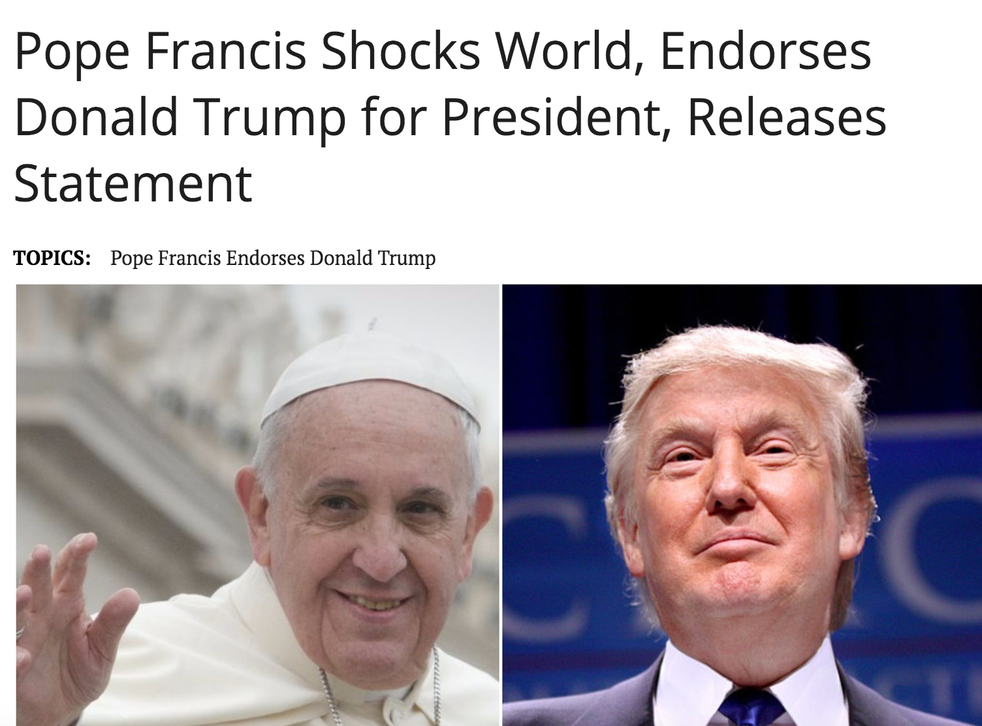 On a street in Grundy, Virginia, a declining mining community that would vote 78 per cent in favour of Donald Trump, a man had an update on a trending news story.
A report about two police officers being shot in Des Moines, Iowa, was false, said the man. It had been invented, apparently to try and benefit one or other political competing in the area. He had read about it being false on the internet. (Later, it was announced the police had found and charged a suspect with the shootings.)
One of the defining features of the 2016 US presidential election was the parallel words from which opposing supporters obtained their information. The continuing fragmentation of the media and the growth of non-mainstream sources has meant that voters have never had so many options when it came to seeking out information.
Yet, another distinctive feature was the number of stories that turned out to the utterly false. This was particularly true - though not exclusively so - for supporters of Mr Trump, who were frequently drawn to news site such Breitbart, InfoWars and Freedom Daily.
"Because of social media you have access to a larger variety of information in the past, Kathleen Stansberry an assistant professor of public relations and social media at Cleveland State University, told The Independent.
Yet she said while there were many of articles published online that were well-researched and accurate, there were usually fewer "gate-keepers" than in traditional media with its fact-checking, accuracy and fairness.
"We need to take more responsibility as media consumers and media publishers," she said.
Facebook has found itself in the crosshairs of criticism after it was accused that the social media giant had unfairly helped Mr Trump by the spread and dissemination of articles about Ms Clinton that were false. These included stories about an alleged secret son belonging to Bill Clinton that had been covered up for decades, claims that she was seriously ill and that Pope Francis had endorsed Mr Trump.
Mark Zuckerberg has reportedly demised the criticism, saying that it did not impact the election, because the fake news his social media site spread to hundreds of millions of people were not biased in favour of just one candidate.
"The hoaxes that do exist are not limited to one partisan view, or even to politics," he wrote in a public post. "Overall, this makes it extremely unlikely hoaxes changed the outcome of this election in one direction or the other."
Earlier this year, an investigation by BuzzFeed found that that of the Facebook posts it examined from three major right-wing websites, 38 per cent were either false or a mixture of truth and falsehood. It said readers were often likely to share such false stories and were therefore profitable for Facebook to post.
Mr Zuckerberg said more than 99 per cent of news shared on Facebook was verifiable, but acknowledged more could be done to flag fake stories which had been debunked.
"We don't want any hoaxes on Facebook. Our goal is to show people the content they will find most meaningful, and people want accurate news," he wrote.
"We have already launched work enabling our community to flag hoaxes and fake news, and there is more we can do here. We have made progress, and we will continue to work on this to improve further."
Steve Bannon, the former head of Breitbart who took a leave of absence to lead Mr Trump's campaign, is now set to take up a position within the new administration as political counsellor. His appointment has delighted many on the alt-right and white extremists.
Richard Spencer, who heads the National Policy Institute, a white supremacist "think tank" based in Arlington, Virginia, welcomed Mr Bannon's move into the White House.
He said on Twitter: "Bannon is not a chief of staff, which requires a "golden retriever" personality. He'll be freed up to chart Trump's macro-trajectory."
Register for free to continue reading
Registration is a free and easy way to support our truly independent journalism
By registering, you will also enjoy limited access to Premium articles, exclusive newsletters, commenting, and virtual events with our leading journalists
Already have an account? sign in
Register for free to continue reading
Registration is a free and easy way to support our truly independent journalism
By registering, you will also enjoy limited access to Premium articles, exclusive newsletters, commenting, and virtual events with our leading journalists
Already have an account? sign in
Join our new commenting forum
Join thought-provoking conversations, follow other Independent readers and see their replies