'You are a gay, black columnist... is this your America?' Donald Trump's win makes reporter break down on air
Jonthan Capehart took a moment to compose himself after Jon Snow's question 'moved him almost to silence'
Donald Trump's win makes reporter break down on air
A journalist broke down in tears as he spoke of his fears over the type of country the United States may become under a Donald Trump presidency.
Jonathan Capehart, an opinion writer for The Washington Post, was asked by Channel 4's Jon Snow if as a gay, black man the current America is "his America" and whether he is worried the country may change under a Trump administration.
Capehart told Snow the question moved him "almost into silence" before his voice started quivering with emotion as he struggled to find his words.
President Trump protests

Show all 20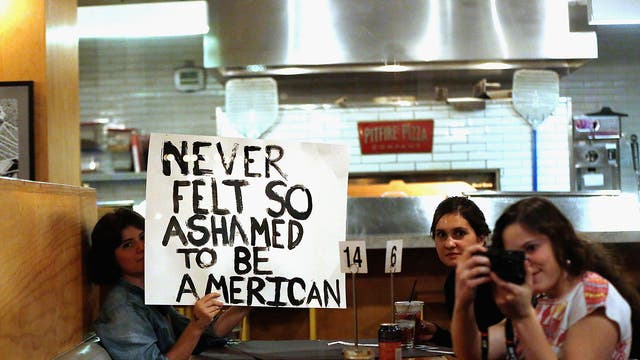 "The election of President Obama was a great moment for this country and now we stand two months away from, excuse me, from all that disappearing," he said as he began to break down.
"As an African-American, as an openly gay man, and as an American, that frightens me."
Snow then put Capehart's concerns to the President-elect's campaign manager in Michigan who attempted to reassure him Mr Trump "cares about you and your community".
Capehart said he had previously interviewed the former star of The Apprentice – shortly after the birther controversy where Mr Trump, along with others, speculated that Barack Obama was not an American citizen leading the President to release his long-form birth certificate – and found him "warm, charming and engaging".
"The man who ran for president over the last 15 months is not that man and that is why I and so many people are afraid. That is why I and so many people are praying for this nation," he said.
Capehart was not the only broadcaster to become emotional while dissecting the shock election results. On Wednesday, long-time Hillary Clinton supporter Seth Meyers choked back tears while conveying his hopes that both he and his mother live to see the first woman president of the United States.
Join our new commenting forum
Join thought-provoking conversations, follow other Independent readers and see their replies