Duchess of Alba dead: Billionaire Spanish duchess who lived life by her own rules, dies at 88
The 18th Duchess of Alba attracted headlines throughout her colourful life
Alasdair Fotheringham
Thursday 20 November 2014 12:56 Comments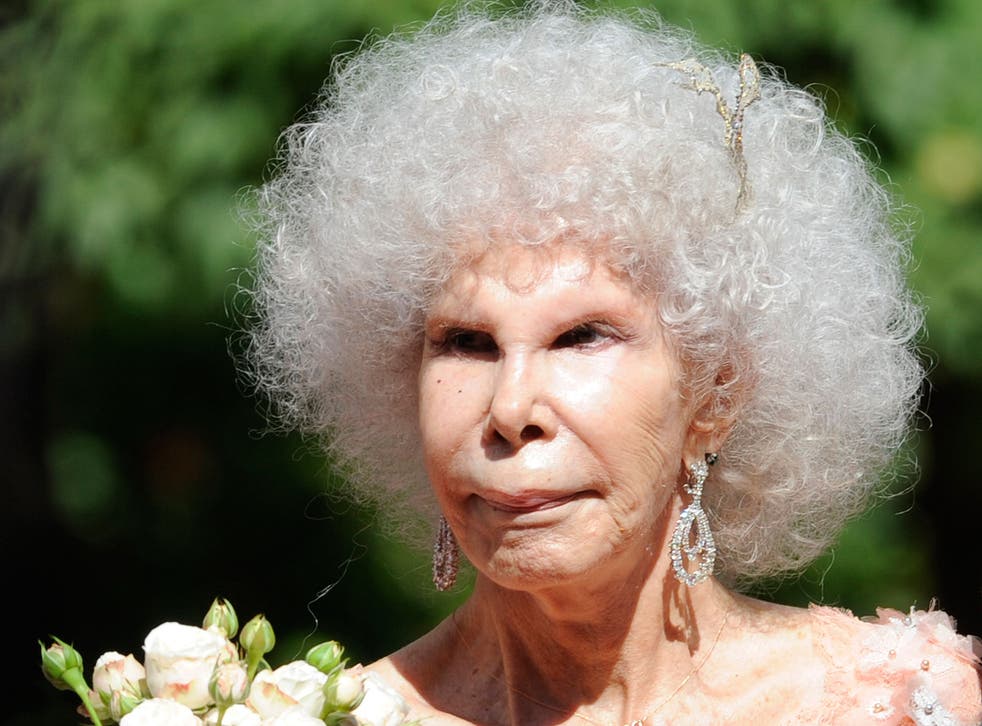 The world's most titled aristocrat and Spain's richest noble, the 18th Duchess of Alba, has died aged 88 after a short illness.
It was said she owned so much land that you could walk from one side of the country to the other without stepping off her property.
Taken to hospital earlier this week with pneumonia, the Duchess was moved back to her Seville residence, the 14th-century Palacio de Dueñas, on Tuesday night. Initial optimism about a possible recovery quickly receded, and she died early this morning, with her six children and third husband at her side.
Her family communicated the news of her death to King Felipe and the royal family, while the Mayor of Seville, Juan Ignacio Zoido, announced the news to the general public on Twitter.
After lying in state in Seville's town hall, a funeral will be held for the Duchess, whose full name was María del Rosario Cayetana Paloma Alfonsa Victoria Eugenia Fernanda Teresa Francisca de Paula Lourdes Antonia Josefa Fausta Rita Castor Dorotea Santa Esperanza Fitz-James Stuart y de Silva, Falco y Gurtubay, on Friday in the Andalusian capital.
Along with her rather long name, she held more than 50 aristocratic titles, among them the Duchy of Berwick
Estimates for her fortune run as high as €3.5bn (£2.8bn). But the Duchess was equally famous for her individualism – following her last of three weddings, in 2011, to a civil servant 25 years her junior, she kicked off her shoes and did some flamenco dancing.
Her family home in Madrid, the Liria Palace, reportedly contained 249 oil paintings, including works by El Greco, Rubens and Rembrandt. The Duchess's collection of historical documents, meanwhile, included letters written by Christopher Columbus and a first edition of Don Quixote.
Physically striking, with frizzy white hair, the Duchess, born in 1926, paid scant attention to the repressive social mores, that predominated in the Franco era. A fixture in the international jet set, she not only learn't to speak five languages, and travelled extensively, but was also a fan of bullfighting and flamenco.
Equally individual in her dress sense; even in her 80s she was not averse to wearing fishnet tights. Refusing to pose nude for Picasso was one of her few concessions to the norms of the era.
Her social life was never short of drama, either, right up to 2011 when she ignored her children's initial opposition, and married Alfonso Diez, 25 years her junior. Her first marriage, in 1947 to the son of the Duke of Sotomayor, has been described as Spain's last great feudal wedding – the young Duchess wore jewels worth, €1.2m in front of 1,000 guests. Her second was to a former Jesuit priest.
Rumours about the protocol implications of her numerous titles – she was a duchess five times over, once a countess-duchess, 18 times a marchioness, 18 times a countess and once a viscountess – flourished. She was allowed, it was said, to enter Seville cathedral on horseback, did not have to kneel to the Pope and Britain's Queen Elizabeth was supposed to curtsey to her. This rumour persisted even after she rubbished the story, and bowed to the Queen, in 1988.
In later years, news of the Duchess increasingly centred round her health problems , but right up to the end she never seemed troubled by the press's constant fascination with her: as she told one gossip magazine, "If they forget you, you're nobody."
Register for free to continue reading
Registration is a free and easy way to support our truly independent journalism
By registering, you will also enjoy limited access to Premium articles, exclusive newsletters, commenting, and virtual events with our leading journalists
Already have an account? sign in
Join our new commenting forum
Join thought-provoking conversations, follow other Independent readers and see their replies