Hilary Duff and Jason Walsh apologise for native american and pilgrim Halloween costumes
Another year, another celebrity apology over a Halloween costume
Olivia Blair
Monday 31 October 2016 10:50 Comments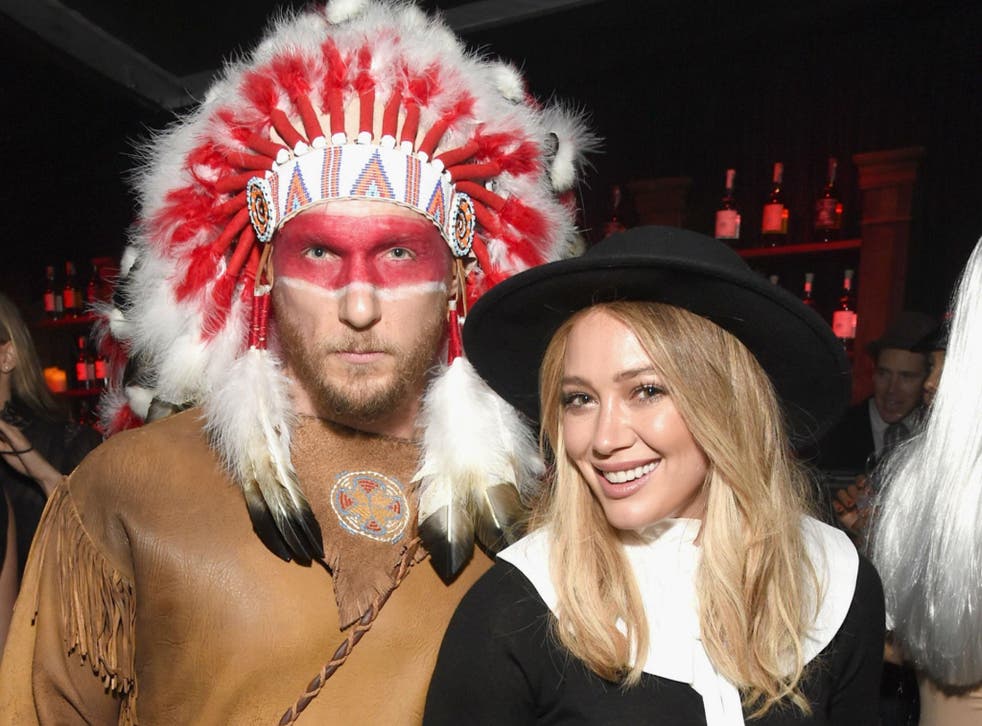 Before the morning of October 31 even set in, a celebrity was already apologising for the offence caused by their Halloween costume.
This came in the form of former Disney star Hilary Duff who has issued an apology after she and her boyfriend, the personal trainer Jason Walsh, received criticism for dressing as a pilgrim and native american for a Halloween party in Beverly Hills on Saturday.
Native American costumes are controversial and people in the public eye have been criticised time and time again for wearing them and accused of appropriating indigenous people's culture while ignoring the persecutions they continue to face.
Best and Worst celebrity Halloween outfits

Show all 27
Some of the criticism towards Duff and Walsh stemmed from the renewed sense of anger over the rights of native people after thousands have protested against the proposed Dakota Access Pipeline which would run across sacred burial grounds and is the main water source for the Standing Rock Sioux Tribe in the US state of North Dakota. Duff's pilgrim costume also came complete with a fake gun, yet again proving problematic.
On Sunday, Duff wrote: "I am SO sorry to people I offended with my costume. It was not properly thought through and I am truly, from the bottom of my heart, sorry."
Walsh, who was only recently revealed to be dating Duff, wrote a similar message on Instagram, saying he only has "admiration for the indigenous people of America" and would not repeat his mistake.
Duff is not the first celebrity to land in hot water over a native American costume. On Saturday, Chris Hemsworth apologised for wearing a headdress at a New Years Eve party last year.
In an Instragram post pledging his allegiance with the peaceful protesters at Standing Rock, the Thor actor said his costume had ben bothering him for sometime: "I was stupidly unaware of the offence this may have caused and the sensitivity around this issue," he wrote.
Similarly, Ellie Goulding was criticised for wearing the headdress over Halloween in 2014 – the same year Glastonbury decided to ban the sale of the accessory after a successful petition said wearing the headwear is an "offensive and disrespectful form of cultural appropriation, that it homogenises diverse indigenous peoples and that it perpetuates damaging, archaic and racist stereotypes".
Register for free to continue reading
Registration is a free and easy way to support our truly independent journalism
By registering, you will also enjoy limited access to Premium articles, exclusive newsletters, commenting, and virtual events with our leading journalists
Already have an account? sign in
Join our new commenting forum
Join thought-provoking conversations, follow other Independent readers and see their replies