Jon Stewart rejects suggestion Donald Trump voters are racists
'Not everybody that voted for Trump is a racist. I don't give a f**k what any of you say to me'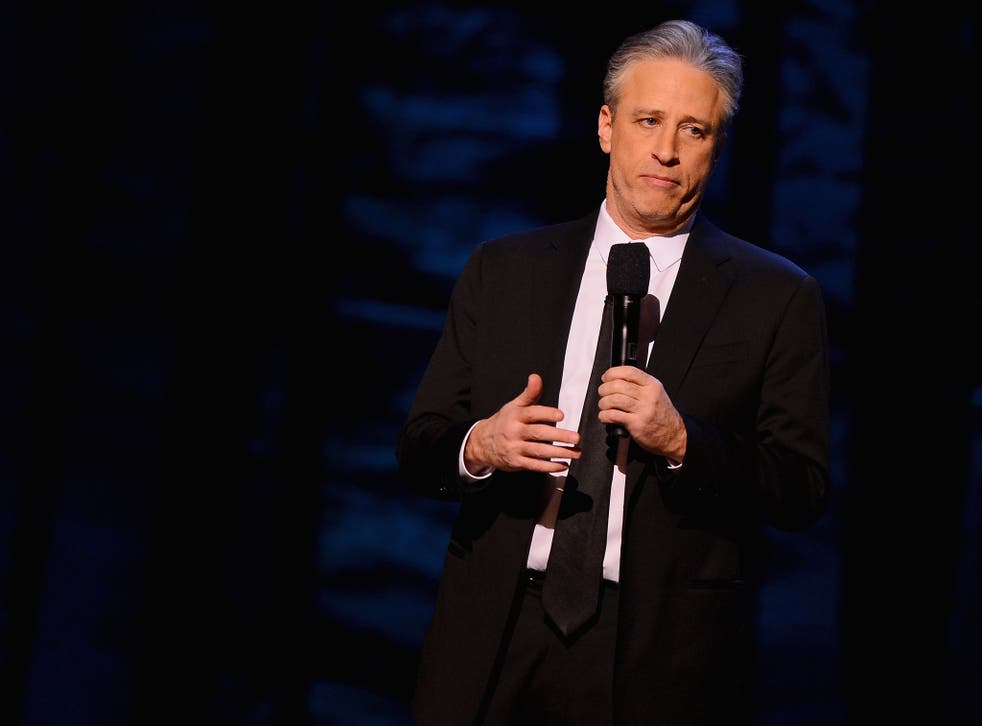 Calls for Jon Stewart to come out of retirement for good have grown steadily louder after Donald Trump's election.
Stewart left the show famed for lampooning Mr Trump after 16 years at the helm in August 2015. His presence is now sorely missed amid growing concern over the direction the President-elect will take America.
Stewart's brief returns to the pulpit before the election were short but sweet. The former Daily Show host emerged a week before the US presidential elections, at a moment when polls were suddenly making those who had roundly dismissed Mr Trump nervous, by reminding the then Republican nominee of a tweet he would rather forget. His intervention was ultimately ineffective and Stewart is now feeling reflective.
He made another return during a Times Talk on Friday to promote his forthcoming book, The Daily Show (The Book): An Oral History as Told by Jon Stewart, where he addressed the apocalyptic predictions about Mr Trump's administration.
World reaction to President Trump: In pictures

Show all 29
Mr Trump made a number of anti-Muslim, anti-refugee and anti-immigration comments throughout his campaign but Stewart rejected claims everyone who voted for Mr Trump was a racist.
"Not everybody that voted for Trump is a racist. I don't give a f**k what any of you say to me. You can yell it at me, you can tweet it at me. They're not all racists. Or they're not giving tacit support to a racist system ... We all give tacit support to exploitative systems as long as they don't affect us that badly. "
Stewart a life-long Democrat, has made his position clear since the election that the inadequacies of both Republicans and Democrats are to blame for Mr Trump's victory. He denied his show and the way satire was used more generally to deconstruct Mr Trump's campaign had anything to do with his victory.
"I think of one of the lessons of this book and what we're talking about is to put satire and culture in its proper place — that controlling a culture is not the same as power. And that while we were all passing around really remarkably eviscerating videos of the Tea Party ― that we had all made great fun of ― [they were] sitting off a highway at a Friendly's taking over a local school board. And the lesson there is, as much as I love what we did and I liked it, there is a self-satisfaction there that is unwarranted, unearned and not useful."
Stewart said Trump won the election because of deep-seated hypocrisy inherent in America. "He happened because that's the push and pull of this nation at all times. It's a push and pull between nativism and a more inclusive multi-cultural approach. It's a country that writes in its founding document all men are created equal but only white men who own property can vote. That's the earliest contradiction, and we've been fighting that battle ever since."
Ironically, he looked to President Obama's unfulfilled promises and failings as a leader to reassure those concerned about the impact Mr Trump could have on the US.
"Obama didn't change and fix everything and Trump can't ruin everything. If we're that vulnerable to one guy, that guy—that's how we're going out?" he said. "This incredible experiment in liberty and democracy that we fought and died for is going to go out―with that guy. That can't be how this story ends... F**king buckle your seat belt and get ready."
Stewart's warning was shown to be prescient on Saturday when it emerged Mr Trump had broken four decades of US policy by speaking on the phone with Taiwan President Tsai Ing-wen, angering Chinese officials and raising questions over whether he plans to change US diplomacy. The White House was only aware of the conversation after it took place.
Join our new commenting forum
Join thought-provoking conversations, follow other Independent readers and see their replies