Myleene Klass berates Ed Miliband over proposed mansion tax: 'You can't just point at things and tax them'
The former Hear-Say star was ITV's opponent of choice for the Labour leader in a televised debate on The Agenda about the party's austerity plan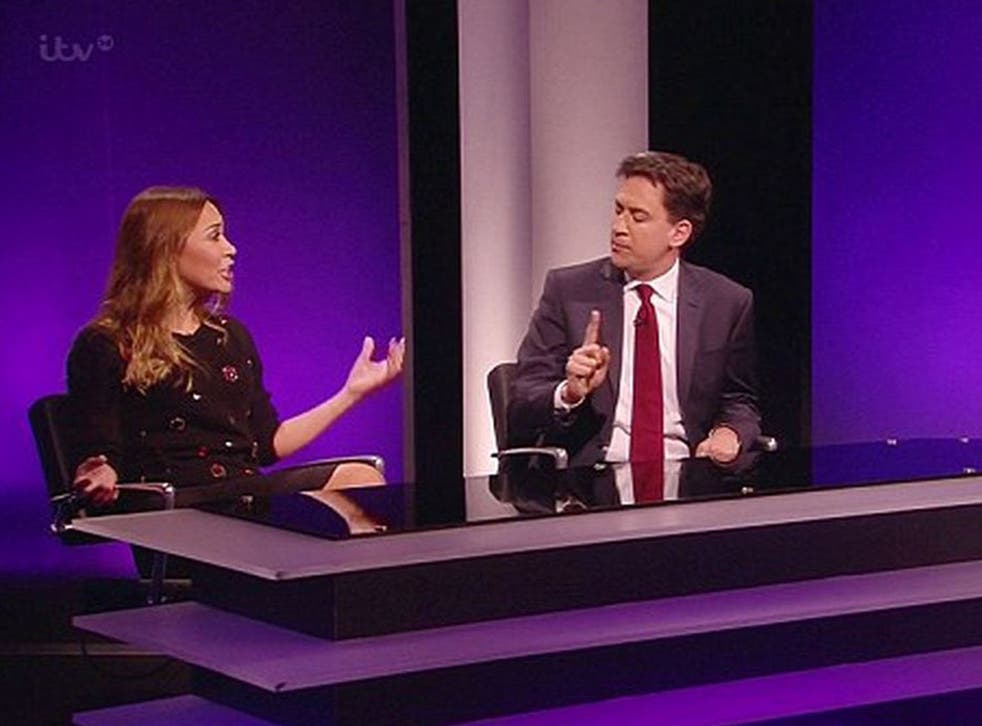 Ed Miliband skilfully dodged a verbal joust with Nigel Farage over the NHS last week, but not, it seems, a head-to-head with an angry former Hear'Say star with an expensive axe to grind.
Myleene Klass was ITV's opponent of choice for the Labour leader in a televised debate on The Agenda about the party's proposed mansion tax last night.
The musician, who shot to fame after winning a place in the manufactured group via the Pop Stars competition in 2001, criticised the party pledge to impose heavy taxes on homes worth more than £2million, claiming that those hit hardest by the austerity measures would be elderly home owners and Londoners.
And also early 2000s pop stars with expensive houses, presumably.
"For me, it's so disturbing – the name in its own right: 'mansion tax'," she said.
"When you do look at the people who will be suffering this tax, it's true a lot of them are grannies who have had these houses in their families for a long, long time.
"The people who are the super-super rich buying their houses for £140million, this is not necessarily going to affect them because they've got their tax rebates and amazing accountants. It's going to be the little grannies who have lived in those houses for years and years."
"I totally understand that people don't like paying more in tax," Miliband replied. "The values of my government are going to be different to the values of this government."
Sir Christopher Meyer, the former British ambassador to the US, also took part in the debate, chiming in with this somewhat inward-looking observation: "You're going to screw me royally."
"Ed's getting a bit isolated here," host Tom Bradby interjected.
"Ed's getting isolated because no one thinks it is going to work," Klass retorted.
"You may as well just tax me on this glass of water. You can't just point at things and tax them.
"You need to have a better strategy and say why is the NHS in this mess in the first place?"
It wasn't exactly Frost-Nixon, but there were a few keen tweeters who admired Klass's bold approach:
And some less so:
Klass sold her home that she shared with her former husband Graham Quinn for £1.8million last year.
Under Labour's proposed mansion tax policy, properties advertised with a price tag exceeding £2million would come under the band.
In pictures: Ed Miliband trying to look normal

Show all 18
This would include, for example, a six-bedroom home in Greater Manchester or a two-bedroom flat in a central part of London.
Join our new commenting forum
Join thought-provoking conversations, follow other Independent readers and see their replies