Escaped Isis sex-slave Nadia Murad urges EU to recognise Yazidi genocide
'The EU can and must do more'
Samuel Osborne
Monday 12 December 2016 13:11 Comments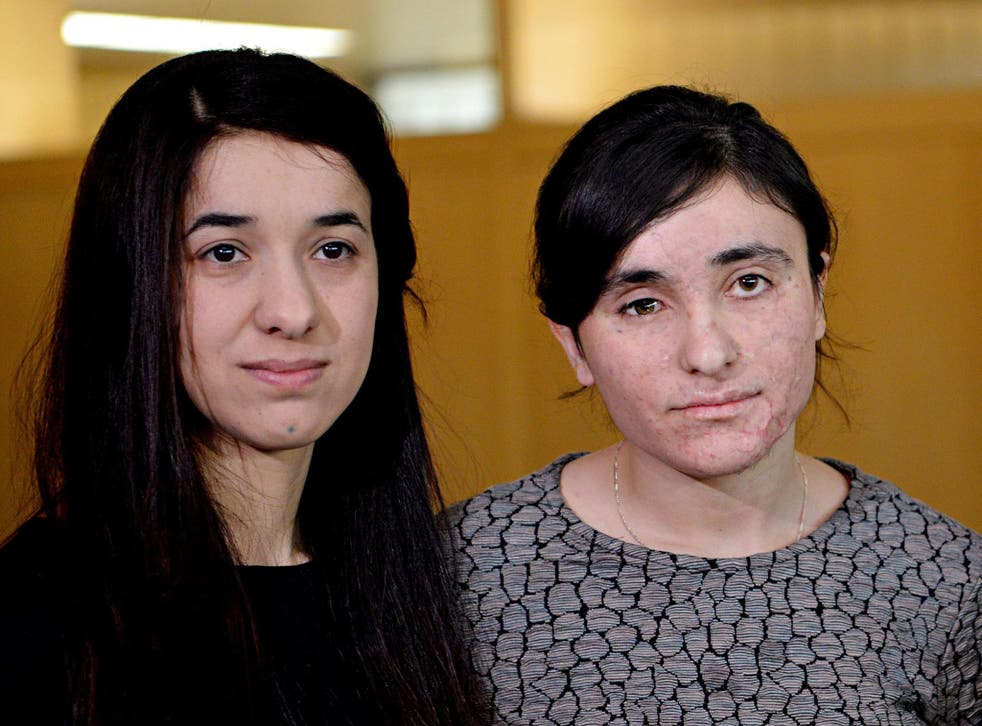 Escaped Isis sex slave Nadia Murad has called on the EU to recognise the Jihadi group's ongoing genocide against the Yazidi people.
Ms Murad said the EU must work to prosecute members of Isis and establish a safe zone to protect vulnerable minorities.
She has been awarded the Sakharov Prize for Freedom of Thought along with Lamya Haji Bashar, another Yazidi woman who was also captured by Isis when the group launched a major assault across northern Iraq in 2014.
They escaped after several months of enslavement and now campaign for Yazidi women.
Escaped Yazidi Isis sex slaves win Sakharov prize
In a joint statement, Ms Murad and Ms Bashar said: "We are grateful and honoured to receive the Sakharov Prize, but the EU can and must do more. The EU must call this what it is: a genocide of our people.
"The EU must call for its prosecution and international accountability for Isis, for example before the International Criminal Court, Tribunal, or a special court."
They added: "We ask that the EU and all those concerned with the fate of Syria and Iraq establish a safe zone to protect the Yazidis, Christians and other vulnerable minorities in Sinjar and the Nineveh Plain.
"If the world can't protect the Yazidis in our homeland, we ask Europe to give us a safe new home."
The ongoing genocide against the Yazidi people by Isis was recognised by the United States in March this year and by the United Nations in June.
Iraq crisis: Yazidi nightmare on Mount Sinjar

Show all 15
The EU has not formally acknowledged the genocide, though the European Parliament asked EU member states to take action in February 2016.
In a letter, 104 Members of the European Parliament called on the High Representative of the EU, Federica Mogherini, to recognise the genocide and call for its prosecution.
Ms Murad, who has been appointed a UN Goodwill Ambassador and was presented with the Vaclav Havel Human Rights Prize, has repeatedly spoken out about the atrocities Isis has committed.
She revealed how the group forced captives to pray and then raped them and described the moment Isis fighters massacred her six brothers and her mother.
Ms Bashar, 18, was captured alongside Murad and escpaed in March, but suffered injuries to her face and is blind in one eye after stepping over a land mine as she tried to flee her captors.
The prestigious Sakharov award is named in honour of the nuclear physicist and human rights activist Andrei Sakharov. The annual freedom of thought prize recognises exceptional contribution to the global fight for human rights and comes with £45,000.
More than 3,000 Yazidi women and children remain in Isis captivity.
Register for free to continue reading
Registration is a free and easy way to support our truly independent journalism
By registering, you will also enjoy limited access to Premium articles, exclusive newsletters, commenting, and virtual events with our leading journalists
Already have an account? sign in
Join our new commenting forum
Join thought-provoking conversations, follow other Independent readers and see their replies