James Franco and Seth Rogen spoof Kim Kardashian and Kanye West's controversial Vogue cover
Pair parody Vogue US wedding-themed front page
Heather Saul
Saturday 22 March 2014 14:49 Comments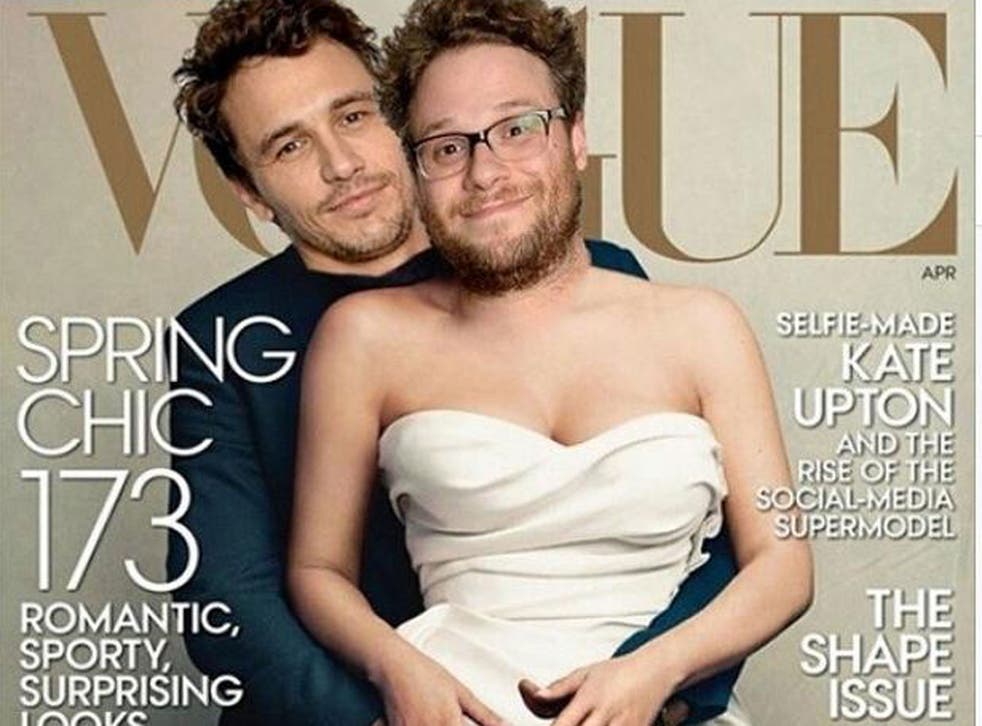 After parodying the unforgettable video for Kanye West's song Bound 2, re-creating Vogue's controversial cover was perhaps an inevitable step for long-time pals Seth Rogen and James Franco.
The pair cemented their bromance with their own (deftly photoshopped) Vogue cover, demonstrating to the whole world that Franco wears the trousers in this relationship.
Posting his masterpiece on his Instagram page, Franco declared: "Seth! Love you, dog!"
The actors were of course also making fun of the Vogue US April edition, which features reality TV star Kim Kardashian and rapper Kanye West in a wedding-themed front cover shot by renowned photographer Annie Leibovitz.
In November, the This the End stars spoofed West's music video with their own take, 'Bound 3', which saw a topless Rogen straddling a motorbike while Franco mouthed along to West's rap.
Kardashian and West's debut appearance continues to raise the eyebrows of unimpressed industry insiders, who remain nonplussed over Anna Wintour's choice of cover star.
News of the front page proved too much for Buffy star Sarah Michelle Gellar, who led calls for boycotting Vogue.
"Part of the pleasure of editing 'Vogue,' one that lies in a long tradition of this magazine, is being able to feature those who define the culture at any given moment, who stir things up, whose presence in the world shapes the way it looks and influences the way we see it," Wintour wrote.
"I think we can all agree on the fact that that role is currently being played by Kim and Kanye to a T. (Or perhaps that should be to a K?)".
The editor-in-chief was also quick to dismiss speculation that West had pressured her into placing Kardashian on the coveted cover.
"He did nothing of the sort," she insisted. "The gossip might make better reading, but the simple fact of the matter is that it isn't true."
Register for free to continue reading
Registration is a free and easy way to support our truly independent journalism
By registering, you will also enjoy limited access to Premium articles, exclusive newsletters, commenting, and virtual events with our leading journalists
Already have an account? sign in
Join our new commenting forum
Join thought-provoking conversations, follow other Independent readers and see their replies