Pope Francis denounces abortion as 'horrific'
The Pope described abortion as part of modern 'throwaway culture' which has grown to encompass human beings themselves
Adam Withnall
Tuesday 14 January 2014 10:12 Comments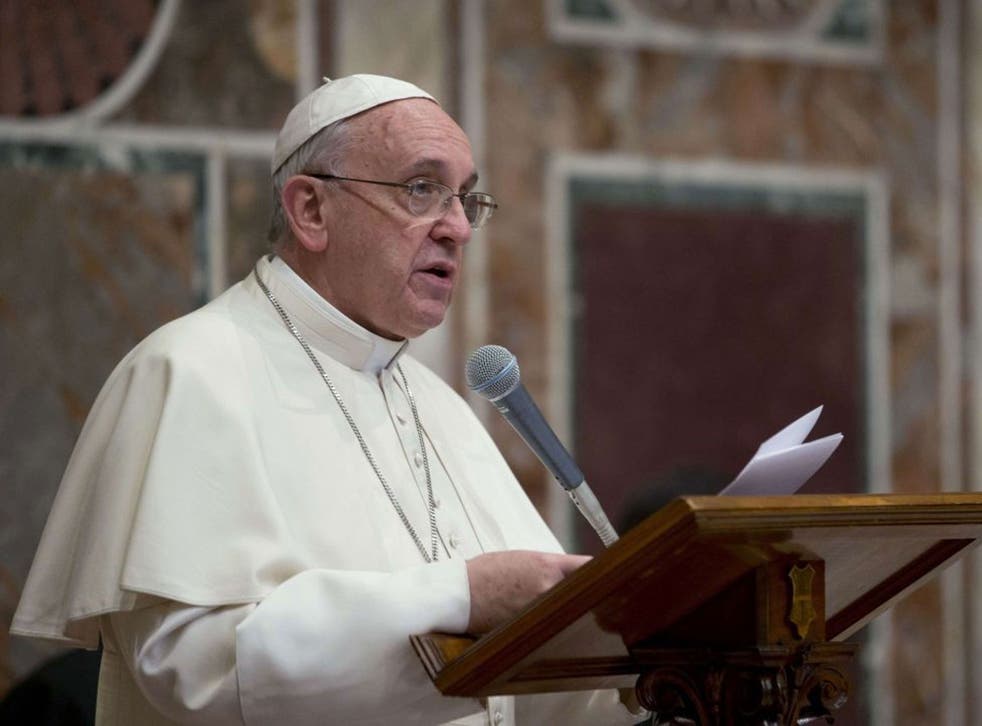 Pope Francis has denounced abortion as "horrific", describing it as part of a "throwaway culture" that has grown to encompass human beings themselves.
Speaking in his annual "State of the World" address, the Pope finally bowed to conservative Catholic demands that he break his silence on what they call "the evil of abortion".
While he has never looked likely to change the Church's position on the practice, Pope Francis has been much less willing to publicly rail against abortion in the same manner as his predecessors Pope Benedict XVI and the late John Paul II.
And in a landmark interview with the Italian Jesuit magazine Civilta Cattolica, he said it was time for the Church to be rid of its "obsession" with teachings on abortion, contraception and homosexuality.
But addressing diplomats in the Vatican yesterday, the Pope spoke about the rights of children around the world.
"It is horrific even to think that there are children, victims of abortion, who will never see the light of day," he said.
Abortion, he said, was part of a "throwaway culture" that had enveloped many parts of the world.
"Unfortunately, what is thrown away is not only food and dispensable objects, but often human beings themselves, who are discarded as unnecessary," he said.
The comments will be welcomed by conservative elements of the Church, which have been critical over what they call Pope Francis's silence on the issue.
Last year, Bishop Thomas J Tobin of Providence, Rhode Island, spoke for many US-based Catholics when he said he was disappointed that the pope had not addressed "the evil of abortion" more directly.
Continuing the part of his speech about children, Pope Francis also deplored their use as "soldiers, abused and killed in armed conflicts; and children being bought and sold in that terrible form of modern slavery which is human trafficking, which is a crime against humanity."
The Pope's comments came after he encouraged mothers at the baptism ceremony for 32 babies in the Sistine Chapel to not be afraid to breastfeed their children.
Meanwhile, the Pope said he has written to the 19 men who will be made cardinals in February – including the Archbishop of Westminster – to tell them the appointments are neither "a promotion… an honour nor a decoration".
"Therefore I ask you, please, to receive this designation with a simple and humble heart," he wrote, adding that: "While you must do so with pleasure and joy, ensure that this sentiment is far from any expression of worldliness or from any form of celebration contrary to the evangelical spirit of austerity, sobriety and poverty."
That same spirit of austerity saw the pope announce that his Harley-Davidson motorcycle, given as a gift to mark the brand's 110th anniversary, will be auctioned for charity at Bonham's in Paris next month.
Pope Francis named 'Best Dressed Man of 2013' by Esquire magazine

Show all 8
Register for free to continue reading
Registration is a free and easy way to support our truly independent journalism
By registering, you will also enjoy limited access to Premium articles, exclusive newsletters, commenting, and virtual events with our leading journalists
Already have an account? sign in
Join our new commenting forum
Join thought-provoking conversations, follow other Independent readers and see their replies