Jennifer Lawrence: The star who fought back
The Oscar-winning actress has won new admirers with  her response to becoming a 'sex crime' victim
Tim Walker
Saturday 11 October 2014 01:08 Comments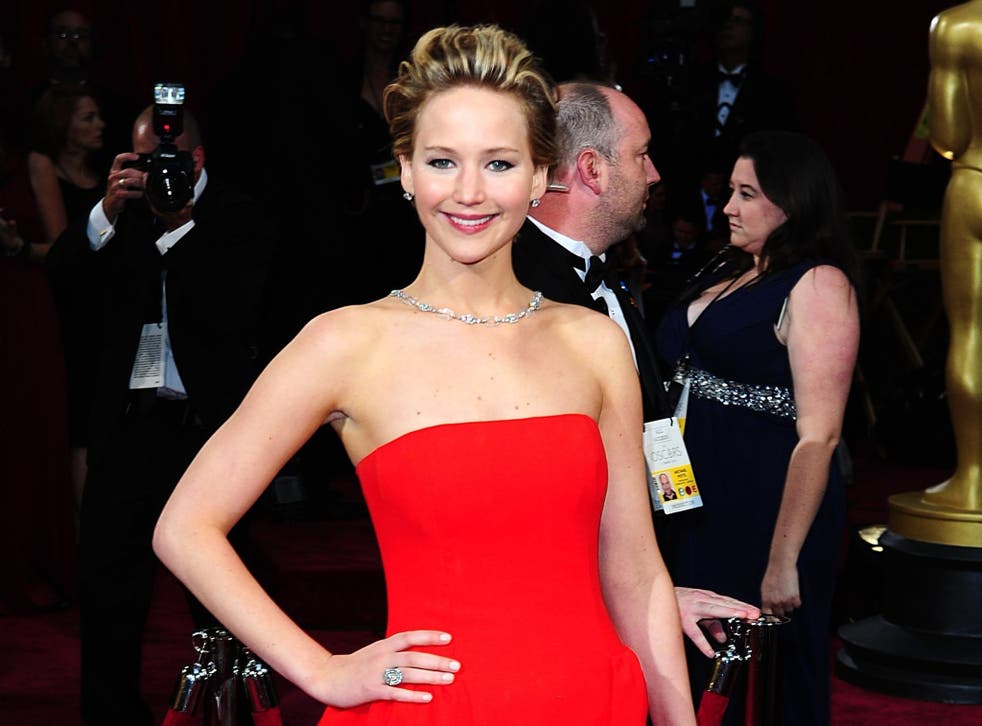 When the FBI finally tracked down the man known as the Hollywood Hacker to his Jacksonville, Florida, home in October 2011, they found someone who utterly fulfilled the stereotype of an online creep.
Thirtysomething, unemployed, possessed of dubious facial hair and still living with his grandmother, Chris Chaney had illegally accessed the personal email accounts of numerous entertainment figures and, in several cases, uploaded their naked pictures to the web.
Almost exactly three years later, on the last day of August 2014, nude photographs belonging to dozens of female celebrities – including Jennifer Lawrence, Kate Upton and Kirsten Dunst – were leaked online via the website 4Chan. It says something troubling about the trajectory of internet culture that their source was not a single seedy bloke in a Florida bedroom, but multiple hackers who had spent months, if not years, building their stashes, bragging about them, and then trading them casually in closed forums, the way others might swap recipes.
Further leaks have dripped out over the past month, with the latest victims being British former celebrity couple Matt Smith and Daisy Lowe – but none has had the impact of Jennifer Lawrence, the first and perhaps most famous individual targeted. This week, the 24-year-old actress finally responded not with silence, or a joke, let alone an apology, but with righteous anger.
Jennifer Lawrence on screen

Show all 7
"I started to write an apology, but I don't have anything to say I'm sorry for," the actress told Vanity Fair. "I can't even describe what it feels like to have my naked body shot across the world like a news flash against my will. It just makes me feel like a piece of meat that's being passed around for profit... Just because I'm a public figure, just because I'm an actress, does not mean that I asked for this. It does not mean that it comes with the territory. It's my body, and it should be my choice, and the fact that it is not my choice is absolutely disgusting."
As her fame has ballooned, Lawrence has tiptoed deftly along the fine line between frankness and discretion. She can be fantastically candid in interviews, once telling a late-night talk-show host a lengthy anecdote about the time she got a lap dance from an elderly stripper dressed as Little Bo Peep; she told another late-night talk-show host about a hotel maid finding a stash of sex toys which had been bought for her as a joke, and that she had wet the bed when she was 13.
Yet she has also maintained boundaries around her private life, remaining notably absent from social networks such as Twitter or Instagram, and speaking only sparingly about her on-off relationship with the British actor Nicholas Hoult, which came to an end earlier this year. It was Hoult, and he alone, for whom those intimate photographs were intended, Lawrence said. "I was in a loving, healthy, great relationship for four years. It was long distance, and either your boyfriend is going to look at porn or he's going to look at you."
In past interviews, Lawrence has made clear that she pursued Hollywood success prepared to defend her privacy, but unaware of just how gruelling the siege would be. "I knew the paparazzi would be annoying. I never knew they'd be actually scary," she told the Daily Beast in 2012. "I'm a single girl driving around being followed by a bunch of strange men that I don't know... To your instincts, you're being followed. You're being hunted. You just want to run and get away."
Born in Louisville, Kentucky, in 1990, the preternaturally likeable Lawrence grew up far from the prospect of fame. Her father Gary owned a contracting firm; her mother Karen ran summer camps for children. Lawrence's "cool girl", one-of-the-boys persona can perhaps be ascribed to her having two older brothers, Ben and Blaine. She was the first girl born in her father's family for half a century.
Her career began by chance, not design, when she was spotted by a modelling scout in Manhattan's Union Square, while on a trip to New York with her mother at age 14. By 16, she was a regular on a television sitcom, The Bill Engvall Show. And at 19, she delivered her breakthrough performance in the moody 2010 drama, Winter's Bone, as a resourceful teen left to fend for herself and her siblings in the rural Ozarks. That earned her the first of three Oscar nominations, and, in 2013, she won the Best Actress award for her turn as a damaged young widow in director David O Russell's Silver Linings Playbook. Few would bet against her winning another before she's done. From 24 October, she returns to the big screen alongside Bradley Cooper, her Silver Linings co-star, in the Depression-era drama Serena; it is the pair's third film together following the Oscar-nominated American Hustle.
As she grew into a formidable actress, Lawrence was also being groomed for blockbuster mega-stardom: a rare double, reserved only for a select few. She auditioned to play Bella Swann in the Twilight series, a part that went to Kristen Stewart, and Lisbeth Salander in the US remake of The Girl with the Dragon Tattoo, which went to Rooney Mara. But she was destined instead to be Katniss Everdeen, the bow-toting heroine of The Hunger Games trilogy. Lawrence has since said she hesitated before taking the role, knowing that it would change her life. More than that, it made her the highest-grossing female action star of all time.
Russell watched her star rise at close quarters. "When she first showed up on the set of Silver Linings, she was asking Cooper and Robert De Niro what it's like to have people come up to you on the street," the director told Vogue. "People didn't know who she was. But by the time the film was released and we did an event in Santa Barbara, it was like being at a Beatles concert. There were thousands of screaming people. It was mind blowing."
Friends and fellow actors have consistently said that Lawrence's endearing, down-to-earth image is no act – even since she joined the cast of a second blockbuster franchise, the X-Men series, where she met Hoult. Recently, she is reported to have been dating Coldplay frontman Chris Martin, another witty, outgoing superstar who has fought to retain his privacy.
While the public reaction to Lawrence's unflinching Vanity Fair interview has been overwhelmingly positive, that didn't stop the hackers or their allies playing a cruel trick shortly after it was published online this week, when they briefly added one of the stolen images to her Wikipedia page. California, it is worth noting, criminalised revenge porn in 2013.
Lawrence herself described the hack as "a sex crime", and it may indeed become a matter for the courts. But sex crime or not, there are several other charges that can be levelled against the perpetrators. Chaney pleaded guilty to nine counts including wire-tapping and unauthorised access to a computer. In 2012, he was ordered to pay more than $66,000 (£41,000) in restitution, and sentenced to 10 years in prison.
Of the moment she learned of the leaked photos, Lawrence said, "I was just so afraid. I didn't know how this would affect my career." Though the progression from Chaney to 4Chan reflects poorly on society today, there is one silver lining that would not always have been the case: it's unlikely to affect her career one jot.
Register for free to continue reading
Registration is a free and easy way to support our truly independent journalism
By registering, you will also enjoy limited access to Premium articles, exclusive newsletters, commenting, and virtual events with our leading journalists
Already have an account? sign in
Join our new commenting forum
Join thought-provoking conversations, follow other Independent readers and see their replies