Lorna Byrne can't really see angels and talk to God... can she?
Her ability to see heavenly apparitions that foretell the future has given her wealth and millions of supporters around the world (though the Catholic Church isn't so sure). But is Lorna Byrne's new self-help book a mystic move too far?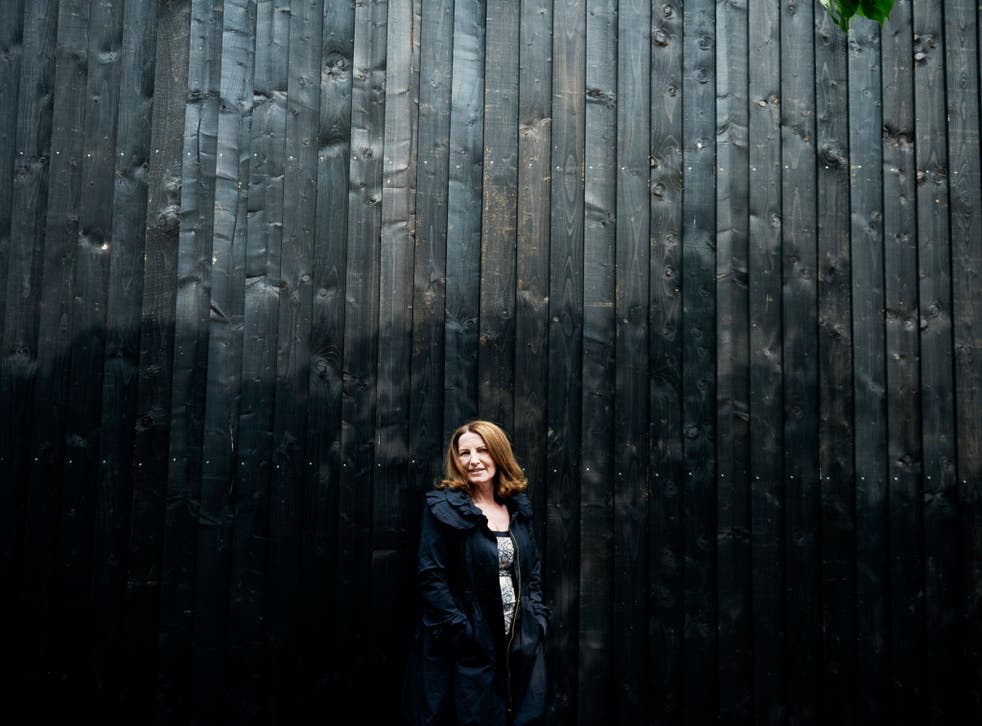 Lorna Byrne is momentarily dazzled as she walks on stage at London's Olympia. At first, I think it must be by the sheer scale of this vast Victorian hall – even her smart black heels, the slightly built Byrne isn't much over 5ft. Or perhaps it's the sight of the adoring, standing room-only audience that has been packing in for half-an-hour, waiting for her to emerge.
But, then, this 62-year-old Irish grandmother should have become accustomed to big stages, big crowds and big welcomes over the past seven years, as she has toured the world, talking about her million-selling books on angels to crowds in cathedrals, mosques, TV studios – even at a UN climate-change summit.
She is a bona-fide publishing phenomenon – her first book, 2008's Angels in My Hair, has been translated into 30 languages and chased by Hollywood studios, while its author is regarded with such reverence by her devoted readers that some refer to her as a modern-day mystic.
"There are so many angels in this place," Byrne announces with a giggle, still glued to the spot on the Olympia stage, focal point of a mind, body, spirit show that has taken over the exhibition hall. "Even up in the balcony…" she gasps. "There are hundreds and thousands of angels here."
While we all peer round to check, and see nothing, Byrne's eyes have started to scan the rows. She can, she claims, see every individual's guardian angel as "spirals of light", hovering three paces behind the one they are protecting – but only rarely do they unfurl their wings for her.
"Oh, yes," she says, fixing on a particular point, "I can see a baby there with its guardian angel, just behind, with lights [wings] opened up, holding a golden sleeve around the baby."
Again our eyes swivel in a fruitless search, but no one seems disappointed. Byrne is among kindred spirits, who choose to take her at her word. Even when she tells us that the angels are waving flags in anticipation of the arrival of Kate Middleton's new baby – apparently unaware that Princess Charlotte had already arrived four hours earlier – mine is the only eyebrow raised.
At the end of her talk, a line quickly forms of those wanting a one-to-one moment. Maria and Isabel are here from Mexico. Do they think she's genuine? "It's natural to have angels around us where we come from," Maria replies. "It's only here in Europe that it sounds odd."
She regards Byrne as a welcome throwback to the wisdom of an earlier age of Catholic piety. And, indeed, her descriptions of angels chime with traditional depictions, all gold and light and feathers. But for others, less conventionally religious but more needy, she is an emotional prop.
At the back of the line is a tall, reedy teenager, with long blonde hair, who stoops to engage Byrne in earnest conversation, then breaks down into tears. She could be on the therapist's couch. At the end of their exchange, Byrne hugs her, tracing a small cross of blessing on her forehead.
What happened in that moment, I ask Byrne afterwards, over a cup of tea. "I ask for a blessing for the person – that whatever they need, God will grant it for them. I'm blessing them but I am saying the words that I am given by the angels."
Byrne's accent is unmistakably Irish, her delivery slow, and she occasionally stumbles over her words. As a child – the third of eight from a poor family who grew up around Dublin – she was labelled "retarded" by her teachers on account of dyslexia, and she came to reading and writing later than most.
She can never remember a time when she couldn't see and speak to angels. "It is normal k for me. I don't know what it is like for you. I can't really imagine what the world would be like without seeing the light coming from people."
Growing up, she learnt to keep quiet about such things. When, aged 17, she met her husband, Joe, at her father's petrol station, the angels told her that her intended wouldn't live into old age, but she went ahead and married him anyway – and didn't share the revelation with him.
They made their home in Maynooth, 16 miles west of Dublin. There was very little money but they had four children – two boys and two girls, today aged between 19 and 35 – before Joe died in his late forties in 2000 after a series of strokes. "At different times," she reflects simply on her capacity to see what is to come, "I am shown more than one future. We have free will and the choice to get there."
At the time of Joe's death, she moved the family to a derelict farmhouse in Kilkenny. "There was no running water and it was like living in a tent, but my youngest daughter was grieving so hard, the angels told me I had to leave Maynooth. [The farmhouse] is where I am still.
The decision to write about what she saw came from above. From God, or from the angels? "Sometimes the angels and, on occasions, God, but sparingly." She says it tentatively. "People sometimes find that too much to take, but why should we be afraid of the spiritual side?"
Perhaps because those claiming to be on a God-given mission tend to unsettle us. Yet Byrne speaks of guardian angels in such an unembarrassed, everyday way that she makes them seem almost normal. However, even for the conventionally religious – and she remains a mass-going Catholic – to hear someone claim to hear the voice of God is to up the ante.
"To me," she reflects, "I'm just an ordinary person. I'd like everyone else to be more important than me. I'm only the messenger."
She is crystal-clear on her limits. All attempts to stretch her gift further – as some of those who wait patiently to see her often do – are quietly but firmly resisted. Behind her gentle, mumsy exterior, I glimpse an inner toughness. "I am not a fortune-teller. Young people come to me and say, 'Am I going to pass my exams?' and I say, 'You know what you have to do: study.' You can ask your guardian angel to help you, but you have to do your work. They will encourage you but you have free will."
If her talk of angels comes with no promises of miracles or cures, neither is it evangelical nor narrowly denominational. Last year, on one of her regular tours of the US, she visited the Sufi Mosque in New York with the Nobel Peace Prize laureate Betty Williams for a prayer event to promote unity among Sunni and Shi'a Muslims.
What took her there was the key but very familiar message that she conveys in all four of her books: that we need to love ourselves and our neighbours more in order to make the world a better place. "I'd hate to think," she says, referring to one of the "futures" she has been shown, "that suddenly it would become too late for mankind, that we'd wake up, see the disaster that had happened and say, 'What have we done?'"
And so the focus of her work is now shifting from, essentially, telling her own story – in Stairways to Heaven (2010) and A Message of Hope from the Angels (2012), which followed Angels in My Hair – to the self-help market: Love from Heaven offers a seven-day path "to love yourself more", complete with flash cards.
It is the same invocation that can be heard on almost every other stand in the mind, body, spirit exhibition around us, but what seems to make Byrne fly above the crowd is her particular combination of religion lite, self-empowerment and the supernatural. And while it is all too easy to pick holes, what is most intriguing is that, in an ostensibly ever-more secular, sceptical and scientific age, this is something that so many want to hear – particularly the young, who are well represented in Byrne's fan base.
"I'll be walking through an airport," she says, "and an 18-year-old will often come up to me and say, 'Thank you. You gave me something to believe in, you gave me hope.'"
For her, her work is a public-service mission, but her books and tours have also made Byrne a wealthy woman. She has recently set up a charitable foundation to distribute profits to children's charities, including Unicef. "I don't have to worry about money any more," she confirms, "but it hasn't gone to my head. I'm still in the same house and it was only two years ago that I got the outside replastered."
What do her children – not to mention her three grandchildren – think about her travelling the globe, talking about seeing angels? "They are really very supportive, but I think my youngest has found it hardest because I have been away so much. Even now she is at college doing law, she calls me about her driving test, and tells me I have to be home to help her. 'Forget about everyone else and think about me,' she says."
It is the sort of domestic detail that litters our conversation. There is apparently no guile about Byrne – either on stage or in person. You take her – and the claims she embodies – as she is.
That leaves three possible conclusions: that she is an artful charlatan, that she is just mad, or that she is on to something. For me, there is no doubting her sincerity: she genuinely believes that she sees and talks to angels. This is not a woman on the make, nor is she keen on self-aggrandisement. Indeed, her air of reluctance and lack of polish is part of her charm.
If she is mad, then she is as mad as anyone with a religious faith, for what she sees and says is entirely mainstream in most of the major creeds, even if nowadays they prefer not to talk about angels as much as they once did. In her native Ireland, she reports, the official Catholic Church is "a bit up and down" about her, but individual priests invite her to speak "to fill up their churches" and never find fault with the orthodoxy of her message.
Which leaves the challenging thought that she may be on to something. The notion of having a guardian angel watching over us is, of course, wonderfully comforting, but for most it belongs in childhood before a different reality takes over. What Byrne does is translate it to the grown-up world. Believe me or don't is her challenge, and it is curiously alluring. She doesn't worry about those who don't, but many do – along with the accompanying promise that whatever troubles them need no longer be borne alone.
'Love from Heaven' (£7.99, Coronet) is out now
Join our new commenting forum
Join thought-provoking conversations, follow other Independent readers and see their replies