Morocco sex worker film star severely beaten amid controversy
Loubna Abidar says authorities refused to help her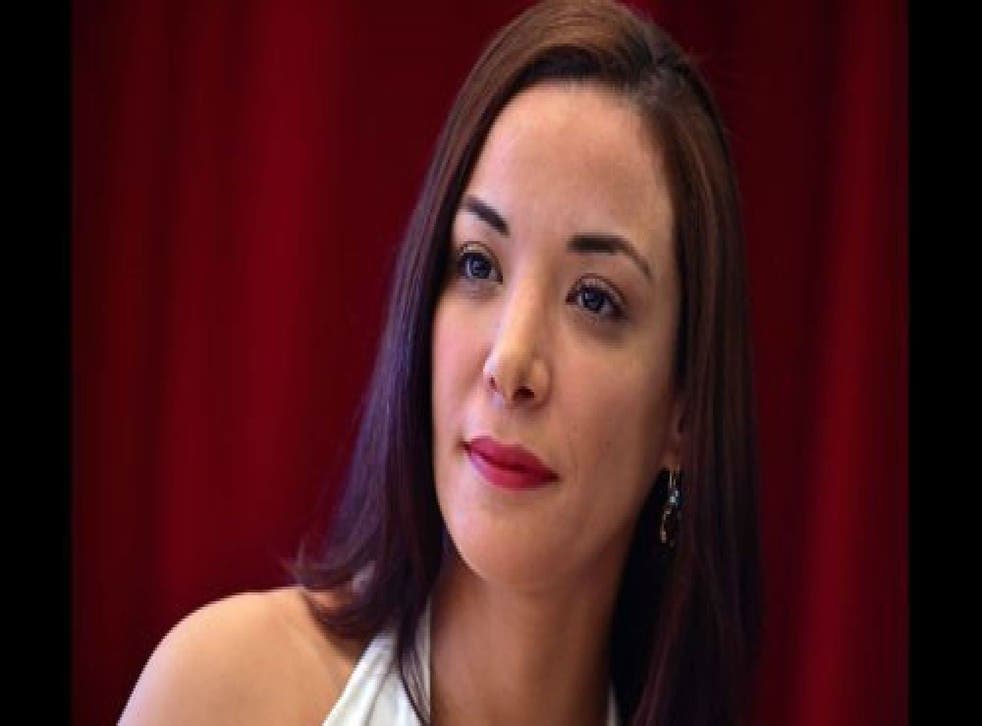 The star of a film on sex work in Morocco – banned in the North African kingdom – was savagely beaten in Casablanca last week, sparking an outcry on social media over social taboos that activists say can be enforced by violence.
Loubna Abidar, who portrays a Marrakech sex worker in Much Loved, a film by renowned French-Moroccan director Nabil Ayouch that caused a stir in Morocco when a series of previews were released on YouTube, said police and hospital workers refused to help her. Instead they humiliated her, she said.
"No [police officer] and no doctor would take care of me. Everyone mocked me and said, 'Finally, Abidar! You got beaten," she said in a video posted online.
Moroccan Justice Minister Mustapha Ramid did not immediately answer an interview request from The Independent.
Though the film itself was banned by the kingdom in May, rights advocates have credited the stir it caused with the publication of the first official statistics on the sex industry.
Local Health Ministries in Agadir, Fez, Rabat and Tangier in May reported that there were 19,333 sex workers in those cities in 2011. Still, critics said the number was likely much higher in the nation where sociologists say sex trafficking and sex work are important, oft-overlooked informal sectors of the nation's key tourism industry.
In a self-recorded video shared widely on social media this week, a bruised and bloodied Ms Abidar describes the ordeal, without offering much detail on the assailants.
Immediately after the attack Thursday, Ms Abidar reiterated a previous statement of her intention to seek political asylum in France after, she said, authorities ignored complaints over threats to her safety made by social conservatives.
She has since retracted her statement on moving to France, saying that she was confused after the beating, amid criticism from rights activists who are often accused by opponents of receiving support from or being inspired by Western and outside forces.
On Friday, Ms Abidar posted multiple photos of her head wrapped in a bandage and several bruises and lesions on her back, writing – not just in Arabic, but in the parlance of Moroccan Muslim piety, "I am better, thank the Lord."
Hshouma" – shame, multiple commentators wrote in Moroccan Arabic on accounts of the attack posted to Ms Abidar's Facebook page. It was unclear whether some referred to Ms Abidar's portrayal of a sex worker, the attack or the government's inaction.
Ibtissame "Betty" Lachgar – co-founder of the Alternative Movement for Individual Liberties, an advocacy group that focuses on women's and gay rights – expressed support for Ms Abidar.
"There are taboos we need to break," Ms Lachgar said. "We can't stop fighting."
Sometimes her effort to break those taboos it is without even the help of Morocco's vibrant, albeit censored civil society organisations, Ms Lachgar said. Rights advocates who typically support freedom of expression have still criticized Ms Abidar and the film, saying that while Morocco needs democracy, it must also respect the sensibilities of the country's Sunni Muslim majority.
"We are not supported entirely by the civil society entirely," said Ms Lachgar, who herself continues to face threats and epithets – on social media and on the street – for her support of abortion, gender parity and the rights of lesbian, gay, bisexual and transgender Moroccans.
"There is no Eastern rights and Western rights. There are human rights. I fail to understand anyone who argues otherwise," she said.
The more prominent civil liberties group, the Moroccan Association of Human Rights, often referred to by its French-language acronym Amdh, declined to comment, saying that it had yet to understand the circumstances and saying that the police had insisted that it responded to Ms Abidar's complaint as it would have anyone else's.
Ms Abidar and Mr Ayouch did not immediately respond to requests for comment.
Join our new commenting forum
Join thought-provoking conversations, follow other Independent readers and see their replies