Video of 'UFO' getting struck by lightning in Austria goes viral - but is it a hoax?
Austrian weather forecasters Ubimet said there was no lightning in the area at the time that the video was apparently recorded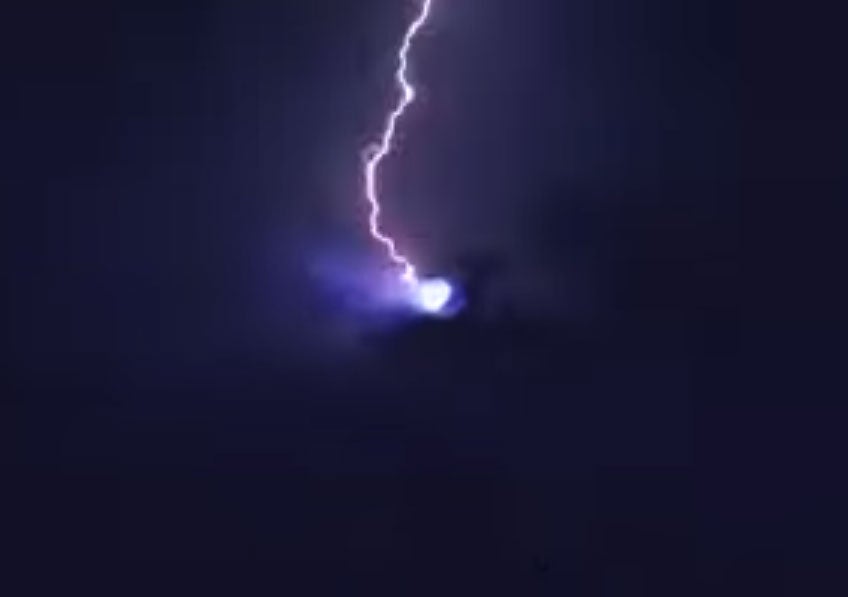 A video that apparently shows a UFO getting struck by lightning during a New Year's Eve celebration in Austria has gone viral online.
The video, apparently filmed by student Marie Mela in the Mostviertel area of Lower Austria, has been spread far and wide across the internet since it was posted on 1 January, and has cropped up on YouTube and a number of UFO-related pages since.
It starts fairly innocently, showing a group of young people ringing in the New Year with dancing, drinks and fireworks.
WTF?! UFO über Niederösterreich oder Wetterphänomen?!?Was ist das?! Hat das gestern sonst noch wer gesehen???#blitz #silvester #ufo #mostviertel #rakete #party #aliens

Posted by Marie Mela on Friday, 1 January 2016

As the camera pans up to follow one rocket, we see a strange, brightly glowing orb in the sky, which appears to get struck by lightning. The camera pans down again, and we get a glimpse of the shocked faces of the crowd, who are questioning what they have just seen.
Unfortunately, it's safe to assume it's not real - from the artificial-looking camera shake, the split-second sudden appearance of the 'UFO' and the melodramatically shocked faces of the video's stars, it bears all the hallmarks of a hoax.
Local newspaper Kurier looked into the video, and asked for the opinion of Roland Reiter, a meteorologist for Austrian weather forecasting company Ubimet, which claims to have Austria's largest and most sophisticated lightning detection service.
Reiter told the paper: "We have seen the video, and we checked the weather conditions at the time - there was no lightning in the area."
The fact that Mela is also a student of Media and Communications at the prestigious University of Vienna also suggests that the UFO video isn't all that it claims to be - perhaps it's part of an experiment to show how far false information can spread online?
It's disappointing news for conspiracy theorists and alien fans, but good news for Mela and her grades - at the time of writing, the video has now been viewed almost 100,000 times in just under a week on Facebook alone.
Join our commenting forum
Join thought-provoking conversations, follow other Independent readers and see their replies