E-cigarette users could be at risk from dangerous 'popcorn lung' disease, Harvard research finds
Diacetyl, a chemical that can cause a number of lung diseases, was found in many leading e-cigarette liquids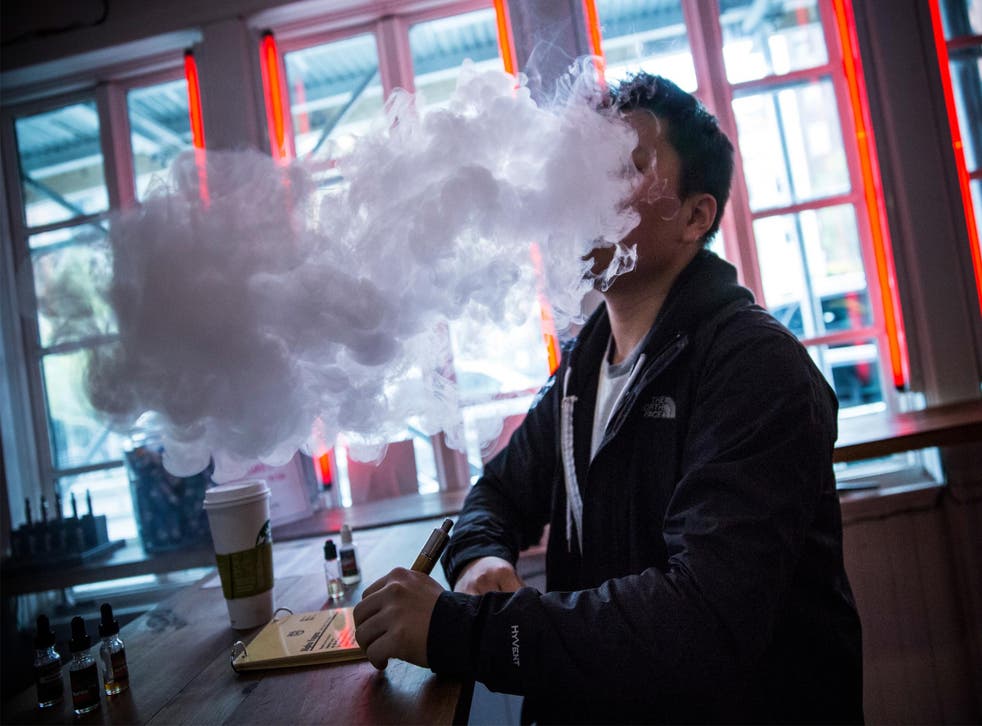 New research from Harvard University has found that a chemical in some liquids used in electronic cigarettes can cause a rare condition called 'popcorn lung', a irreversible and life-threatening disease in which airways in the lungs are narrowed and weakened by scarring or inflammation.
Researchers from the Harvard School of Public Health chemically analysed 51 e-cigarette flavours sold by leading brands.
Of these liquids, 39 contained diacetyl - a chemical that is used to add a desirable 'buttery' taste to certain liquids, but one that has also been linked to popcorn lung and other lung diseases.
Popcorn lung, more scientifically known as bronchiolitis obliterans, got its unusual name after coming to prominence when a number of workers at an American popcorn factory were found to have developed it due to prolonged exposure to diacetyl, which was used to add a buttery flavour to the product.
Popcorn lung can cause coughs, wheezing and shortness of breath, and in severe cases can damage a patient's lungs so much that they require a transplant.
This potential danger of e-cigarette use has only recently come to public attention, but the issue of diacetyl has been known by the e-cigarette community for a while.
Science news in pictures

Show all 20
Many manufacturers still use the controversial chemical, but a number of liquid brands advertise the fact that their flavours contain no diacetyl, with some smaller companies favoured by more experienced vapers even paying for independent chemical analyses of their liquids and sharing the results with consumers.
However, according to the study, two of the companies that produced the tested flavours stated their products didn't contain diacetyl, but analysis revealed that they actually did.
The flavours tested were produced by three large tobacco companies who own e-cigarette brands, a major independent e-cigarette company, and three e-cigarette distributors, all of which were unnamed in the study.
While e-cigarettes may still pose a danger to vapers, an independent review published by government agency Public Health England in August found that they are around 95 per cent less harmful than tobacco cigarettes, and could have potential to help smokers quit tobacco.
The report also found that there is no evidence so far that e-cigarettes are a route into smoking for children and non-smokers.
Significantly, traditional tobacco cigarettes can also contain up to 100 times more diacetyl than e-cigarettes.
Both the NHS and anti tobacco group ASH UK have also acknowledged that e-cigarettes may be safer than traditional cigarettes, although the long-term effects of vaping are not yet known.
In the UK, e-cigarettes are currently loosely regulated by a number of EU and British directives. Further regulation is due to begin in May 2016, when a revised version of the European Tobacco Products Directive will come into force, adding new restrictions on the sale and labelling of e-cigarette liquids.
Join our new commenting forum
Join thought-provoking conversations, follow other Independent readers and see their replies