'Austerity has gone on for too long': Police chief condemns budget cuts as residents start own patrols
'Things are not OK,' admits Cleveland Police chief Mike Veale
Lizzie Dearden
Home Affairs Correspondent
Friday 23 November 2018 14:12 GMT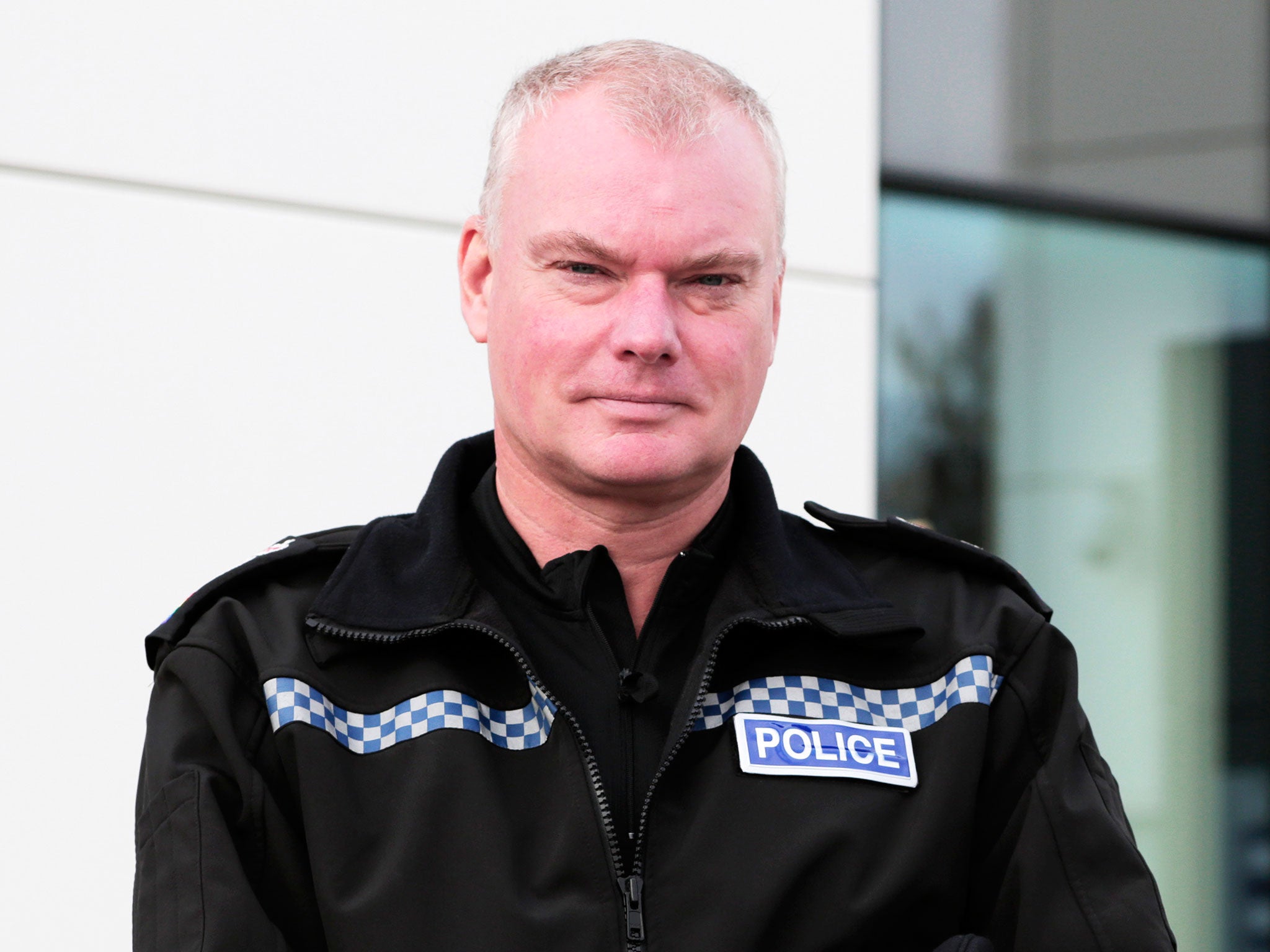 A police chief has admitted "things are not OK" after residents started their own patrols because they felt crime was not being investigated.
Cleveland Police's Chief Constable Mike Veale said government cuts "are too deep and have gone on for too long" as he called for funding to be urgently increased.
Having had its budget slashed by £39m since 2010, his force has seen officer numbers fall by more than 500 – and a recent documentary showed just 10 police officers on one Saturday night shift in Hartlepool.
Locals in the town have now started their own "neighbourhood patrol" to discourage vehicle theft, burglary and other crimes they claim are no longer being investigated.
The service "is nowhere near where it needs to be", Mr Veale admitted
"I would not be exhibiting the courage that my officers and staff deserve if I continue to say we have enough resources, if I continue with this commentary that things in policing are OK. They are not OK," he said in a statement. "The cuts created and caused by austerity are too deep and have gone on for too long.
"We have brilliant people doing a brilliant job but we do not have enough of them and the facts speak for themselves. It is about time that trend was reversed so that we can protect our communities. My message is clear: give us the tools and we will do the job."
The government has insisted there is no causal link between nationwide cuts to police budgets and rising crime, including violence, robbery and burglary.
Cressida Dick: 'Naive' to think cuts to police haven't had impact on rising crime
Listing new technology and complex child abuse cases, Mr Veale acknowledged that the drivers of changing police demand were "complex", but added that "no one in policing today can claim austerity isn't a factor".
Cleveland Police is using a "flexible deployment model" to cover shortfalls of officers in different areas, but in the Foggy Furze district residents have started their own patrols.
Local councillor Kevin Cranney told The Independent neighbourhood police officers "were visible all the time but now very rarely do you see a policeman on the beat, we've lost all that".
He added: "People have voiced concerns that they report a crime and nothing seems to happen – it's a couple of days before they get any sort of feedback."
The councillor said the Foggy Furze neighbourhood patrol group did not amount to vigilantism, and praised almost 1,400 members of its Facebook page for improving recording of crimes that are passed on to police.
Similar patrols have been set up in other British towns and cities in the wake of declining police officer numbers, which have fallen nationwide by around 20,000 since 2010.
Sajid Javid, home secretary, has vowed to push for increased funding for policing in an upcoming financial settlement and next year's government-wide spending review.
But police forces fear they will have to use money intended for recruitment to plug a £420m pensions shortfall revealed by the Treasury last month.
Mark Burns-Williamson, chair of the Association of Police and Crime Commissioners, said work to plan for the future was "constantly being undermined by government announcements".
He told The Independent that commissioners across the country accepted the government's call to raise the council tax precept by £12 last year, but said the benefit could be "wiped out".
"We raised the additional amounts on the basis of trying to carry out more recruitment, mainly police officers," Mr Burns-Williamson said. "The proposition of consulting the public next year on the basis of raising more funding to cover Treasury shortfalls is hardly a message they will take kindly to."
The warning over cuts comes after MPs said that public trust in policing was "breaking down", as forces across the country struggle to respond to crime because of austerity.
Many of the 43 forces in England and Wales are implementing prioritisation systems that stop officers being deployed in person to minor crimes.
In London, the Metropolitan Police now deals with 39 per cent of all reported crimes by telephone and online.
Its Telephone and Digital Investigation Unit (TDIU), launched in April 2017, aims to "reduce demand on response officers allowing them to prioritise the most serious incidents", Scotland Yard said.
Around 30 per cent of its workload are incidents that were originally reported online, but the remaining 70 per cent are transferred from calls.
The TDIU investigates crimes including assault, burglary, vehicle theft, criminal damage and shoplifting.
Deputy Assistant Commissioner Mark Simmons, in charge of local policing, said every reported crime is investigated but "we have got a budget to work to, we have demand to meet, and have to make decisions about what we prioritise".
He added: "All incidents of crime are of the utmost importance, but of course I would much rather our detectives are investigating stabbings and diverting gang members rather than dealing with some of the work which was possible to do when numbers were not so tight."
The vulnerability and safety of callers is taken into account before using the TDIU, and those incidents can later be passed to frontline officers, he said, adding: "We have to admit there are going to be crimes that we are responding differently to than we would have in the past.
"I know this may cause concern to members of the public and perhaps lead to fears that fewer offences will be prosecuted, but I must stress that detection rates for crimes being investigated by the TDIU have not fallen. We cannot do everything in the way we could before, crime is continually changing and adapting, and our numbers are fewer. We have had to realign our resources and invest more in different areas to meet the challenges we are facing. I want to reassure the public that we are here and will do everything in our power to help."
A Home Office spokesperson said: "We are on the front foot in engaging with the police and recognise the changing demands they are facing.
"There is £1bn more of public money going into policing than three years ago, and the home secretary has been clear that he will prioritise police funding.
"As the chancellor noted in the budget, we will review police spending power at the provisional police funding settlement in December."