London teenage girls used by gang to flood Welsh town with drugs, court hears
Three members of 'county lines' gang jailed after girls found with drugs and weapons in house
Lizzie Dearden
Home Affairs Correspondent
Wednesday 14 August 2019 19:05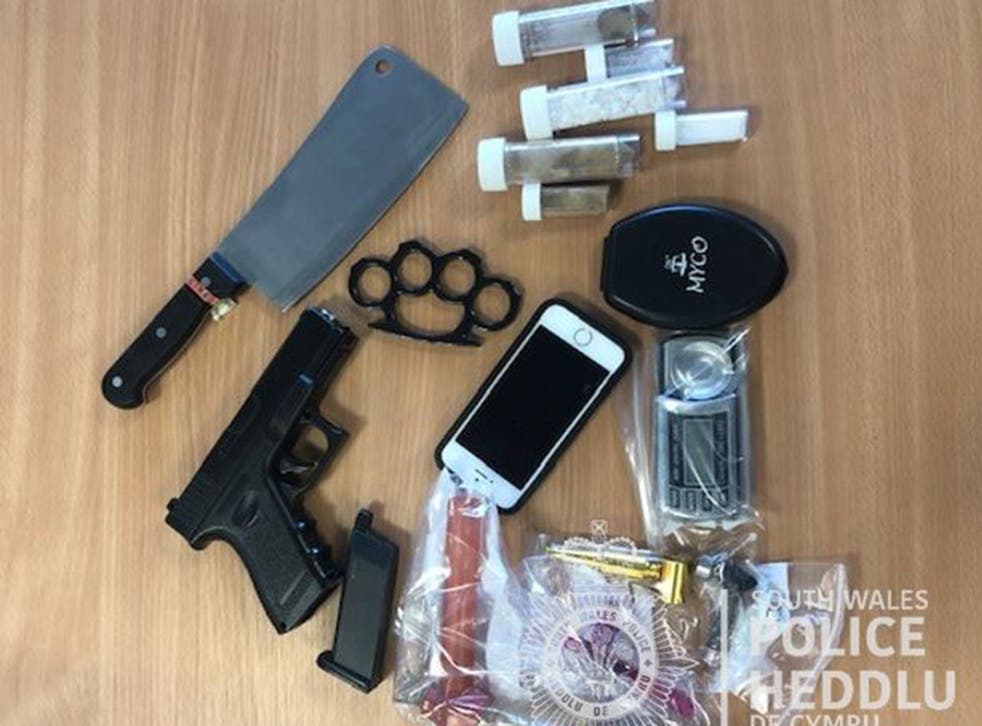 Teenage girls from London were used by a gang to flood the streets of a Welsh town with drugs, a court has heard.
They were promised up to £500 a day for dealing crack cocaine and heroin in Bridgend, 160 miles away from their homes.
Cardiff Crown Court heard they were recruited by a "county lines" gang based in London headed by 22-year-old Kyle Griffiths-Jeffries.
He was jailed for 11 years on Wednesday after being convicted of conspiracy to supply class A drugs.
Associate Adam Harries, a 37-year-old from Bridgend, was jailed for seven-and-a-half years after admitting two counts of the same crime.
UK news in pictures

Show all 50
Local drug dealer Ian Wilkins, 42, was convicted of two counts supplying class A drugs and was sentenced to seven years in prison.
Police said they received a tip-off that criminals from London had taken over a home in Waunscil Avenue, Bridgend, and turned it into a drugs den.
"At this address, officers found two 17-year-old girls from London," a spokesperson for South Wales Police said.
"One of the teenagers told officers that she had been promised the opportunity to earn up to £500 daily for supplying Class A drugs in Bridgend by someone called Rogue."
Officers found large amounts of crack cocaine and heroin, £1,260 in cash, a handgun-style air weapon, meat cleaver, knuckle duster and drug dealing paraphernalia at the address.
They identified Rogue as Griffiths-Jeffries and tracked him down in the Sussex seaside town of Eastbourne in April.
He was found with a phone that had been used as the "Rogue" drug dealing line linking the gang up with buyers.
The court Griffiths-Jeffries was the head of the county line, while Harris acted as his man on the ground in Bridgend.
Both defendants were on licence at the time of the offences, after being released from other prison sentences.
DC James Hartery said Griffiths-Jeffries used the teenage girls to courier class A drugs across the UK – a common tactic among "county lines" gangs.
Life as a teenage drug dealer
"Thanks to community information we were able to safeguard those two teenagers and investigate Rogue's network," he added.
"Gangs involved in county lines criminality deliberately target young and vulnerable children, whom they know are easy to groom, manipulate and control."
Children as young as seven are being exploited for the brutal trade, which sees dedicated phone lines set up to facilitate the sale of drugs from urban gangs into smaller towns and rural areas.
A National Crime Agency (NCA) report said more than 2,000 individual deal numbers were currently operating in the UK, predominantly originating in London, Birmingham and Liverpool.
Gangs commonly use teenagers to move and deliver drugs, controlling them with threats, violence and debt, and also sexually exploit both boys and girls.
The trend has sparked an increase in the number of British people referred to a national support system for modern slaves.
Vulnerable adults, such as drug addicts and those suffering from mental illness, are often targeted so gangs can take over their homes or use their friendship networks to find new customers.
Officials have said the carrying of weapons by people involved in county lines, for example to protect the drugs they carry, could be one of the factors driving up violent crime in Britain.
"Within supply areas, both vulnerable drug users and runners are at the greatest risk of violence," the NCA report said.
"There is also evidence of serious violence as a result of tensions between competing groups engaged in county lines offending."
Register for free to continue reading
Registration is a free and easy way to support our truly independent journalism
By registering, you will also enjoy limited access to Premium articles, exclusive newsletters, commenting, and virtual events with our leading journalists
Already have an account? sign in
Register for free to continue reading
Registration is a free and easy way to support our truly independent journalism
By registering, you will also enjoy limited access to Premium articles, exclusive newsletters, commenting, and virtual events with our leading journalists
Already have an account? sign in