Dr Abbas Khan was unlawfully killed in Syrian prison despite 'suicide' claims, inquest finds
The court heard that his mother had made 'superhuman' efforts to save him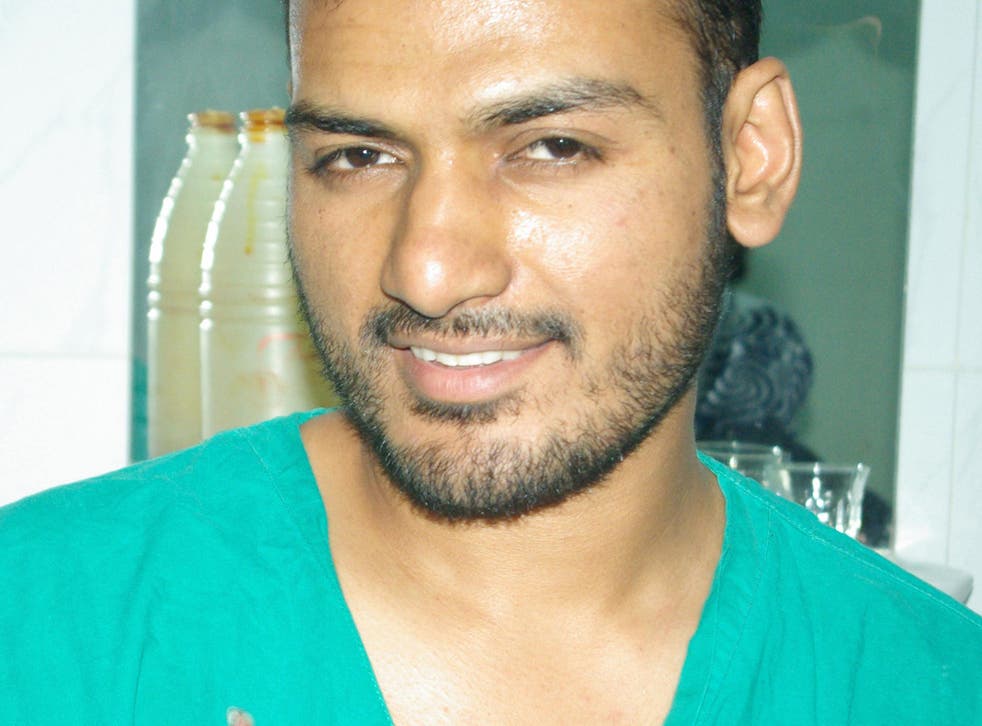 The mother of killed British doctor Abbas Khan could not save her son despite her "superhuman" attempts to free him from a Syrian jail, an inquest has heard.
A jury at the Royal Courts of Justice in London today ruled that he was "deliberately and intentionally killed" in Damascus in December 2013, days before he was due to be released.
Syrian authorities claimed the 32-year-old hung himself in his cell but his family have always been adamant he was killed.
Dr Khan left his wife and two children in London to work as an orthopaedic surgeon helping victims of Syria's civil war but was arrested by government forces in November 2012.
He told his family that treating civilian women and children injured by the regime's bombing campaigns was classed as an act of terrorism by Bashar al-Assad's government.
The father-of-two was held incommunicado for almost a year, when his mother, Fatima Khan, travelled to Syria numerous times and visited embassies, ministries and prisons attempting to find out where he was or whether he was even alive.
Some of the buildings she went to were shaken by bomb blasts, and vans she travelled in came under sniper fire.
"I felt scared, but my son was here so I had to be brave," she told the inquest.
She would kiss the shoes of officials and beg them to help her, the inquest heard, and was eventually rewarded by seeing him in the Syrian "Court of Terrorism" in July last year.
She told the court: "I hugged him. He was a skeleton. He was in tears. I said 'Look, Mummy is here for you'. He said 'Sorry, I shouldn't have come here, please take me home'.
"His hands were cold as if he was fasting. They were full of black marks and one nail was missing as if someone had taken it off. His feet were completely burnt.
"I said 'What's all this?'. He said 'This is nothing, I have suffered more than this'."
Dr Khan said he was beaten by other inmates and interrogated by five men who tortured him with rubber hoses, leaving him with open wounds which became infected.
His mother was on the day her son died on 16 December, four days before Respect MP George Galloway was due to take him back to the UK after appealing directly to President Assad.
Calling it the "most painful day of my life to remember", the told the inquest she was taken to the prison where Dr Khan was being held and told he was fine when he was given breakfast but, two hours later, was found unwell with foam coming out of his mouth, and a doctor was checking on him.
"The interpreter said 'We think he is 95 per cent dead'. I said 'If there is a 1 per cent chance of life, let's take him to hospital'. The man described as the doctor came back out of the room and shook his head as if to say he was dead," she told the hearing.
When she got back to her hotel, she phoned an official, who told her: "Yes, we killed your son because your son came to kill my son. That's why we killed him."
Syrian officials declared that a Government post-mortem confirmed the cause of death was suicide but Dr Khan's relatives said they had received upbeat letters in recent weeks and he would not have killed himself so close to being reunited with his family and going home.
Mrs Khan was seen wiping away tears as the inquest jury delivered the verdict her family had long believed.
The forewoman said the cause of Dr Khan's death was "unascertained" but announced he was "deliberately and intentionally killed without any legal justification."
Asked what the jury's conclusion was "as to the death", she replied: "Unlawful killing."
The chief coroner, Judge Peter Thornton, said: "It is clear that he wanted to use his medical skills to help others, and that included helping others in conflict-torn Syria."
Dr Khan's family, particularly his mother, had made "superhuman" efforts on his behalf, Mr Thornton said, while Mr Galloway, former British National Party leader Nick Griffin and a delegation of Parliamentarians were also involved in unsuccessful bids to free him.
In pictures: Syria conflict

Show all 40
Mr Galloway told the inquest the only people with the ability to murder a high-profile prisoner in defiance of the President would be Syrian intelligence, while Mr Griffin suggested Dr Khan may have been forced to kill himself.
Outside court, Dr Khan's brother, Afroze Khan, said: "Twelve months we have waited for this verdict. As a family, we have always maintained that our brother was an innocent man who travelled to Syria for no other reason than helping injured civilians in the conflict.
"We have always maintained that he was mistreated, maltreated and tortured by the Syrian authorities and that he was murdered by the Syrians.
"Today, our position as a family has been vindicated completely. All the allegations against my brother - that he had gone for any other reason - have been disproved today."
Dr Khan's mother said she was grateful to the jury and described her son as "angelic".
"There was no justice in Syria like we have British justice here - no court, no justice - otherwise my son would have been released," she added.
"I couldn't save my son. I trusted judges, lawyers and minister but everyone lied to me. They stabbed me in my back."
The family's counsel, Michael Mansfield QC, will push for the case to go forward to the International Criminal Court.
Register for free to continue reading
Registration is a free and easy way to support our truly independent journalism
By registering, you will also enjoy limited access to Premium articles, exclusive newsletters, commenting, and virtual events with our leading journalists
Already have an account? sign in