Duncan Tomlin: Police neglected epileptic man who died after being restrained face-down, inquest finds
Family hail 'damning assessment of police behaviour' after officers not prosecuted or disciplined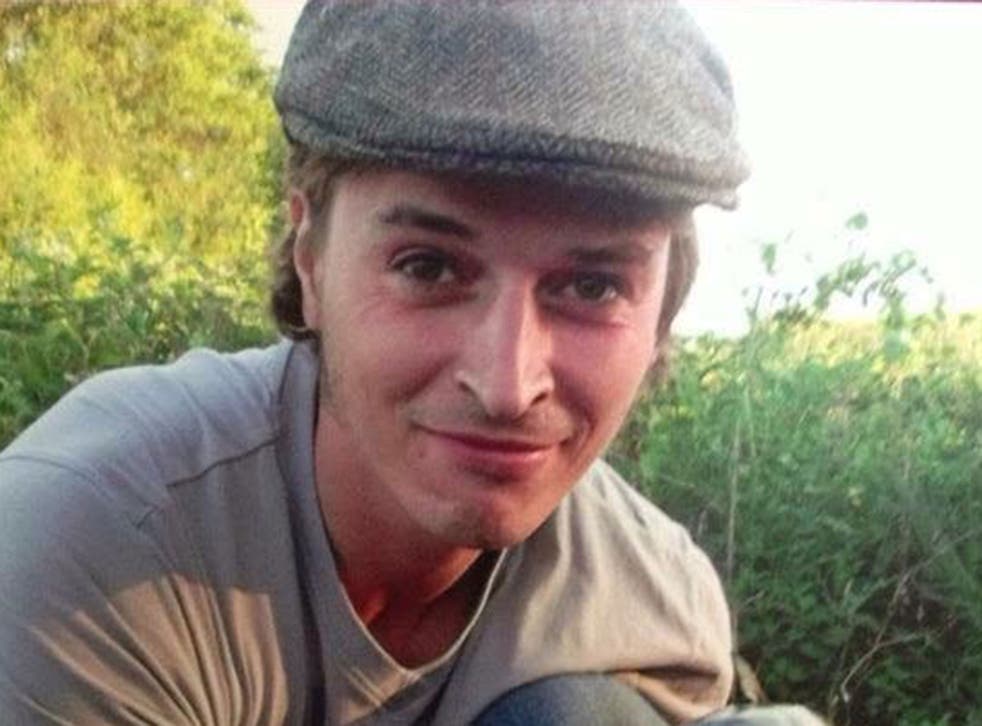 Police neglect contributed to the death of an epileptic man who was restrained face-down in a van, an inquest has found.
Duncan Tomlin died in hospital two days after he fell unconscious during the incident in Haywards Heath in July 2014.
An inquest heard the 32-year-old was wrestled to the ground, sprayed with an incapacitant and arrested after punching a police officer in the face.
Mr Tomlin was handcuffed behind his back, placed in leg and thigh restraints and held face down-on the floor before being carried into a police van with his legs curled up behind him.
Officers continued to hold him face-down in the van before they noticed he had fallen unconscious and called an ambulance.
UK news in pictures

Show all 50
Mr Tomlin was in the vehicle for more than seven minutes before police administered CPR, with officers calling an ambulance then standing it down.
Police officers denied knowing that Mr Tomlin had epilepsy, after relatives claimed Mr Tomlin had fallen into a complex partial seizure as he spent the evening with his girlfriend and friends.
A neighbour mistook his shouting for an argument and called the police, family members said, adding that officers arrived to find the 32-year-old in the garden.
"His girlfriend told the police he was having a seizure, she shouted at them to stop, but they ignored her," his aunt told The Independent at the time.
The inquest heard evidence that Mr Tomlin was groaning and shouting incoherently during the incident, with mucus "streaming" from his nose and saliva in his mouth
A jury at West Sussex Coroner's Court has now returned a narrative conclusion finding that neglect contributed to his death.
They found the medical cause was "cardio respiratory failure due to both restraint in a prone position and the effects of cocaine and methadone".
The jury found there was "no urgency" by officers to move Mr Tomlin into a position where he could recover, adding: "Duncan should have been moved on to his side earlier."
They said police training relating to positional asphyxia was "inadequate" and concluded: "The death was contributed to by neglect."
Relatives and friends of Mr Tomlin - who have waited nearly five years for answers over his death - hugged after the ruling was read out.
The Crown Prosecution Service (CPS) decided not to prosecute the Sussex Police officers involved and four were cleared of allegations of gross misconduct at a disciplinary hearing.
Assistant coroner Elisabeth Bussey-Jones, who presided over the four-week inquest in Crawley, is to issue a report on preventing future deaths.
Addressing Mr Tomlin's family, she said: "Our thoughts are with you as you continue to grieve his loss and I hope this inquest, which has gone on for some time, has brought you some peace."
His father, Paul Tomlin, said the finding of neglect was "a damning assessment of the police's behaviour".
"Throughout the past four-and-a-half years we feel Sussex Police and their officers have been arrogant, defensive and evasive," he added. "It has been incredibility traumatic to repeatedly have to watch the footage of Duncan in the back of the police van when we consider he clearly needed help. The jury have agreed.
"This is not the end of the process - the least we can do is continue to seek clarity and justice for our missing son and brother."
Helen Stone, a solicitor at Hickman and Rose who represented the family, said that although British police forces have strict rules governing the restraint of vulnerable people "the sad reality is when these rules are breached – as they often are - the only way in which those responsible can be held to account is by putting pressure on the authorities through the courts."
Selen Cavcav, a senior caseworker at the charity Inquest, said a change to police culture and practice was needed over the "dangers of prone restraint and its potential to cause death".
The inquest heard Mr Tomlin had been drinking and had taken drugs with friends before neighbours called police and officers restrained him after he ran off.
Sgt Christopher Glasspool told jurors Mr Tomlin had been "screaming and shouting incoherently" but then fell motionless as he lay face down on the floor with his hands cuffed behind his back.
The court heard that four minutes passed between the time Mr Tomlin appeared to fall unconscious and when he was moved out of the van.
An ambulance was called but stood down when it was decided it would be quicker to take him straight to hospital, before being called back again shortly afterwards and a doctor rushed to the scene.
Positional asphyxia, where someone suffocates because of the position they are in, drugs and alcohol played a part in the death, pathologists said.
Support free-thinking journalism and attend Independent events
In August Sgt Glasspool, PC Jamie Jackson and PC Daniel Jewell were cleared of gross misconduct allegations at a disciplinary hearing.
PC Russell Watson was also cleared of all allegations at a private hearing that month while PC Alexander Bennett resigned from the force in 2017.
Sussex Police said training to recognise the signs of positional asphyxia had been "offered centrally for consistency" following Mr Tomlin's death, and was being regularly reviewed.
"I offer my deepest sympathies and heartfelt respect to the family of Mr Tomlin following his tragic death," Assistant Chief Constable Nick May added. "All of our officers join the police service to protect the public and save life and it is of deep regret when anyone comes to harm. We accept the inquest's narrative verdict and will now thoroughly consider the Coroner's report and any recommendations within it."
Register for free to continue reading
Registration is a free and easy way to support our truly independent journalism
By registering, you will also enjoy limited access to Premium articles, exclusive newsletters, commenting, and virtual events with our leading journalists
Already have an account? sign in
Register for free to continue reading
Registration is a free and easy way to support our truly independent journalism
By registering, you will also enjoy limited access to Premium articles, exclusive newsletters, commenting, and virtual events with our leading journalists
Already have an account? sign in