FGM protection orders granted to prevent two Rotherham girls being forced to undergo practice
Police say anyone breaking the orders will be jailed for up to five years 
Lizzie Dearden
Home Affairs Correspondent
Tuesday 06 November 2018 18:16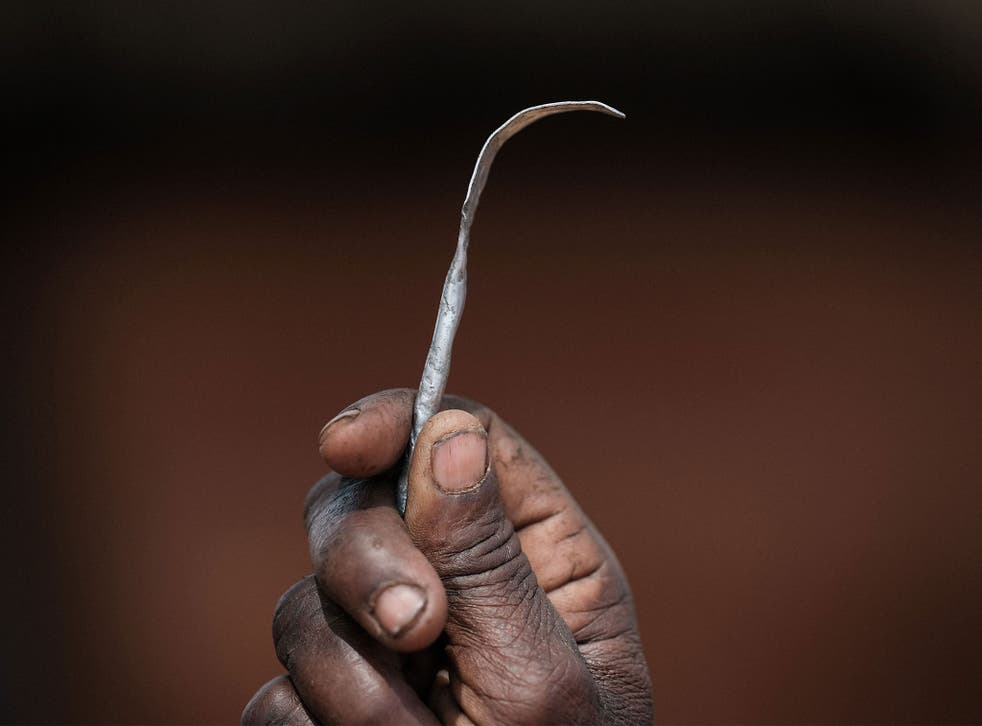 Two girls at risk of female genital mutilation (FGM) have had court orders granted that will see anyone trying to make them undergo the procedure jailed for up to five years.
South Yorkshire Police said they were put in place to prevent the girls from from Rotherham, from having the procedure carried out in the UK or abroad
Detective Inspector Suzanne Jackson said FGM protection orders were "a powerful and preventative means of protecting" girls.
Anyone breaking the orders will face up to five years in prison, she added.
"It is a serious and violent crime, which we want to prevent happening, to safeguard victims from a lifetime of physical and psychological damage," she said. "Harmful cultural practices are sadly still continuing in countries where this is seen as normal. Parents are often faced with family and community pressure and isolation if they don't comply with FGM and mothers themselves have been victims as children.
"Our aim is to intervene and ensure that this cycle of abuse does not continue."
The orders were introduced by laws that make it illegal to perform or commission FGM, in the UK or abroad – even in a country where the practice is legal.
But there have not yet been any successful prosecutions under the law and police are aiming to use the orders to prevent offences being committed, amid education campaigns hoping to stop the practice.
FGM victim and Dahlia Project founder on the culture of the practice within family groups
Det Insp Jackson said the orders on the two Rotherham girls will be monitored by partner agencies, to ensure the children are protected and sanctions are put in place if they are violated.
They were granted by Sheffield Family Court amid a nationwide awareness campaign launched by the government on FGM, which remains an under-reported crime.
As many as 100,000 women and girls in the UK are estimated to have undergone the illegal procedure, but a fraction of that number have disclosed it to the NHS.
Police operations have focused on preventing girls being taken abroad to undergo FGM, but a survivor told The Independent that "cutters" are also being flown into the UK to carry out procedures to order.
Hoda Ali, an activist who works in safeguarding in the London borough of Ealing, said: "The reality is we need to open our eyes. We don't need to think just about far-away countries because right now we have girls who are in their late teens or even early 20s who were cut in this country. They are British girls who were born here and they were cut here."
The Home Office's ongoing awareness campaign, called Let's Protect Our Girls, is targeting parents and community elders in practising communities mainly from Sudan, Somalia, Ethiopia, Eritrea, Egypt, Iraq, Gambia and Nigeria.
FGM tribal circumcision ceremony in Baringo County

Show all 12
Plans announced last month said FGM survivors and officials would engage with people in London, Manchester, Liverpool, Bristol, Leicester, Birmingham and Sheffield to fill "a knowledge gap about the long-term health consequences of FGM".
The government is spreading posters, print and radio adverts containing information on related issues including childbirth complications, period problems, infection, scarring and mental trauma.
The NSPCC's FGM helpline has received more than 1,600 calls since being launched in 2013, buy administrators say the "true picture of how many are affected is unknown because for far too long FGM has been cloaked in secrecy".
NHS England statistics show that 1,015 FGM cases were newly recorded between April and June this year, although the procedures may have been performed many years before.
It brings the total number of survivors recorded in the UK to 17,330 since 2015, but a study estimated that 137,000 women and girls who have migrated to England and Wales are living with the consequences of FGM.
FGM, which refers to any procedure that intentionally alters female genital organs for non-medical reasons, has been illegal in the UK since 1985.
The law was strengthened in 2003 to prevent girls travelling to undergo FGM abroad and it is also illegal to fail to protect a girl from the practice.
Despite mounting awareness, police have said intelligence on the practice is "woeful", while prosecutions were frustrated by FGM happening abroad and victims being unwilling to give evidence against relatives.
An academic study found that mandatory reporting procedures brought in for health workers, social care agencies and teachers have been "more symbolic than effective".
Register for free to continue reading
Registration is a free and easy way to support our truly independent journalism
By registering, you will also enjoy limited access to Premium articles, exclusive newsletters, commenting, and virtual events with our leading journalists
Already have an account? sign in
Register for free to continue reading
Registration is a free and easy way to support our truly independent journalism
By registering, you will also enjoy limited access to Premium articles, exclusive newsletters, commenting, and virtual events with our leading journalists
Already have an account? sign in