Grooming gangs abused more than 700 women and girls around Newcastle after police appeared to punish victims
'Sexual exploitation is happening in towns and cities across the country,' serious case review warns 
Lizzie Dearden
Home Affairs Correspondent
Friday 23 February 2018 14:22 GMT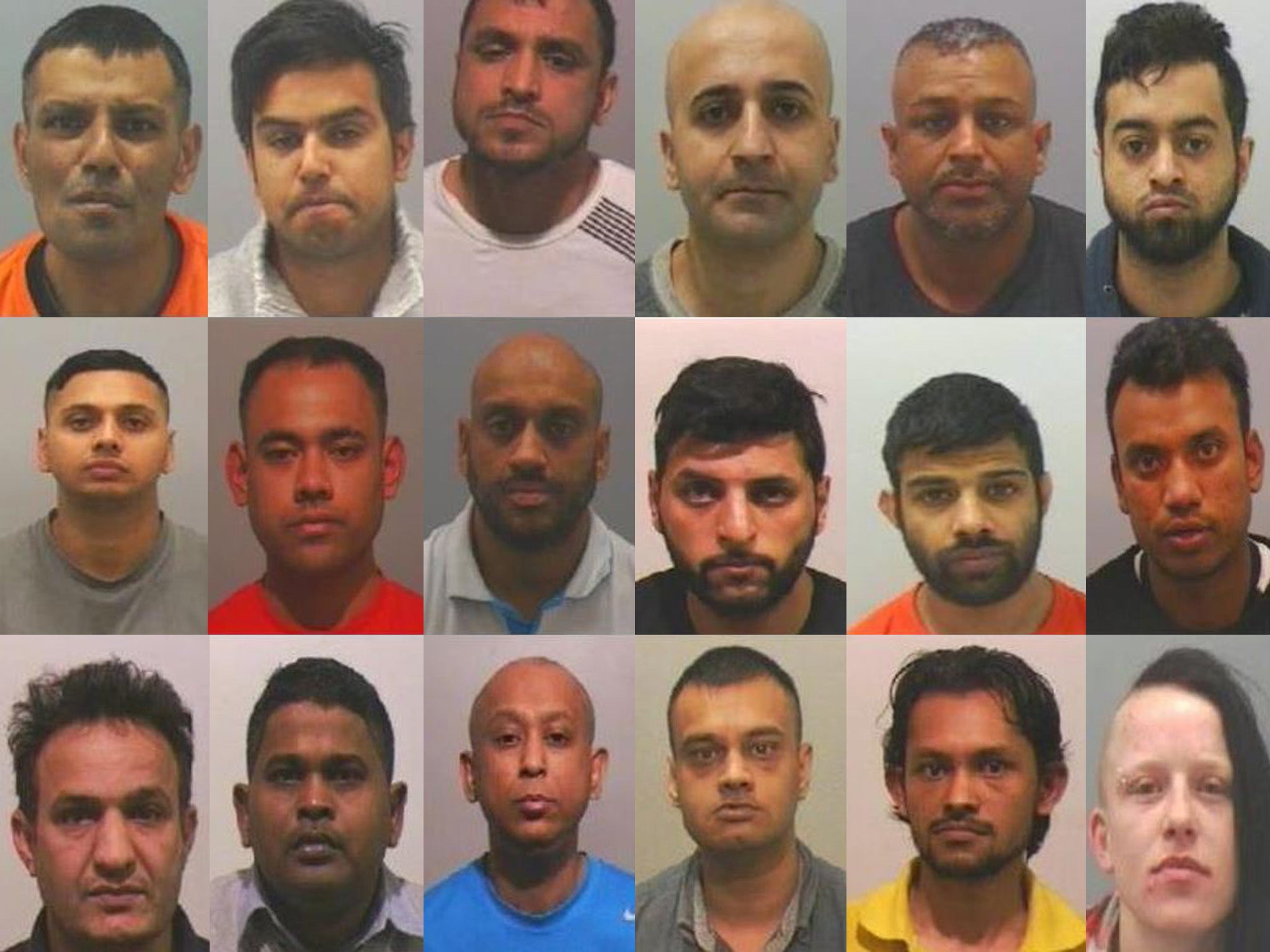 Grooming gangs abused more than 700 women and girls around Newcastle with "arrogant persistence" after police appeared to punish victims while letting the perpetrators walk free, a case review has found.
The report into the response by authorities to child sexual exploitation found that before a large-scale police operation was launched in 2014, officers' actions were sending an "unhelpful" message to perpetrators.
It warned that abusers are still preying on girls across the UK, and called for urgent action from the Government.
Investigators said the abuse could not be stopped without work to understand the profiles, motivations and cultural influences of perpetrators, after finding similarities with grooming in Rotherham, Rochdale and Oxford.
Officials found that although a crackdown on child exploitation was swiftly launched when victims came forward in 2014, the abuse had not been halted.
"Unlike some other areas, Newcastle agencies did not try and sweep this under the carpet but actively went looking for it and as a result a large number of perpetrators were arrested and prosecuted, and victims saved from further trauma," said former barrister David Spicer, who led the review.
"Sadly, it is still happening in Newcastle and other cities, but this city is determined to tackle it."
After examining evidence on the abuse of hundreds of girls in the North-east, investigators concluded that local authorities claiming there is no grooming in their area "are not looking hard enough".
Operation Sanctuary: "We do not believe that what we have uncovered is unique to Newcastle"
Pat Ritchie, chief executive of Newcastle City Council, said the council would enact all recommendations from the report.
"Sexual exploitation is happening in towns and cities across the country but what we have learned can be used to help others," she added.
"We know it is still going on in our city, but we are doing everything in our power to prevent it, disrupt it and deal with it, and support the victims for years to come."
Northumbria Police had identified more than 700 potential victims of grooming in the region by August through Operation Sanctuary, but expected the number to rise.
Temporary Deputy Chief Constable Darren Best said society had undergone a "sea change" in the knowledge and understanding of grooming in recent years.
"We are far from complacent and recognise we still have work to do to ensure we consistently identify victims and carry out comprehensive investigations on their behalf," he added.
"What cannot be clearer is that safeguarding the vulnerable is everybody's business."
Before 2014, police were responding to incidents on an ad hoc basis, with efforts by authorities trying to persuade victims to keep away from the abusers and change their behaviours.
The review found the approach led to "consideration of deterrent punishments of victims for being drunk and disorderly or for making false allegations when accounts were changed".
"This sent an unhelpful message to perpetrators – they were unlikely to be prosecuted or prevented from continuing to abuse – encouraging an arrogant persistence," it added.
"It also had a significant impact on victims who learnt that nothing would be done against perpetrators."
A total of 17 men and one woman have been convicted of offences including rape, sexual abuse, supplying drugs and trafficking for sexual exploitation in a series of trials over the Newcastle case.
Of eight victims covered in the trials, six were white and two were of African heritage, while the perpetrators came from a diverse range of backgrounds including Pakistani, Bangladeshi, Indian, Iranian, Iraqi, Kurdish, Turkish, Albanian and Eastern European.
The court heard how teenagers and young women were picked up off the streets, then groomed and given alcohol and drugs before being coerced or forced into sex at so-called "sessions" in Newcastle's West End.
Victims described being raped while they were asleep, unconscious or incapacitated after being forced to drink and take drugs.
"I wanted to leave but I was given drink," one said. "I kept saying no and fighting them off. I was very tired and fell asleep. When I woke, I had been raped."
Another added: "When I was out of it they could do anything they wanted to me."
A judge concluded that the defendants "selected their victims not because of their race, but because they were young, impressionable, naive, and vulnerable", including young girls and women with learning difficulties and mental health issues.
The review said victims in the wider North-east included a 12-year-old girl who fell pregnant and other teenagers who underwent abortions, as well as others left with devastating long-term trauma causing substance abuse, mental illness and relationship breakdowns.
It warned that one girl had suggested boys were among the victims, and that the sexual exploitation of male victims is likely to be under-reported and hidden.
The review said that while perpetrators' individual beliefs are not known, they "all appear to come from a non-white, predominantly Asian/British minority ethnic culture or background" – as in Rotherham, Rochdale and Oxfordshire, while a grooming gang in Bristol were from a Somali background.
The review found that "arrogant" perpetrators "show remarkable persistence over long periods in targeting and grooming victims, undeterred by involvement of the police and other agencies".
Mr Spicer said: "Tackling sexual exploitation must address the perpetrators – not only preventing their activities but understanding their motivation."
He added that cultural beliefs and practices have a "significant impact" on abuse, affecting both how abusers treat victims and how able victims feel to report their abuse.
One member of the Newcastle gang, Badrul Hussain, once told a white female ticket inspector: "All white women are only good for one thing – for men like me to f*** and use like trash. That's all women like you are worth."
One of the two victims from an African background said her parents blamed her for being raped and believe in spirit possession, adding: "They were going to kick me out."
Mr Spicer attempted to interview jailed grooming gang members in Newcastle but only one – an asylum seeker who plans to return home at the end of his sentence – agreed.
He admitted abusing girls, including a homeless victim, but "displayed no regret" and claimed the victims "knew what they were doing", accusing the Government, police and a judge of paying witnesses in a conspiracy against him.
Asked about his views on the UK, the man said "you can get anything here... sex, drugs, alcohol" and spoke in a "derogatory way about lack of morals in British girls and did not go with Muslim girls because there are not many of them".
Muslim girls have been abused by grooming gangs in other parts of the country, with a 2013 report containing dozens of case studies.
The review found that before Operation Sanctuary started in 2014, perpetrators in Newcastle were not consistently investigated and disrupted as victims were unwilling to make complaints.
"However, once the true extent of the problem became apparent, the police, the Crown Prosecution Service, the city council and partners across the city put in place a range of measures to disrupt, arrest and imprison offenders while supporting victims regardless of whether they were able to give evidence in court or not," Mr Spicer said.
"In Newcastle, decisions about taking action were not influenced by lack of concern or interest, misplaced fears about political correctness or fear of being seen as racist. Neither was there any evidence of ineffective leadership or inappropriate interference by senior officials or political leaders to prevent action being taken."
After two victims who did not know each other reported being abused in early 2015, Operation Shelter was launched and led to the initial arrest of more than 30 men and exposure of abuse dating back to 2007.
A multi-agency response to sexual exploitation was set up to take new reports and continues to operate, directing victims to both law enforcement and specialist support and becoming a national blueprint.
A total of 15 national recommendations included a review of private hire vehicle licensing, issuing specific guidance on the grooming of vulnerable adults and improving cooperation between agencies including the NHS, social care and police.
Mr Spicer also called for the Government to look at whether new laws should be created to "address the behaviour and involvement" of grooming gang members and ensure victims are treated sensitively in court to encourage others to come forward.
"The learning from this review does not only apply to Newcastle," the report concluded. "It is hoped that it will be used to influence and shape services in other areas of the country and inform the need for national reform."
The Government has outlined £40m worth of packages to tackle child sexual exploitation, and child abuse specialists are conducting research into different forms of offending.
A spokesperson said: "These are abhorrent crimes that have had a devastating impact on the lives of the victims involved.
"We have done more than any other Government to tackle child sexual abuse. It has been declared a national threat and we are investing millions of pounds to enable officers to actively seek out and bring offenders to justice. We will now look carefully at the recommendations in the joint serious case review."