Former Isis hostage of 'The Beatles' doesn't want them to have 'satisfaction' of death penalty
Last two members of British Isis cell known as 'The Beatles' captured in Syria
Lizzie Dearden
Home Affairs Correspondent
Friday 09 February 2018 15:15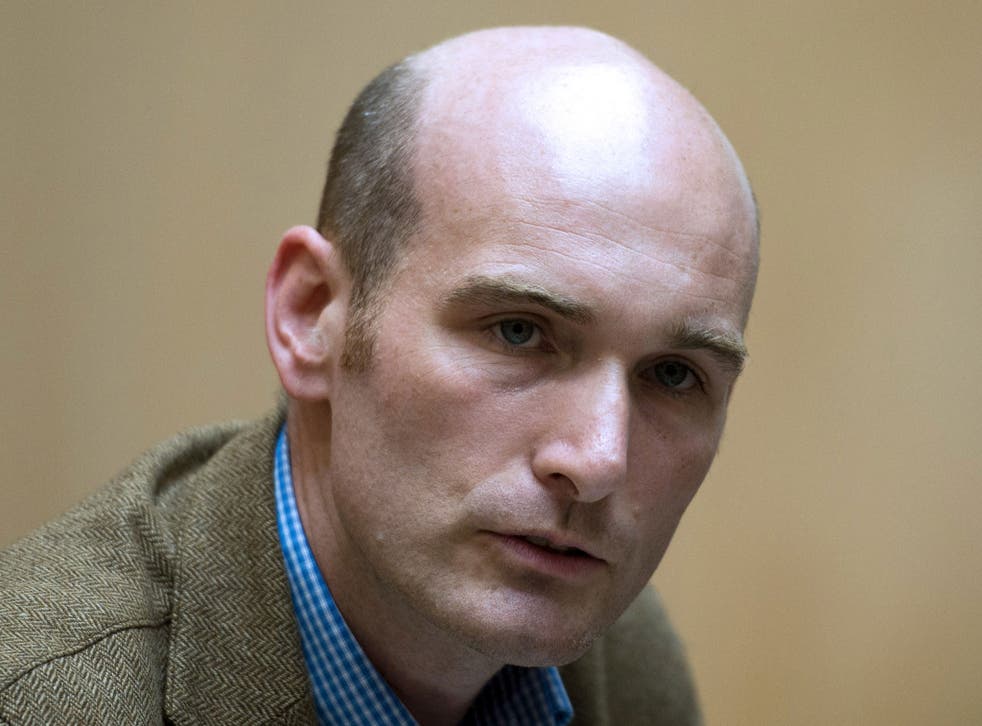 Two captured British Isis militants should not be given the "satisfaction" of being put to death and becoming martyrs, a former hostage has said.
Nicolas Henin, a French journalist, was one of the few captives to survive brutal detention at the hands of the cell that became known as "The Beatles" in Syria.
He wants his former jailers, Alexanda Kotey and El Shafee Elsheikh, to face a fair trial for their crimes.
"The death penalty would achieve what these people claim they wanted when they went to Syria – martyrdom," Mr Henin told The Independent. "You don't give your enemy such satisfaction."
Originally from London, the militants may have been stripped of their UK citizenship for joining Isis and it is unclear where they could be tried for the murder of both British and American citizens.
Mr Henin said he does not believe the Kurdish militias who currently have Kotey and Elsheikh in custody have the capacity for a thorough legal process.
"Guantanamo Bay wouldn't be a satisfying solution either, as it is a denial of justice," he added.
"What I want is an incontestable trial, as fair as possible, where my captors would have all the chances to defend themselves.
"We must absolutely prevent them reversing the situation by depicting them as victims. We were the victims, not them. If they don't get justice, they will use it to fuel their propaganda."
Mr Henin was freed just four months before the group beheaded his former cellmate James Foley in 2014, starting a string of gory murders including British aid workers David Haines and Alan Henning and Americans Peter Kassig and Steven Sotloff.
Their executioner, Mohammed Emwazi, became known as "Jihadi John" and was killed in a drone strike, while his fellow "Beatle" Aine Davis is imprisoned in Turkey.
The remaining two members of the cell – 34-year-old Kotey and 29-year-old Elsheikh – remained at large until they were caught by the Syrian Democratic Forces (SDF) in January.
Colonel John Thomas, a spokesperson for US Central Command, said they were detained in eastern Syria and have been questioned by American officials following identification using biometric data and other tools.
He told the Associated Press their capture was "certainly a big deal for America" as well as their victims' families around the world.
Hostages have told of their brutality, which included torture, waterboarding, electric shocks, mock executions, and crucifixions.
Mr Henin was the first Western journalist to enter Syria after the uprising started, being kidnapped in June 2013 alongside photographer Pierre Torrès while filming in Raqqa, which would later become Isis's self-declared capital.
He described all four "Beatles" as "arrogant, considering themselves as the elite forces of the 'caliphate', connected to the highest level of the leadership of the group, and regularly brutal".
The journalist believes that other jihadis involved in his capture may still be at large but said knowing Kotey and Elsheikh were behind bars was important to his recovery, adding: "I feel much better.
"I believe both former hostages and the families of those murdered largely share my feelings. We all are looking for justice. It will not bring us what we lost, a year in our life or even a son, but it's still necessary."
While Isis's self-declared caliphate across Iraq and Syria has collapsed, leaving only small pockets of militants surrounded in border areas, it continues efforts to inspire terror attacks around the world and has spread to countries including Afghanistan, Libya and Egypt.
"I'm still happy to see this monstrosity collapsing, also for the welfare of the local population, but am worried of the persistence of a lot of its ideas in the mind of people, both in the Middle East and in Europe," Mr Henin said.
Relatives of the hostages tortured and murdered by "The Beatles" have spoken of their relief.
Bethany Haines, whose father David was killed in 2014 after being held captive for 18 months, said she hoped Kotey and Elsheikh's detention could bring closure.
"In my opinion, they shouldn't be breathing but that's not really a realistic kind of expectation," she told Good Morning Britain. "I think that they should be locked up with the key thrown away and never to be released."
Diane Foley, the mother of the first hostage to be beheaded, said the arrests will not bring her son back, but "hopefully it protects others from this kind of crime".
"Their crimes are beyond imagination," she told the BBC. "They really have not done anything good in the world, so I think they need to spend the rest of their life being held."
Elsheikh came to the UK as a child from Sudan, when his family were granted refugee status, and lived in White City, west London.
He had links to local gangs as a teenager, with his older brother jailed for gun possession, and was not known to be religious until he was introduced to a radical preacher.
He travelled to Syria in 2012 and joined al-Qaeda's regional branch before an internal dispute led to a splinter group creating Isis.
Declaring him a "Specially Designated Global Terrorist" last year, the US State Department confirmed Elsheikh was a member of the "The Beatles" and said the cell had beheaded more than 27 hostages and tortured many more.
"Elsheikh was said to have earned a reputation for waterboarding, mock executions, and crucifixions while serving as an Isis jailer," a statement said.
Kotey was put under the same sanctions months before, when the State Department said: "As a guard for the cell, Kotey likely engaged in the group's executions and exceptionally cruel torture methods, including electronic shock and waterboarding.
"Kotey has also acted as an Isis recruiter and is responsible for recruiting several UK nationals to join the terrorist organisation."
Born in London, he is half-Ghanaian, half-Greek Cypriot and grew up in Shepherd's Bush.
Kotey is believed to have converted to Islam in his early twenties, and left two young children in Britain when he travelled to Gaza in 2009 as part of a controversial aid convoy organised by George Galloway.
Syrian Democratic Forces take Raqqa from Isis – in pictures

Show all 8
In a statement, his family said they did not want to comment on his capture and asked for privacy.
The British militants are among hundreds of foreign fighters believed to have been imprisoned by US-backed forces in Syria, where their future has remained unclear.
The UK has removed British citizenship from some dual nationals known to be Isis members using powers for the "public good".
But the Home Office would not confirm if Kotey and Elsheikh had been subjected to the measure, which aims to prevent militants returning to Britain.
Asked whether it would be seeking to transport the pair to the UK for trial, the Foreign Office said it did not comment on individual cases or ongoing investigations.
Dr Shiraz Maher, deputy director of the International Centre for the Study of Radicalisation at King's College London, said the capture of Kotey and Elsheikh was "hugely significant" because the bulk of high-profile Isis targets are still at large or have been killed.
"These men will have important intelligence about the fates of Western hostages in their custody, including some who remain captives of Isis," he added.
"It also demonstrates that just because Isis has lost territory or moved off our television screens, the group has not gone away.
"European foreign fighters very much remain a part of this organisation and continue to play a role in the next phase of its mutation as it reverts back to its insurgent roots."