New powers to fight rise in stabbings and shootings given to London by Government
Capital is home to almost 20 per cent of all offenders in England and Wales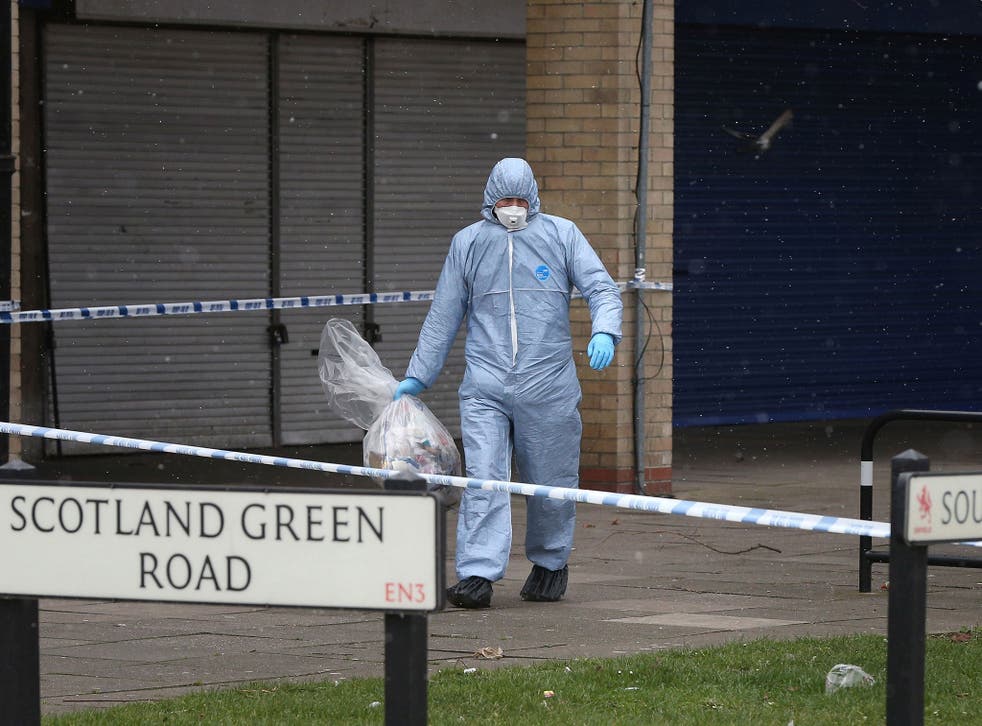 Rising stabbings and shootings in London will be targeted by a new crime strategy using powers handed from central Government to the capital's mayor.
Sadiq Khan's office, the Ministry of Justice and London Councils have signed a memorandum of understanding on devolved justice powers, which proposes a "secure school" for young offenders and overhaul of failing probation services.
David Gauke, the Justice Secretary, said London faces "unique challenges" while housing almost 20 per cent of all offenders in England and Wales and spending £3.3bn every year on criminal justice.
"It is right that we work in close partnership with London's regional authorities to reduce crime, stop people reoffending and look after victims," he added.
"I envisage this as the first step towards a model where London's authorities play a much more active role in managing offenders – particularly those who require the most comprehensive support."
Mr Khan said he wanted to make London safer, reduce reoffending rates and support victims better by joining up local services.
"This agreement will ensure that decisions about justice services in London prioritise the interests of Londoners, and it is an important step towards the devolution of powers over criminal justice in our city," he added.
Met Police Chief: Police will use stop-and-search powers "properly" over knife crime
The initiative was revealed after a bloody week in the capital, where a 26-year-old man was shot dead in the street on Sunday night.
Another man, 30, is fighting for his life in hospital after being stabbed in Kennington on Friday, and on Wednesday a man had his watch stolen at gunpoint in Croydon.
On Tuesday, a 21-year-old man was stabbed to death in a Stratford shopping centre, hours after a 36-year-old man was fatally assaulted on a bus in New Cross.
There were two unrelated murders on the previous day, when another man was killed in Walthamstow and a 48-year-old man was stabbed to death in Southall.
The latest attacks come amid a nationwide rise in violent crime, with knife and gun offences up a fifth in a year, and safety warnings over the part-privatisation of probation services.
There were more than 820,000 crimes recorded in London over the last year – 17 per cent of all recorded crime in England and Wales – and a fifth of known offenders (76,000) live in the capital.
Despite the scale of demand, the prospects for people going through the criminal justice system are among the worst in the country and the memorandum warned that problems have "become more acute in the wake of the significant budget challenges that all agencies have faced" in recent years.
Metropolitan Police Commissioner, Cressida Dick, said London's crime wave was being driven by a "core group of young offenders" repeatedly committing assault and robbery "with relative impunity".
UK news in pictures

Show all 50
Almost half of youth offenders and a third of 18 to 24-year-olds convicted of crimes in London reoffend, with the figure rising to 42 per cent for those having spent time in custody, and the phenomenon is costing £2.2bn a year.
Initiatives will target the "root causes" of crime and address the disproportionate number of victims and offenders from black, Asian and ethnic minority groups.
The new strategy aims to protect the public and ensure criminals are properly rehabilitated in order to "break the cycle of crime".
It will review probation services, amid criticism of under-performing Community Rehabilitation Companies, and push to boost confidence in community sentences as an alternative to imprisonment.
It also aims to improve safety in London prisons, which are overcrowded and have rising rates of violence and self-harm and probe the use of custody for under-18s.
The Mayor's Office for Police and Crime and local councils are researching potential sites for a Secure School for London, which would educate young offenders, and propose the creation of a dedicated "young adult" court.
A new London Justice Devolution Board will lead efforts to join up work by the 14 different national, regional and local organisations currently handling different parts of the fractured system.
Other aims include improving the experience for victims and witnesses and reducing the number of women in custody.
The Ministry of Justice has also struck devolution deals with authorities in Greater Manchester, Liverpool and the West Midlands, and is considering closer ties with elected Police and Crime Commissioners across the country.
Register for free to continue reading
Registration is a free and easy way to support our truly independent journalism
By registering, you will also enjoy limited access to Premium articles, exclusive newsletters, commenting, and virtual events with our leading journalists
Already have an account? sign in
Register for free to continue reading
Registration is a free and easy way to support our truly independent journalism
By registering, you will also enjoy limited access to Premium articles, exclusive newsletters, commenting, and virtual events with our leading journalists
Already have an account? sign in