Stabbings and murders plummet in London as Met commissioner hails stop and search
Controversial police searches rise by third in capital as murders drop by 25 per cent and stabbings of under-25s fall by 15 per cent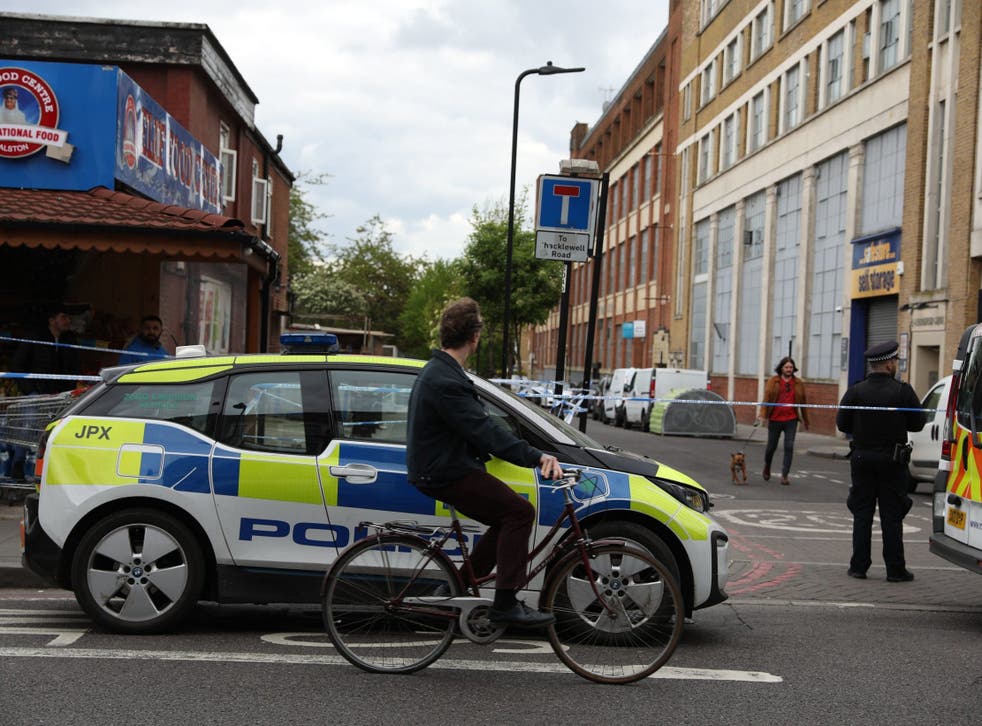 Britain's most senior officer has credited the increasing use of controversial stop and search powers with driving down violence in London.
As knife crime hit a record high across England and Wales, new figures show the capital bucking the trend with plummeting murders, stabbings and shootings.
Metropolitan Police commissioner Cressida Dick said the reduction was driven by "massive enforcement" seeing stop and search increase by 30 per cent.
"Stop and search doesn't account for all this reduction but I think it is producing a significant result we see every day, with taking weapons off the street and making arrests," she told journalists.
"The vast majority of people do support us doing that and are asking for more activity, not less."
The teenagers murdered in London in 2018

Show all 21
Ms Dick was speaking the morning after a 15-year-old boy was stabbed to death in Hackney during a "confrontation" between two groups, where a 16-year-old was also stabbed.
She called the murder "ghastly" but said that overall, the Metropolitan Police was starting to make "real progress" against violence.
Homicides decreased by a quarter in 2018-19 from the year before (32 fewer victims), while knife crime injuring under 25s was down by 15 per cent (311 fewer victims). Overall knife crime with injury fell by 10 per cent (455 fewer victims) and gun crime by 7 per cent (172 fewer victims).
Moped-enabled crimes, such as muggings and armed robberies, halved in the year and other knife crimes, including possession, was static at 14,800 offences.
Ms Dick said she has been working to "scale up" stop and search since taking up her post in 2017, including controversial powers that let officers search people without suspicion in areas where violence may break out.
The 2018-19 financial year saw 172,000 stop and searches carried out in London, including 9,500 "section 60" stops without suspicion.
Ms Dick said around 15 per cent of people stopped were arrested and that 27 per cent saw a "positive outcome" including weapons, drugs or illegal property seized.
"Any suggestion that this is random or unmanaged is completely wrong, it is focused and very well led, briefed and organised," she added.
Cressida Dick contradicts Theresa May over police cuts
Black people are currently nine-and-a-half times more likely to be stopped and searched than white people in England and Wales, and official figures suggest Section 60 searches – which are being boosted by the government – are even more disproportionate.
Research published last year found "limited evidence of the effectiveness of stop and search in reducing crime" and warned that it can damage community relations.
But police leaders have pointed to the fact that the violent crime increase that started in 2014 coincided with reforms by Theresa May that caused the use of stop and search to plummet.
Then home secretary, she threatened police with new laws forcing them to make stop and search "more targeted", saying: "Nobody wins when stop and search is misapplied. It is a waste of police time. It is unfair, especially to young black men. It is bad for public confidence in the police."
Ms Dick said that other efforts including the record seizure of £101m of criminals' cash, weapon sweeps and the new Violent Crime Taskforce were also driving down violence with programmes to steer young people away from criminality.
She said Scotland Yard had been using extra funding from mayor Sadiq Khan and a slice of funding from central government for intensified efforts, after contradicting the prime minister over the impact of police cuts.
"We've used ever better intelligence, we have been suppressing violence through a presence on the streets, tackling drug markets, targeting those people we know are involved in violence," Ms Dick added.
"This is very definite progress and I am confident that we will continue to step up our efforts and make real inroads into these pernicious crimes."
The Metropolitan Police released its findings days after separate figures showed knife crime surged to a record high across England and Wales last year.
Almost 44,500 offences involving knives or sharp weapons were recorded – a rise of 6 per cent – including 252 homicides and 368 attempted murders.
Murder and manslaughter figures also reached a 10-year high in 2018.
Police said the government must "take responsibility" for the bloodshed after years of funding cuts, which are starting to be reversed.
Register for free to continue reading
Registration is a free and easy way to support our truly independent journalism
By registering, you will also enjoy limited access to Premium articles, exclusive newsletters, commenting, and virtual events with our leading journalists
Already have an account? sign in