Met Police considering plans to axe all 1,000 of its community support officers to cut costs
PCSOs are seen as an easier target to cut than regular officers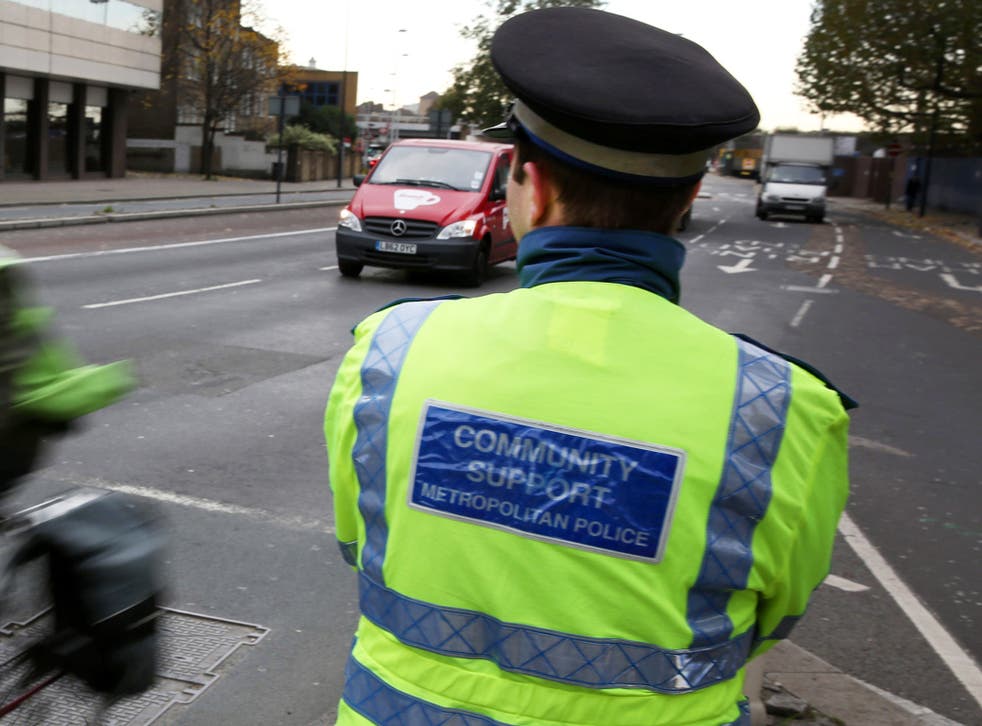 Britain's biggest police force is considering scrapping all 1,000 of its community support officers (PCSOs) as part of an £800m budget reduction drive.
The move by the Metropolitan Police would be the single biggest cut in civilian officers anywhere in the country. PCSO posts have been slashed by more than a quarter from 16,200 across England in the last five years, according to unions.
The plans were announced on the force's internal website this week - and came as the Home Secretary Theresa May said that unpaid volunteer officers would play a greater role in policing in the future.
Unions said management will consider three options later this month including one to scrap all 1,017 patrolling PCSOs with the force, and another to leave just 629 in place.
PCSOs are seen as an easier target to cut – both legally and politically – than regular officers as they do not enjoy the same "job for life" protections, and their limited powers have previously earned them the tag of "plastic police".
But PCSOs, first introduced 13 years ago without the powers of arrest, are now seen as an integral part of police patrols, and have a more diverse ethnic mix than the wider force policing the multi-cultural capital.
Labour London Assembly member Joanne McCartney said: "This is the clearest sign yet that Government cuts are decimating London's police force. Axing all of London's PCSOs would be the final nail in the coffin for neighbourhood policing and mean far fewer officers on the beat in our communities acting as the eyes and ears of the Met."
News of the planned cuts came as Mrs May cleared the way for police leaders to take on more volunteers to carry out police work, including specialist roles within cyber and financial investigation teams. Lincolnshire police has already recruited volunteer PCSOs in a project being watched by forces across the country who are struggling under growing financial pressures. Mrs May said that volunteers can "play a greater role in the future, bringing new skills and expertise, and freeing up police officers to concentrate on the core policing task that most requires their particular powers and experience".
Shadow Policing Minister Jack Dromey accused the Government of "hollowing out" neighbourhood policing. "Now Theresa May has the cheek to suggest that these jobs may be done by volunteers," he said.