Met Police Commissioner accused of calling for 'more black boys to be locked up' to combat knife crime epidemic
Cressida Dick tells charity event 'other approaches are no longer working'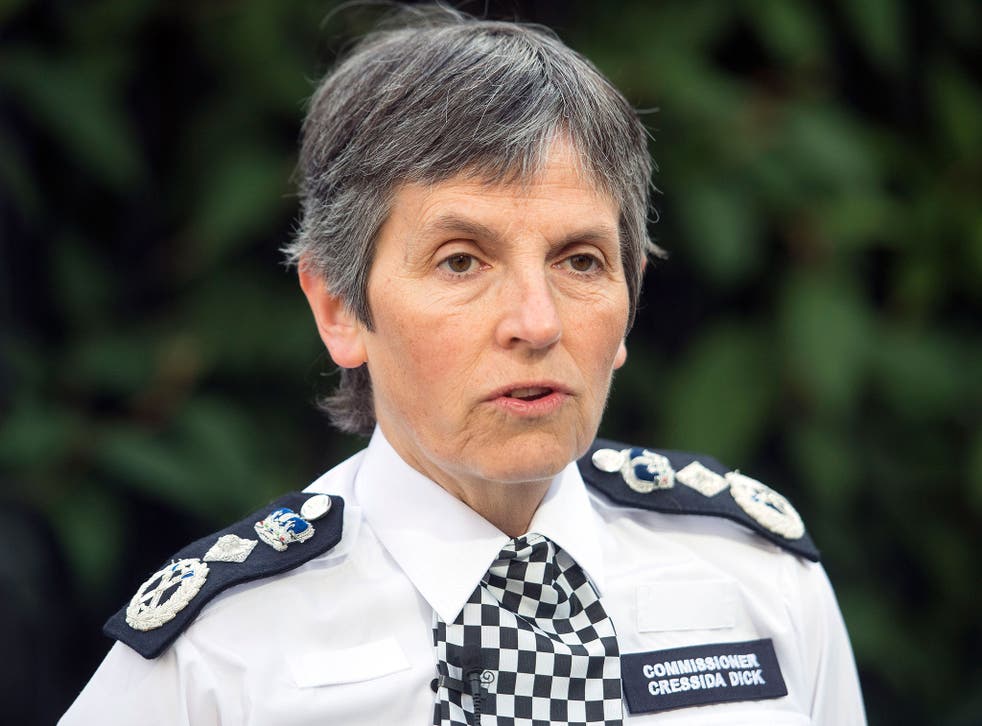 Cressida Dick has been accused of calling for "more black boys" to be locked up after suggesting that harsher jail terms should use to deter teenagers driving a spate of knife crime in London.
The Metropolitan Police Commissioner, who is Britain's most senior police officer, made the comments to campaigners, prison governors and academics gathered at a charity event.
Ms Dick voiced concern over a spike in stabbings in London, which have risen by more than 15 per cent so far this year and seen 16 teenagers among those murdered using knives.
"I haven't come here to argue for putting more children in prison…but I'm seeing them commit serious offences in increasing levels of violence and increasing numbers, and I have to be realistic," the Commissioner said.
"We need a blend of better engagement by public services, more diversion and more imaginative community resolution to help keep as many young people out of prison as possible.
"For debate, should we couple that with harsher more effective sentencing? It is clear other approaches are no longer working."
Ms Dick said young black men and boys were statistically more likely to be the victims and perpetrators of knife crime, making up 21 of 24 teenagers murdered so far this year.
The deadly spate of stabbings shows no sign of slowing, with a 21-year-old man murdered in Newham on Wednesday and a 17-year-old boy stabbed to death in Penge last week.
Ms Dick said the crime wave was being driven by a "core group of young offenders" repeatedly committing assault and robbery "with relative impunity".
The Commissioner cited the case of a 16-year-old boy from south London who has committed 42 separate crimes including assault and drugs offences in three years, carries a knife, is involved in gangs, but has never been jailed.
"He's a child - he's our responsibility and we have to ask ourselves what is it about the system that isn't working?" Ms Dick said.
"Why is he offending so much and how is he able to? And he is by no means alone."
She argued that an increasing number of young people do not fear state action and are not deterred by the threat of imprisonment because they do not believe theywill be jailed, or that it would be for a short time.
Ms Dick had been invited as a guest speaker by the Howard League for Penal Reform, which campaigns for fewer people to be jailed and highlights poor conditions and failures within the criminal justice system.
Frances Crook, the charity's chief executive, said the Commissioner had "used the opportunity to call for more young children, in effect more black boys, to be sent to prison and for longer".
In a damning response, she said Ms Dick "did not deliver a lecture - it appeared to be more a few unconnected thoughts presented as challenges to the audience".
Ms Crook added: "It was rather surprising that the head of the Met chose not to talk about things that are within her power to act on, but instead to focus on areas outside her expertise and responsibility, particularly when there are some good stories to tell about the work of her organisation."
While Ms Dick argued that prison protects the public from dangerous people, she admitted that two out of three teenagers go on to reoffend within a year of their release.
UK news in pictures

Show all 50
"We also know that many of the perpetrators of violent crime are also victims of violent crime and vice versa," she added.
One in three robbery victims is aged 10 to 19, while the 26 per cent of rape victims are in the same age group, along with 16 per cent of sexual offenders.
"We need to step in earlier into people's lives," the Commissioner said. "We need to give more real deterrents and we need to use the opportunity that imprisonment could give to better ensure that children, and we must remember they are children, don't reoffend."
A HM Inspectorate of Prisons report found that not one youth jail in England and Wales is currently safe, after a "staggering rise" in violence, easy access to drugs and declining emphasis on rehabilitation.
A separate report by Labour MP David Lammy also found that black people in the UK are proportionally more likely to be imprisoned than those in the US.
Andrew Neilson, director of campaigns at the Howard League, said that authorities should not be locking young offenders up "for the remainder of their childhoods in institutions that have been deemed unsafe".
"There is no evidence that more prison sentences will actually work," he told The Independent.
"Knife crime was falling when mandatory sentences for knife possession were introduced a few years ago, and now it's rising.
"So it doesn't necessarily follow that her proposals would stop the knife crime epidemic."
Mr Neilson said that while the head of the Metropolitan Police cannot directly make sentencing decisions, "anything she says carries weight" and the intervention could influence politicians who can spark new laws.
He added: "What [Ms Dick] is talking about is a change to a national sentencing policy, and I would question whether that should be changed by a local trend in London, however serious that is."
The campaigner described a vicious cycle, where increases in crime have driven lengthened sentences and a rising prison population, which in turn has worsened conditions and led to riots and violence.
"The solutions to this are not going to lie in the criminal justice system - they might manage things slightly but they won't stop the underlying reasons why these gangs are running rampant," Mr Neilson added.
The debate came after the Metropolitan Police released guidelines to officers allowing them to stop investigating some lower-level crimes as the force works to save £400m by 2020.
An efficiency report released by the HM Inspectorate of Constabulary this week warned that police across the country were struggling to maintain a full response because of "significant stress" caused by continued spending cuts amid a huge rise in demand.
Police leaders say their officers have become the "service of last resort" to fill gaps in mental health provision and other public services, despite being at the lowest number since 1985.