National Action: Six alleged members of neo-Nazi group arrested on suspicion of terror offences
Counter-terror police raid homes in Cambridge, Banbury, Wolverhampton, Leicester and Stockport in coordinated operation
Lizzie Dearden
Home Affairs Correspondent
Wednesday 03 January 2018 10:52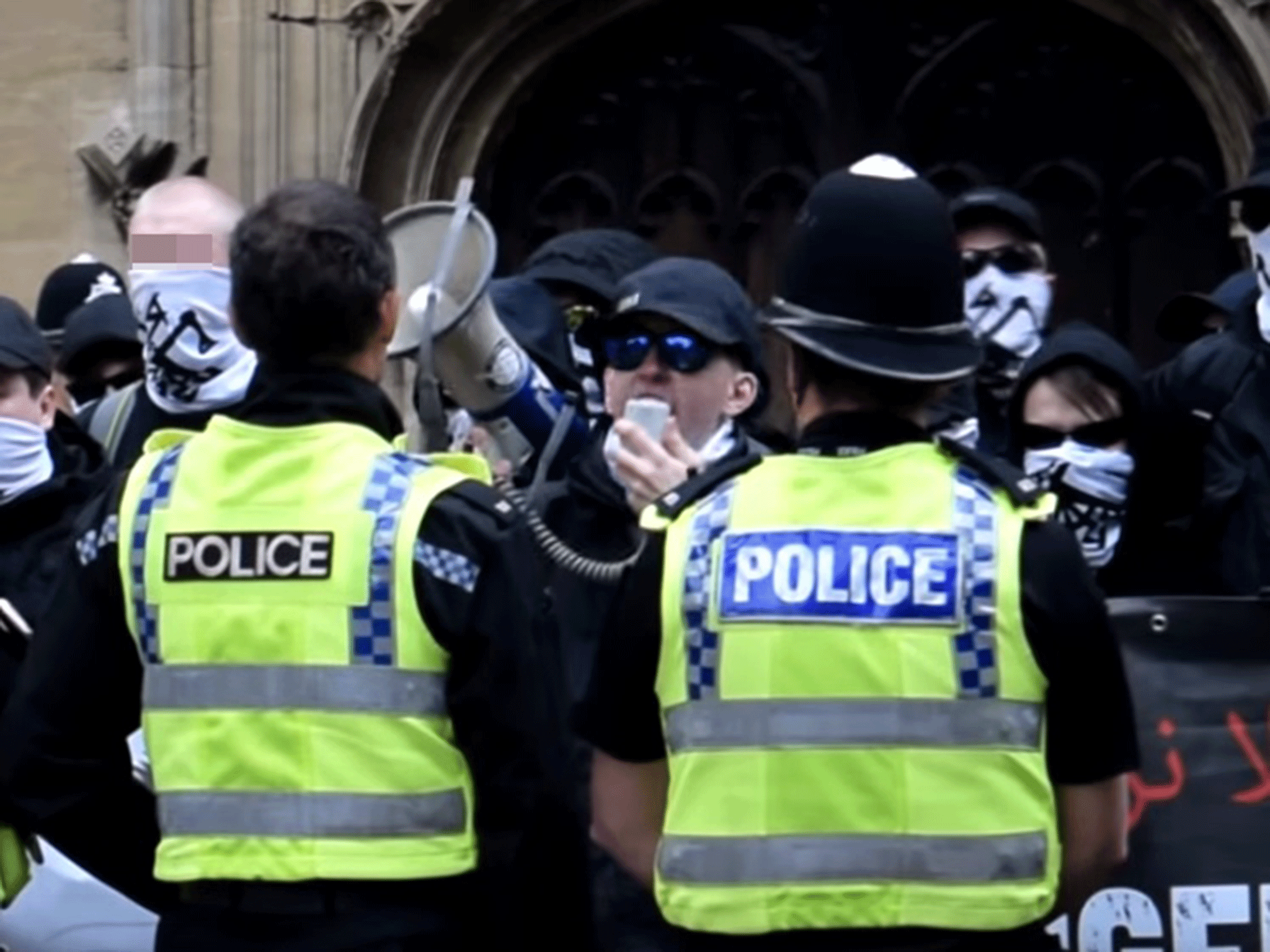 Six alleged members of the neo-Nazi terrorist group National Action have been arrested on suspicion of terror offences.
Five men and a woman were detained in coordinated dawn raids across the Midlands are being held for questioning.
Five specialist counter-terror units were involved in the raids and investigators are continuing to search the suspects' homes.
"The arrests were pre-planned and intelligence-led; there was no threat to the public's safety," a spokesperson for West Midlands Police said.
Those detained are a 26-year-old man from Cambridge, a 21-year-old man from Banbury, a 28-year-old man from Wolverhampton, a 26-year-old man from Leicester, a 24-year-old man from Stockport and a 37-year-old woman also from Banbury.
Police said they were arrested on suspicion of being concerned in the commission, preparation and instigation of acts of terrorism, "namely on suspicion of being a member of a proscribed organisation [National Action]".
The operation came as a British soldier and another man accused of being members of National Action appeared in Birmingham Crown Court in an unrelated case.
Lance Corporal Mikko Vehvilainen and civilian Alexander Deakin did not enter pleas on a charge of membership of a proscribed organisation.
Mr Vehvilainen pleaded not guilty to two counts of stirring up racial hatred and one count of possessing a document containing information likely to be useful to a person preparing an act of terrorism.
Mr Deakin, of Great Barr in Birmingham, denied distributing a terrorist publication and two charges of possessing a document containing terrorist information.
They are next due to appear in court on 19 February, ahead of a trial set to start in March.
In a separate case, a man from Lancashire will go on trial later this year accused of buying a machete with the intention of murdering Labour MP Rosie Cooper.
The man and five others accused of involvement in the terror plot are all alleged members of National Action.
It became the first far-right group to be banned in the UK last December, causing its members to split into renamed regional factions in an attempt to evade the crackdown.
The Government has since proscribed two of its aliases, Scottish Dawn and NS131 (National Socialist Anti-Capitalist Action), which had been operating in the Midlands.
Extending the ban in September, Amber Rudd vowed to combat the "vile racist, homophobic and antisemitic groups" and their ability to glorify violence and stir up hatred.
"I will not allow them to masquerade under different names," the Home Secretary said at the time.
"By extending the proscription of National Action, we are halting the spread of a poisonous ideology and stopping its membership from growing – protecting those who could be at risk of radicalisation."
Founded in 2013, National Action promotes the idea that Britain will inevitably see a violent race war and has been linked to violent plots, while its members ran what activists called a "terror training camp" at its former base in Warrington.
UK news in pictures

Show all 50
It praised the murderer of Labour MP Jo Cox, who was killed by a far-right extremist during the EU referendum campaign in 2016 and called for "white jihad" against perceived enemies including Jewish people and the LGBT community.
The group was known for using the phrases "Hitler was right" and "Britain is ours, the rest must go" at marches, and online propaganda included images showing members performing Nazi salutes inside a German concentration camp.
Sabby Dhalu, the joint secretary of Unite Against Fascism (UAF), said "greater prominence" must be given to combating far-right terrorism.
She accused the Government and media of focusing disproportionately on Islamist extremism, adding: "The murder of Jo Cox and the outrage in Finsbury Park show that this is not a minor threat."
Fellow joint secretary Weyman Bennett said hate crime attacks on Muslims and mosques also demonstrated the threat.
"After being defeated at the ballot box and on the streets, the far right is increasingly turning to violence and terrorism," he added.
"National Action are despicable Nazis who use Islamophobia, antisemitism, homophobia and threats of violence to intimidate all who oppose their sick ideology. They are a tiny part of the growing threat of far-right terrorism which must be prioritised and defeated."
A series of large-scale police operations against National Action contributed towards a 77 per cent annual rise in the number of white terror suspects arrested in the UK – the largest increase on record.
Security services have warned that the number of people attracted to far-right extremism was growing after a rise in those referred to Prevent to 7,631 in a year.
Of those who are then taken on by the Channel counter-extremism programme, around 70 per cent are Islamists but more than a quarter are right-wing extremists and officials expect the number to rise this year.