Pink Panthers: The curious story of the fugitive 'smooth-talking player' police suspect is shadowy international jewel heist gang mastermind
Man suspected of stealing diamonds worth more than £2m in Chelsea may be linked to gang suspected of daring diamond heists all over Europe and America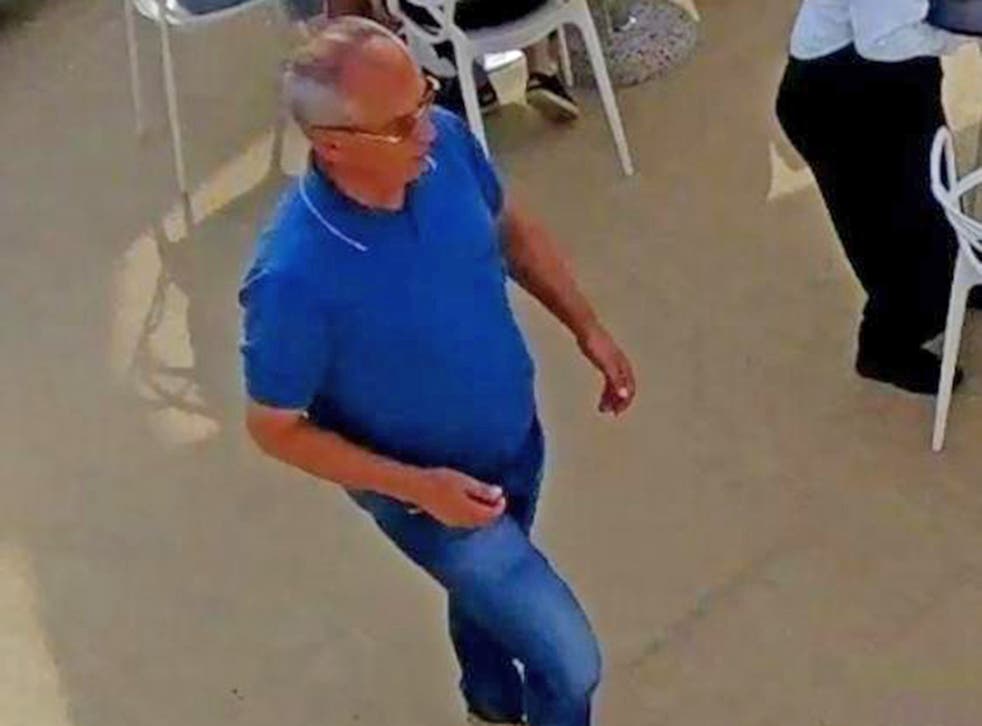 British detectives are hunting him under the name of Vinko Osmakcic, but accept he may also be known as Vinko Tomic or Juro Markelic.
Scotland Yard say the man who strolled into a Chelsea art fair and got away with the "audacious theft" of diamond rings worth more than £2m last summer is Croatian.
Others think he is Bosnian and one of the oldest and most prolific members of the Pink Panthers, a loosely affiliated gang of international jewel thieves that in the past 25 years has been held responsible for some of the most profitable and daring diamond heists in the world.
US law enforcers have described him as a "smooth talker, a player", and cast serious doubt over whether his real name is Vinko Osmakcic, Vinko Tomic or Juro Markelic.
Whoever he is and wherever he comes from, he has been suspected of planning a job on the Monte Carlo Casino, linked to the theft of $1m of diamond watches in Hawaii, and to the snatching, from the Venetian Hotel in Las Vegas of the unique Millennium Necklace: 96-carat platinum, mounted with 2,000 Russian diamonds and rare black coral from the western Caribbean, worth more than $1m.
Now Scotland Yard wants to talk to "Osmakcic" in connection with the July 4 disappearance from a cabinet at the Masterpiece art fair at the Royal Hospital Chelsea of three rings, all with diamond encrusted bands: a cushion-shaped diamond ring; a vivid yellow cushion-shaped diamond ring encased in smaller oval and round-shaped diamonds; and an emerald-cut diamond ring with purple and pink stones, and four pear-shaped diamonds.
"This was a well-planned and audacious theft committed in the middle of a busy art fair," said Detective Sergeant Chris Taylor of Kensington and Chelsea CID, the man leading the hunt for the jewel thief. "We are re-releasing the image of Mr Osmakcic in an attempt to trace him. It is highly likely he may be out of the UK, possibly in Europe."
The audacity, and the seeming ability to flit effortlessly between countries, would certainly fit with other thefts associated with the Pink Panthers.
Gang members have been linked to the theft, from an upmarket Tokyo boutique in 2004, of the Comtesse de Vendôme necklace: studded with 116 diamonds, worth £17m.
They have been suspected of entering a Dubai store in 2007 and being gone with jewellery worth almost $3.5m in 55 seconds.
Pink Panthers have been credited with the wit to paint a bench in Biarritz in 2001, making it too wet for potential witnesses to sit on while they robbed the jewellery store opposite, and with the ruthlessness to spring a gang member from a high security French jail.
It is said they scaled the wall of Villefranche-sur-Saône prison with ladders in October 2005, and used Kalashnikov rifles to exchange fire with warders and those who tried to pursue their getaway van.
The Pink Panthers got their name from what was, when committed, Britain's most expensive diamond heist, the theft of 47 items worth more than £23m from the Graff Jewellery Salon in New Bond Street, London, in May 2003.
When two smartly dressed men walked into the store, the staff thought nothing of the fact that one of them was wearing a ludicrous wig, because celebrity customers often disguised themselves when shopping for expensive jewellery.
Then the man with the wig pulled out a chrome-plated .357 Magnum handgun and yelled "Everyone on the floor!"
This time, two gang members were arrested and brought to trial, though the supposed mastermind of the heist remained unaccounted for, along with 90 per cent of the stolen gems.
At the trial it emerged that one of the arrested men, Milan Jovetic, had been caught when detectives found a £500,000 blue diamond ring hidden in a tub of his girlfriend's face cream.
The British Press was not slow to point out that the same hiding place had been used in the first Pink Panther film, starring David Niven as the daring jewel thief being pursued by Peter Sellers as the hapless Inspector Clousseau.
And so a nickname was born.
The thieves became known as the Pink Panthers.
World news in pictures

Show all 50
Individual Pink Panthers are not necessarily involved in every crime. Indeed some members of the criminal grouping may not be known to each other, and they may have no knowledge of some of the Pink Panther heists.
Instead, Interpol has likened the Pink Panthers to a terrorist organisation, suggesting they exist as a network of small individual cells linked to shadowy central authorities.
This network, it seems, sprang from the chaos of the Balkan wars of the 1990s.
Most Pink Panthers appear to have fought in the atrocity-strewn wars that followed the break-up of the former Yugoslavia.
And when the fighting stopped, they gravitated towards the more prosperous, less damaged parts of Europe.
Some speculate that they came bearing a grudge, against the wealthy countries that had failed to stop the horrors of the Balkan conflicts while seeming to show hostile suspicion of the immigrants who arrived from the war zones.
One New Yorker magazine journalist, mixing in the Paris demi-monde in 2010, met a Serb who claimed his line of business took him into contact with the Pink Panthers.
They were, the Serb suggested, the children of a country, Yugoslavia, that doesn't exist anymore: "They don't give a f**k."
Perhaps some of that explains the alleged actions of Osmakcic, who may now – if identification documents previously found by law enforcement were genuine - be aged about 62.
In 2006 when he was on trial for the Hawaii diamond watch theft, Osmakcic wrote a letter to the judge claiming: "In 1992 my village was attacked and fully destroyed. Everybody from my family was in the street overnight. The only hope I had was to leave my country and do whatever it took to help my family survive … I am not looking for any excuses for what I did. I just wanted to explain my wrongful doings ... I hope you honour may understand my situation."
His lawyer claimed that Osmakcic had fought as a Bosnian soldier, while his brothers and mother fled to Croatia, and then, after being wounded, he had made his way to Germany.
The hope, the lawyer claimed, had been to find honest work "to support his displaced family and help his family and others rebuild their shattered lives".
Instead it is alleged that after failing to find legitimate work, Osmakcic turned to crime.
The Las Vegas Sun reported that this was how he had paid for a brother to study at architecture school in Zagreb and for the family's Bosnian home to be rebuilt, although the surrounding area was so littered with land mines that it was initially too dangerous to live there.
The first crime with which he has been associated was the diamond watch theft, in Waikiki, a beachfront area of the Hawaiian capital Honolulu, in April 1994.
Three men were alleged to have escaped with eight diamond Piaget watches. One report claimed that members of the gang had stayed in an upmarket hotel for three days before the robbery. Always immaculately dressed, they had dated a string of local women including, it was claimed, "a yet-unidentified professor at the University of Hawaii."
This seemed to fit with what has since been alleged about Osmakcic's modus operandi. He was once reportedly arrested wearing a fabulous $200,000 watch. It was, one detective was quoted as saying, his "Trojan horse", the sign that lulled shop staff into thinking he could be trusted in the most exclusive jewellery boutiques.
He seems to have had the plausible manner to match, if events in the Venetian Hotel in Las Vegas on December 5 2002 are anything to go by.
A tall, well-dressed man with a receding hairline and accented English strolled into the Bernard K. Passman Gallery in the Venetian's "Grand Canal" shopping area.
He was soon followed soon by another man. Between them the two 'customers' kept the sales staff so busy they did not notice another pair of men glide in and start fiddling with the display case containing the Millennium Necklace.
Three minutes and 52 seconds after he entered, the tall man, the first of the group to arrive, became the last to leave.
Only after he had disappeared into the Grand Canal shopping crowd, did shop staff realise the Millennium Necklace was missing.
It was reported that four surveillance cameras had caught the theft from four different angles, but none had produced any images that could identify or locate the men. The thieves had taken the necklace without leaving a single fingerprint.
"They worked like a well-oiled machine," Detective Brian Mildebrandt told the Las Vegas Sun.
They worked so well, it seems, that at least one of them came back for more.
Detective Mildebrandt says that he had hoped as much, and when a massive jewellery trade convention was held in Las Vegas in June 2003, he and other officers were on the look-out.
They caught someone bearing a striking resemblance to the tall man – although they were just too late to catch whoever had been sharing his suite in the Flamingo hotel.
Detectives burst into the suite to find it deserted and wiped clean of fingerprints.
"They were gone in a heartbeat," Mildebrandt said. "We probably missed them by about 10 minutes."
Initial reports suggested the tall man told police he was Serbian – until the Serbian consul general in Chicago advised that he was not Serbian.
The passport found by officers suggested he was Juro Markelic, a 47-year-old married father from Zvornic, Bosnia.
That, though, should perhaps also be taken with a pinch of salt, given that he would later tell American Homeland Security that he had travelled into the US three times on visas acquired using a fake Bosnian passport.
The smooth-talking "Markelic" allegedly told jail staff he was a cook earning just $18,000 a year. Then he hired one of the most expensive lawyers in Las Vegas.
The lawyer duly argued that while the Millennium necklace undoubtedly went missing while Markelic was in the boutique, there was no evidence linking him to the men who lifted it from the display case.
The Serb/Bosnian/Croation took a plea deal that got him a relatively short one-year sentence in return for admitting grand larceny in March 2004.
But in November 2004 he was taken from a Nevada jail to a California courthouse, where he pleaded guilty to stealing $50,000 of gems from a Cartier store in Costa Mesa in November 2002, just nine days before the theft of the Millennium Necklace.
And then, in June 2005, came the demand for him to be tried in connection with the Hawaii diamond watch theft.
In Hawaii, the man known in mainland America as Markelic was charged as "Vinko Osmakcic". This was also the name he signed when confirming his guilty plea.
In March 2006 "Osmakcic" was sentenced to 21 months in a Hawaii jail. He was out in eight months.
Supporting the December 2006 release, his Hawaii lawyer reportedly wrote that now his brothers had jobs and stability had returned to his home country, it was "highly unlikely that he will need to commit other crimes."
Less than three years later, in June 2009, Monaco police arrested three men whom they thought were behaving suspiciously while wearing sunglasses inside a black Audi in an underground car park near the Monte Carlo Casino.
One was wearing a $200,000 watch. It was reported that he had documents on him suggesting he was Vinko Osmakcic.
When Detective Mildebrandt saw a TV programme which featured the arrest, he immediately recognised the Monaco Osmakcic as the Las Vegas Markelic.
It seems that Osmakcic/Markelic was leading something of a charmed life. The Monaco authorities settled for deporting him after he had spent a few months in jail.
He returned once more into the shadows.
It is too early to say with complete certainty that the suspect being sought by the Metropolitan Police for the Chelsea theft is the same man named as Vinko Osmakcic or Juro Markelic in connection with the crimes across the Atlantic and the Monaco incident.
Rather coyly, Scotland Yard confined itself to saying that the Chelsea suspect was "believed to be responsible for a number of high-value diamond thefts throughout Europe".
Precisely who he is, where he came from and what he has done may of course be revealed if he is arrested.
For now though, the man is missing, and so are the diamond rings. And so, for that matter, is the Millennium Necklace.
Anyone who can assist police is asked to call Kensington and Chelsea CID on 020 8246 0122 quoting Operation Hestia or report information via Twitter @MetCC.
To give information anonymously call Crimestoppers on 0800 555 111 or visit crimestoppers-uk.org.