Police failing to record tens of thousands of crimes, inspection finds
Inspectors warn domestic violence victims being put at risk by failings in two forces 
Lizzie Dearden
Home Affairs Correspondent
Thursday 15 February 2018 02:05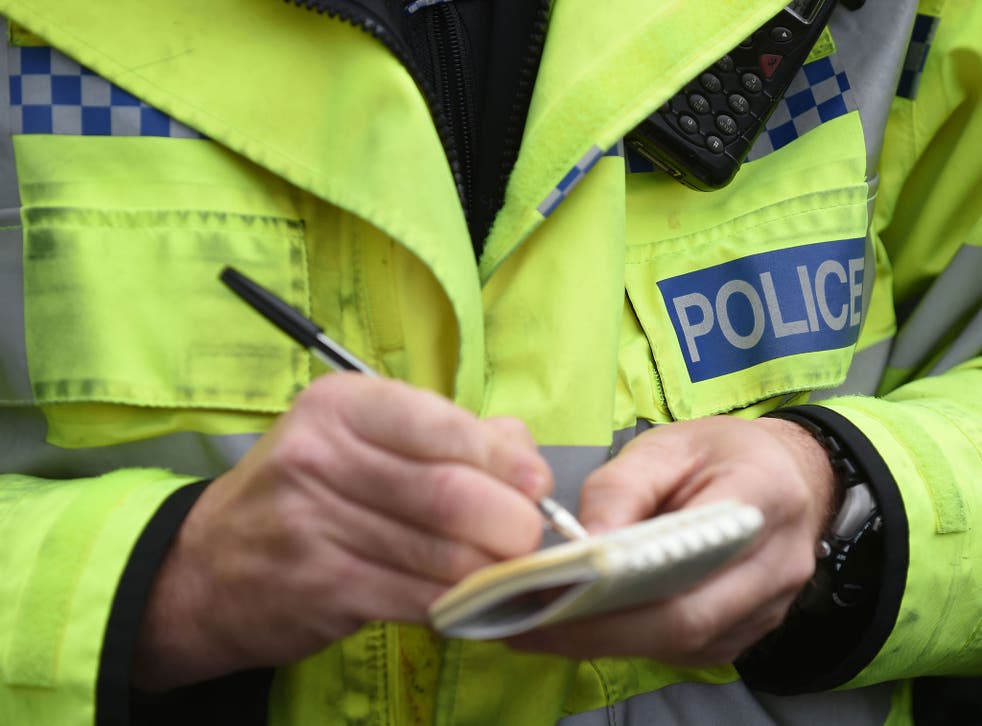 Tens of thousands of crimes including rape and violence are not being recorded by police, an inspection has found.
Victims of domestic abuse are being put in danger by the failures according to Her Majesty's Inspectorate of Constabulary and Fire and Rescue Services (HMICFRS), which demanded urgent action.
An inspection of three out of 43 police forces in England and Wales found both Thames Valley and North Yorkshire Police "inadequate".
It estimated that both forces were failing to record around a fifth of crimes – amounting to 52,200 a year in Thames Valley and 9,200 in North Yorkshire.
They include alleged rapes, sexual offences, assaults and malicious communications.
Inspectors said failures by Thames Valley Police, which covers Berkshire, Buckinghamshire and Oxfordshire, were preventing investigations from being carried out "increasing the potential risk of harm to victims".
They had "seriously concerns" over measures taken to protect victims, warning: "Domestic abuse often involves victims who are particularly vulnerable to further offences being committed against them."
Jeremy Corbyn attacks Theresa May over crime figures
Forces in both Thames Valley and North Yorkshire are also failing to record some incidents of sexual offences, violence and rape.
North Yorkshire Police were found not to be properly recording or investigating some alleged rapes, including one that involved a victim suffering from mental illness who went on to be attacked again by the same man.
"The force is incorrectly cancelling some recorded rape, violence and sexual offences," the report said.
"It must improve the extent to which it collects information regarding the effect of criminality on identifiable groups within communities; in particular, groups with identifiable protected characteristics like gender, sexuality or ethnicity."
Inspectors said North Yorkshire Police was experiencing a "sharp rise in call volume" during the audit that left control room staff struggling to answer phones and giving less time to recording work..
HM Inspector of Constabulary Matt Parr said it was "simply inexcusable" for a fifth of crimes to go unrecorded.
"These crimes include serious and violent crimes such sexual offences, domestic abuse and rape," he added. "The force is potentially depriving victims of the services and justice to which they are entitled.
"We identified flaws in the force's crime-recording processes which mean that officers and staff often fail to make the right decisions at the earliest opportunity. "We found some confusion over who was responsible for recording crimes, as well as issues arising from the time pressures on officers and staff."
Mr Parr said North Yorkshire Police had already introduced a new unit in its control room but needed to review its systems, supervision and training.
UK news in pictures

Show all 50
A spokesperson for the force said its "administration was letting us down" and vowed to make improvements.
Deputy Chief Constable Lisa Winward said: "Every call we answer is logged; nothing is ignored.
"In every case where there was a vulnerable victim, we have sent an officer and provided the service. However we have not recorded everything properly on the system, and we need to do much better."
In Thames Valley, call handlers were not recording their full conversations with callers and causing police to be given incomplete information, while some officers did not understand recording rules.
HM Inspector of Constabulary Zoë Billingham said Thames Valley Police must ensure that records crimes "at the earliest opportunity, and that there is proper supervision of crime-recording decisions".
Since the inspection in September, she said the force had taken immediate steps in response to its findings that will be checked later this year.
Thames Valley Police said it fully accepts its "inadequate" grading and was implementing recommendations.
Deputy Chief Constable John Campbell said: "The matters subject to review were recorded as 'incidents' rather than crimes, but there is no suggestion that we failed to respond appropriately to the calls or to deal with the matters in hand."
Durham Constabulary was graded "good" in the same round of inspections, which said it had improved recording vastly since the last review in 2014.
HMICFRS praised for force's "outstanding culture and leadership" but said around 4,700 crimes were not being recorded a year, including young people sharing indecent images of themselves, public order offences and violence.
The findings will be a concern for the Home Office, which has sought to play down a 14 per cent rise in crime recorded by police over the past year including soaring violence.
The Government's preferred measure is the Crime Survey of England and Wales, which showed a decrease of 10 per cent in crime in the same period.
The number of police officers hit a record low of 121,929 last month and chiefs have been calling for more resources to respond to rising demand and the terror threat.
Ministers have rebuffed the calls to boost general budgets, while granting money to specialist schemes and calling on forces to increase efficiency and take more money from council tax.
Crime data integrity is one of several areas probed by HMICFRS, which aims to ensure victims are given support, the public have accurate information about their area and police can properly plan their work.
In the rolling inspections carried out so far, three forces have achieved a good rating, six were "require improvement" and seven have been found "inadequate".
An unrecorded crime is an incident that is reported to the police, but not recorded as an offence.
Other action can be taken including referring incidents to social services or other authorities, and passing victims to agencies that will offer specialist help or protection.
Home Office rules require all offences against an identified victim to be recorded if initial information amounts to a crime and "there is no credible evidence to the contrary".
Regulations place an obligation on the police to accept what the victim says and crimes must be recorded even if they do not provide personal details, do not want to take the matter further or the allegation cannot be proven.