Stop and search powers could be increased as police battle rising violent crime across UK
Government to launch consultation on changes to law as home secretary targets acid, drones and laser pointers 
Lizzie Dearden
Home Affairs Correspondent
Tuesday 04 September 2018 17:53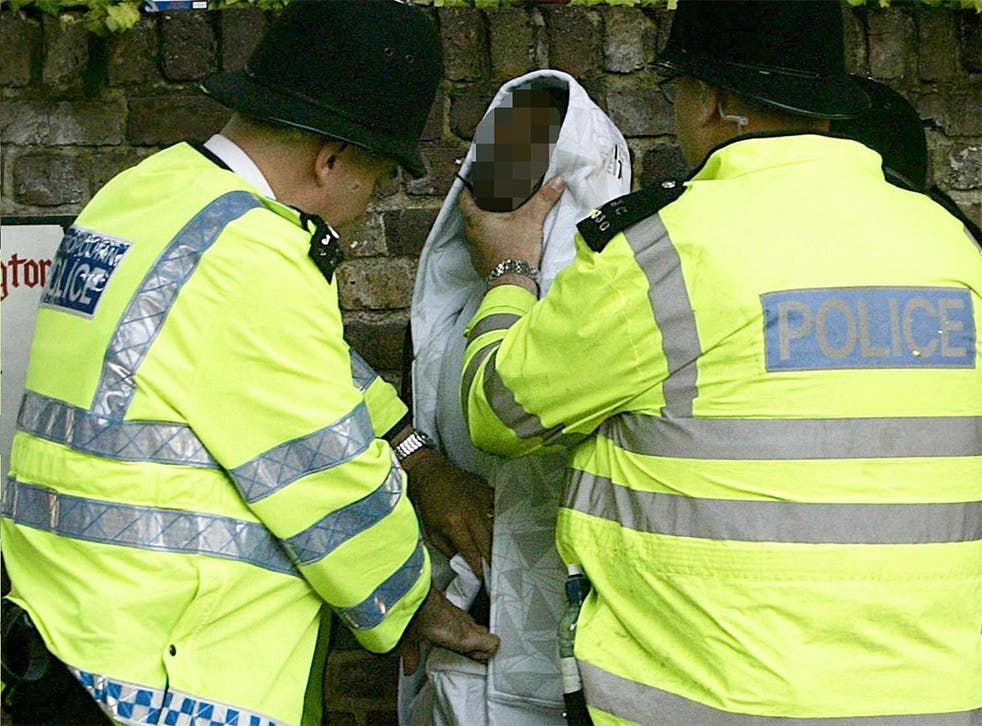 Police could be given enhanced stop and search powers under new laws being planned by the government following a nationwide rise in violent crime.
A public consultation on changes to the "reasonable grounds" needed to legally justify searches will be launched in the coming days, The Independent understands.
Sajid Javid, the home secretary, is targeting acid, drones and laser pointers used to target aircraft, which are not encompassed by the current law.
It comes as police forces across England and Wales reverse a long-term decline in the use of controversial stop and search powers amid alarm over a wave of stabbings and shootings.
Some senior police officers say constables have become reluctant to use the measure because they fear racism accusations in the wake of figures showing black people were being disproportionately targeted.
Cressida Dick, commissioner of the Metropolitan Police, said that the "success rate" for searches was the same across races and that around a third of searches find banned items in London.
"Section one stop and search powers are essentially for weapons, drugs and stolen property," she told LBC radio.
Angela Rayner on London stabbings: 'It's not just about the police... but it's about the wider public services'
"Acid isn't classified at the moment so an extension of the power to this would be very helpful for us and I would be all in favour for it.
"I think the home secretary is suggesting two other things – drones being one of them. We have to keep up with the times… drones are sometimes used by criminals or by people who have posed a threat to us, and officers should potentially be able to look for them."
Asked about statistics showing black and minority ethnic people are four times more likely to be stopped than white people, Ms Dick said powers were being used "in an intelligent way against the people who cause most harm".
"We are trying to protect the most vulnerable people and that is young black boys," she added, saying young black men were statistically more likely to be both the victims and perpetrators of stabbings.
Police are investigating London's 99th homicide of the year after a 22-year-old man was shot dead in a cemetery on Monday morning, but insist that violent crime is "stabilising" overall.
The use of stop and search fell in England and Wales from a peak of 1.5 million in 2008/09 to around 304,000 in 2016/17 – the lowest number since current data records began 16 years ago.
Merseyside Police Chief Constable Andy Cooke drew a link between the dramatic decline and rising violent crime.
"Because there are less police officers, and because they know they're more reluctant to engage in stop-search, criminals feel safe carrying knives and guns around," he told The Independent.
"We need to put the fear back on the criminal and take the fear off the community."
Mr Cooke, whose force has increased the number of stop and searches carried out by 50 per cent over the past year, said the tactic had been unfairly "demonised", causing officers to fear official complaints.
"The vast majority of searches are done for absolutely the right reasons to target criminals and it is irrelevant if they are black, or white or Asian," he added.
The senior officer argued that laws should be strengthened to allow police to use prior criminality – which is not currently "reasonable grounds" – to legally justify a search.
"If we're aware of people involved in gun or knife crime I think we should be able to stop and search them," he said.
"Some would say it's unfair if they've served their sentences but for me it's about protecting our communities."
Simon Kempton, operational policing lead for the Police Federation, commended the aim of the reported proposals but said enhanced powers "will be of little use if there aren't the officers to exercise them".
"The simple fact is that the policing in this country has – as a result of austerity – been stripped back to the stage where we are often only able to provide a reactive service," he added.
In 2016/17, people from black and minority ethnic (BME) groups were just under four times as likely to be stopped and searched compared with white people.
A watchdog found that 94 per cent of examined incidents had "reasonable grounds" or resulted in objects including drugs, weapons, stolen goods or evidence of other crimes being found.
The teenagers murdered in London in 2018

Show all 21
But a report released in December warned that searches of black, Asian and ethnic minority people were still disproportionate and threatening public trust and confidence in the police.
HM Inspectorate of Constabulary found that black people are at least eight times more likely than white people to be stopped and searched, even though it is statistically less likely for drugs to be found.
Its report said police forces have not sufficiently explained the disparity, which suggests "that the use of stop and search on black people might be based on weaker grounds for suspicion than its use on white people".
The National Police Chiefs' Council said forces have made "good progress" on using stop and search legitimately, fairly and more effectively since reforms were introduced in 2014 by the then home secretary Theresa May.
"Nobody wins when stop and search is misapplied," the future prime minister said at the time. "It is a waste of police time. It is unfair, especially to young black men. It is bad for public confidence in the police."
Her successor Amber Rudd supported the increased use of stop and search to combat rising violent crime before her resignation earlier this year, but said there was no need to change the law.
Any alterations would have to be approved by parliament and could be made to the Police and Criminal Evidence Act 1984.
It currently gives police the power to stop and search people and vehicles with "reasonable grounds for suspecting that they will find stolen or prohibited articles".
Items listed in the Act include weapons, drugs, items to be used to commit crimes, or banned fireworks.
A Home Office spokesperson said: "As outlined in the serious violent crime strategy we are looking at ways to strengthen police powers to identify individuals carrying corrosive substances."
Register for free to continue reading
Registration is a free and easy way to support our truly independent journalism
By registering, you will also enjoy limited access to Premium articles, exclusive newsletters, commenting, and virtual events with our leading journalists
Already have an account? sign in
Register for free to continue reading
Registration is a free and easy way to support our truly independent journalism
By registering, you will also enjoy limited access to Premium articles, exclusive newsletters, commenting, and virtual events with our leading journalists
Already have an account? sign in