Black teenager who was seriously injured during police chase 'mistaken for someone else', says mother
Watchdog investigating how 15-year-old Terrell Decosta Jones-Burton came off his bicycle during chase 
Lizzie Dearden
Home Affairs Correspondent
Tuesday 16 January 2018 18:23 GMT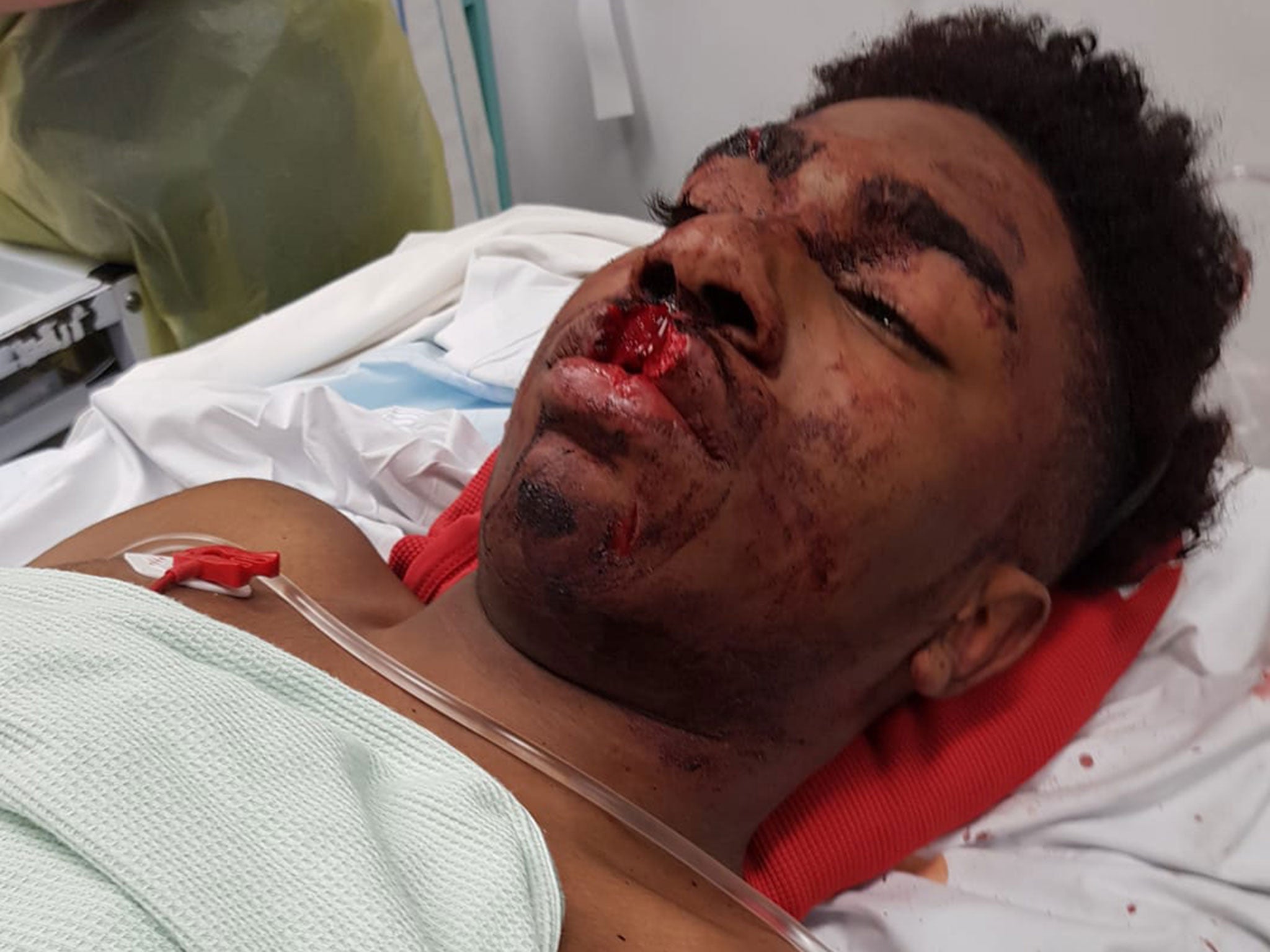 A 15-year-old boy who was seriously injured while being detained by the Metropolitan Police was wrongly targeted in a case of mistaken identity, his mother has claimed.
Terrell Decosta Jones-Burton was hospitalised with injuries said to include a split lip, lost teeth, broken jawbone, bruising on the brain and abdominal pain following the incident.
He came off his bike and slammed into the metal doorframe outside a chicken shop while being chased by police officers, with witnesses saying they saw Terrell "out cold" on the pavement.
The Independent Office for Police Conduct (IOPC) - formerly the Independent Police Complaints Commission (IPCC) - is investigating the circumstances.
A letter sent to Terrell's family said police received an emergency 999 call reporting the robbery of a mobile phone near Rotherhithe station in south-east London on 21 November.
The description given of the suspect said he was "black, male, quite chubby, 5ft 9ins to 5ft 11ins, riding a bicycle (black/brown) – approx. 19-20 years old", and wearing a grey hoodie, black jacket and dark jeans.
The IOPC said one unit of police officers believed they saw the suspect in a nearby park, with Terrell coincidentally cycling down an adjacent road on his way home as they started pursuit.
"It was mistaken identity," said Terrell's mother, Shereen Jones. "The description did not match Terrell."
She said police told her the teenager would face no further action over the alleged mugging and that the officer who detained him was still working but under investigation.
"We continue to fight and for all those people who had something negative to say and showed prejudiced ways of thinking, I just want to let you know that the truth is coming out and we will win," she wrote on social media. "Police brutality on black boys has to end."
Friends of the family have started a crowdfunding page to help pay for dental work, physiotherapy and counselling, raising almost £600 so far.
"This is a time where he should be preparing for his GCSEs, and it is now uncertain if he will be able to complete them and school as planned," said supporter Janice Nelson.
"He is a vibrant, ambitious, energetic and well behaved young man with a bright future who may never be the same again."
The Metropolitan Police said no one else has been arrested in relation to the mugging.
A spokesperson for the IOPC told The Independent it could not yet confirm whether Terrell's arrest was caused by mistaken identity but added: "The investigation is progressing well."
It comes amid persistent allegations of discrimination by Scotland Yard, which recently paid a black man who was wrongly arrested while standing near a white suspect substantial compensation.
Five police officers are being investigated for alleged misconduct over the detention of Edson Da Costa, a 25-year-old black man who died following the altercation in June.
Weeks later Rashan Charles, a 20-year-old black man, died after being chased by police and restrained on the floor of a shop in Dalston.
Statistics show the Metropolitan Police uses force and stop and search powers disproportionately against black people, while a nationwide review conducted by Labour MP David Lammy found "overt discrimination" against ethnic minorities in the criminal justice system.
Police are under pressure to respond to rising levels of reported crime, which rocketed by 13 per cent in England and Wales last year, including increasing knife crime, shootings, acid attacks and robberies in London.
The IPCC sent investigators to the scene where Terrell was detained, attended post-incident procedures and is now appealing for witnesses to come forward by calling 0800 029 4687 or emailing southwarkparkroad@ipcc.gsi.gov.uk.