Man accused of planning Isis-inspired attack 'became friends with terror offenders in prison'
Sahayb Abu told undercover police officer friend jailed for terror offences 'wasn't very intelligent'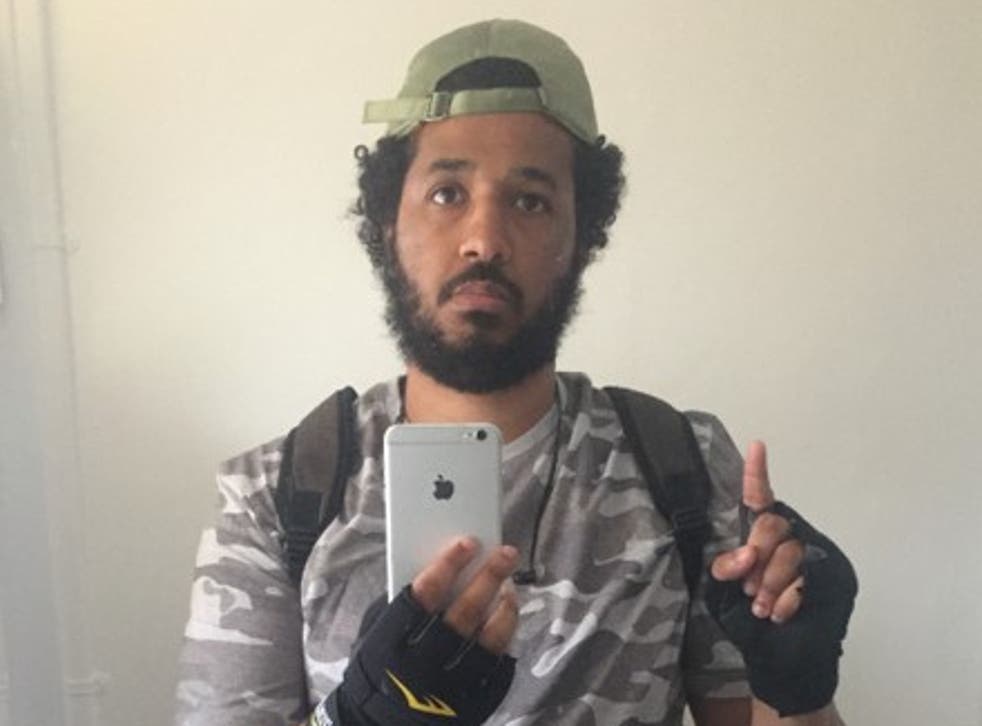 An alleged terror plotter made friends with at least two terrorist prisoners while serving a previous sentence, a court has heard.
Sahayb Abu told an undercover police officer that he "loved" pro-Isis propagandist Husnain Rashid, who was jailed for calling for attacks on targets including Prince George.
The 27-year-old said he also spent time with Abuthaher Mamun, who assisted another Isis-inspired plot to groom a "mini militia" of children who could launch simultaneous terror attacks across London.
Abu, who denies preparing an act of terrorism, bought a sword, knife, balaclava and gloves while allegedly planning his own attack last year.
The Old Bailey previously heard that two of Abu's brothers died after going to fight for Isis in Syria in 2015, and that three other relatives were jailed for disseminating terrorist publications.
Abu was befriended by an undercover police officer, who was posing as an Islamist extremist, after joining a jihadist chat group on encrypted messaging app Telegram.
The jury was told that in a chat on 29 June, Abu told the officer he met Rashid in HMP Wandsworth.
"I love the brother he was so full of imaan [belief] but his senses wasn't with him," Abu allegedly wrote.
"Kept inciting to target the royal family on Telegram and a spy snitched him. That's why we shouldn't even talk too much akhi [brother]… get it done rather than talk and get 28 years."
Abu and the undercover police officer met in person for the first time the following day, in Surrey Quays, southeast London.
On Monday, jurors were read transcripts of their conversation, when Abu discussed Rashid again and showed the officer a photo of him.
"I love him for the sake of Allah but now he's going to be in jail for the next 28 years," he said. "I love you my bro, but that wasn't smart … this wasn't very intelligent man, 28 years."
He showed the officer footage of Rashid being arrested by counterterror police, adding: "These people need to start using their brains, man."
Rashid was jailed for life with a minimum term of 25 years in 2018, for a string of terrorism offences including preparing terrorist acts and encouraging terrorism.
A court heard he attempted to inspire atrocities around the world, using online platforms to send out advice on using vehicles, weapons, bombs, chemicals and knives, including suggestions to poison supermarket ice creams and fruit.
Abu's trial heard that he told the undercover officer he also knew Mamun, who was jailed for 12 years for preparing for acts of terrorism and terrorist fundraising in a separate 2018 case.
Abu outlined details of the plot he was linked to, where another man had attempted to brainwash children and showed them Isis propaganda.
He told the officer of a day when police visited Mamun in prison, and other inmates waited for him to emerge before he "came back all smiling".
The jury heard that Abu also discussed counterterror policing and surveillance operations with the officer, telling the officer to be careful and adding: "Don't be an idiot, bro".
UK news in pictures

Show all 50
The defendant also discussed his influences, including hate preachers Suleiman Anwar Bengharsa and Abdullah el-Faisal, and Isis propaganda magazine Rumiyah.
Abu talked of Anjem Choudary and Mizanur Rahman, two leading figures in the banned al-Muhajiroun network who were jailed for supporting Isis in 2016.
He said he wanted to talk to Rahman, using his alias Abu Baraa, but that Rahman and Choudary were unable to have contact because of their licence conditions after being freed from prison.
Abu was arrested on 9 July, days after sending a rap to two of his brothers that ended with the words: "My shank [knife] penetrate ya, got my suicide vest – one click, boom, and I'll see you later."
He allegedly discussed wanting to conduct homophobic attacks in the UK in an extremist chat group, as well as targeting a Shia Muslim cleric.
On the day of his arrest, Abu allegedly praised the 9/11 terror attacks and wrote: "We need a 9/11 2.0"
Abu, of South Norwood in London, denies preparing an act of terrorism. His brother, 31-year-old Muhamed Abu, of Dagenham, denies failing to disclose information about acts of terrorism. The trial continues.