UK student stabbed in neck for speaking Polish describes brutal post-Brexit assault in Telford
Exclusive: 21-year-old Bartosz Milewski fears going out after dark following brutal attack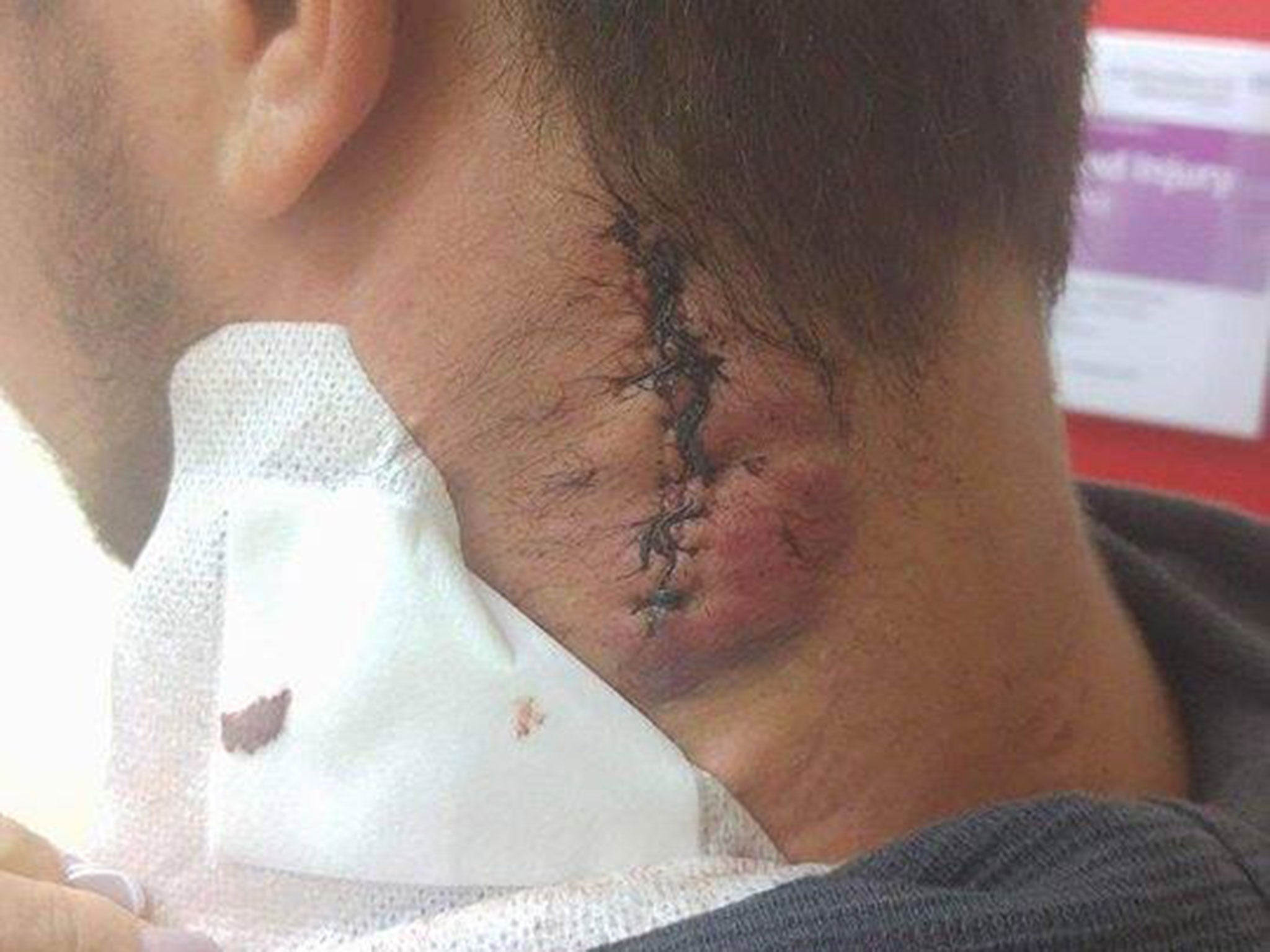 A student who survived being stabbed in the neck with a broken bottle has described how a gang of thugs attacked him and his friends after hearing them speak Polish.
Bartosz Milewski, 21, has been left unable to return to university or drive by injuries inflicted in the brutal assault, which is being treated as a racially aggravated hate crime by police.
He had returned from teaching children at a US summer camp just days before meeting up with friends to catch up on Thursday.
After going to a local supermarket to buy drinks they sat in a park near his home in Donnington, near Telford, to enjoy the warm weather.
Mr Milewski said they were talking quietly shortly before 1am when they noticed a group of men approaching.
"They had almost gone past but then they heard we were talking in Polish and they turned around," he told The Independent.
"They started swearing at us and asking why we were talking in Polish, saying it's not our country and we should go.
"One of them said he had a daughter living round the corner and he didn't want her to hear us talking Polish."
The gang ordered Mr Milewski and his two friends to leave the park, becoming increasingly aggressive.
"I said: 'We've been living here for a long time and there's no reason to be like that," he added. "We were already leaving.
"But one of the guys grabbed a bottle. He smashed it and said: 'If you don't go I will stab you'.
"I said he didn't need to do that, we were going. He pushed me and I pushed him back, then he stabbed me."
At first Mr Milewski said he did not realise how seriously he was wounded, with a gash in his neck that later needed 13 stitches and could leave a scar.
Bleeding, he started walking away towards a friend's house but the gang continued their assault, ripping planks of wood from a nearby fence to use as weapons.
Fear and Loathing in Great Britain
As they started to give chase, Mr Milewski called 999 but struggled to relay his plea for help to emergency operators as he started to lose consciousness.
"I was trying to talk to them but I was losing so much blood, they couldn't understand me," he said.
"Then one of the men hit the back of my head with a piece of wood like it was a baseball bat and I fell down.
"The way they behaved was so aggressive - I think they must've been on drugs."
The attackers fled when they saw the approaching blue lights of an ambulance and have not yet been traced by police.
Mr Milewski was taken to the Princess Royal Hospital and discharged after being given 13 stitches, but had to return the following day because of inflammation around the wound.
Polish ambassador calls on government to condemn Brexit-related hate crimes
He was planning to return to Portsmouth University, where he is studying sports development, on Sunday but has been unable to leave home because of his injuries.
The gash in his neck is healing but causes Mr Milewski excruciating pain when he attempts to turn his head, making it impossible to carry out his university studies or work as a football coach.
"My head is still swollen and hurts every morning when I wake up," the student said.
"I'm worried some nerves might have been damaged because I'm having trouble fully lifting my hand…I can't do anything."
Born in Poland, he moved to England with his parents and younger sister in 2009 and attended secondary school and a sixth form college in Shropshire before moving to Portsmouth for university.
"I was 14 when I left Poland and now I'm 21, England feels like home," Mr Milewski said, adding that he only ever remembers hearing "a couple" of discriminatory comments before his attack.
"I wasn't in England for the Brexit, I don't really know what changed. That was the first time I had been out since coming back from America.
"Most of the messages I got after the attack were from British friends saying they were sorry but there's always going to be one or two people around who are mentally unwell."
The attack has changed daily life for the student and his family, at least in the short term.
Brexit racism and the fightback
Show all 9
They are meeting with a psychologist recommended by the police, while Mr Milewski's mother has taken time off work and is having difficulty sleeping.
Meanwhile, Mr Milewski has been left too afraid to walk around his own town after dark.
"Now there's no way I would go out at night, not even to walk my dog," he added. "If I had to go out I would go with a friend – there's no chance I would go out on my own."
As the latest attack in a string of suspected hate crimes in the wake of Britain's vote to leave the European Union, the assault on Mr Milewski has made the news in Poland and sparked contact from its embassy in London.
Several reported attacks have targeted Polish people, including the killing of Arek Jozwik in Harlow, where residents staged a march waving Polish flags.
But just hours after the tribute, two Polish men were attacked outside a pub in the town, while another Polish man was beaten by a gang of teenagers in Leeds on 9 September.
The disturbing trend has sparked concern for Poland's estimated 850,000 citizens living in the UK.
The President, Andrzej Duda, sent letters to the Archbishop of Canterbury and Catholic Archbishop of Westminster requesting "constructive efforts" to combat xenophobia earlier this month.
Raising concern over the potential for "lasting divisions between the Polish and British communities", he wrote: "Only through mutual understanding and care for the fellow man can we rebuild a thriving and well-developing society."
Poland's foreign and home affairs ministers met Boris Johnson following the death of Mr Jozwik, with Theresa May phoning her counterpart to express "deep regret" over the attacks.
Consulate officials have "intervened" with British authorities following at least 15 reported xenophobic incidents in the UK, including arson, assault and intimidation.
Although no formal link has been established, hate crimes have markedly increased since the vote for Brexit, with the current number of reports 14 per cent higher than at this time last year.
In the week following the EU referendum in June, the number of reported incidents rose by 58 per cent.
Launching an appeal for witnesses to the attack on Mr Milewski, West Mercia Police said it was being treated as a racially aggravated hate crime.
DS Ian Rutherford, from Telford CID, said: "We are keen to speak to anyone who was in the area late last night, or in the early hours of Friday morning, who might be able to help us identify the offenders and the motivation for the assault."
No arrests have been made. The offenders are described as three white men in their twenties, one of whom was around 6ft tall, slim, clean shaven and wearing a grey hooded top with grey tracksuit bottoms.
Anyone with information is asked to call West Mercia Police on 101 or contact Crimestoppers, anonymously, on 0800 555111 or via their website www.crimestoppers-uk.com quoting incident 26S of 16 September.