Met Police officers admit sharing photos of murdered sisters on WhatsApp
Constables took photos of victims' bodies and sent them to other police officers and friends
Lizzie Dearden
Home Affairs Correspondent
Tuesday 02 November 2021 20:37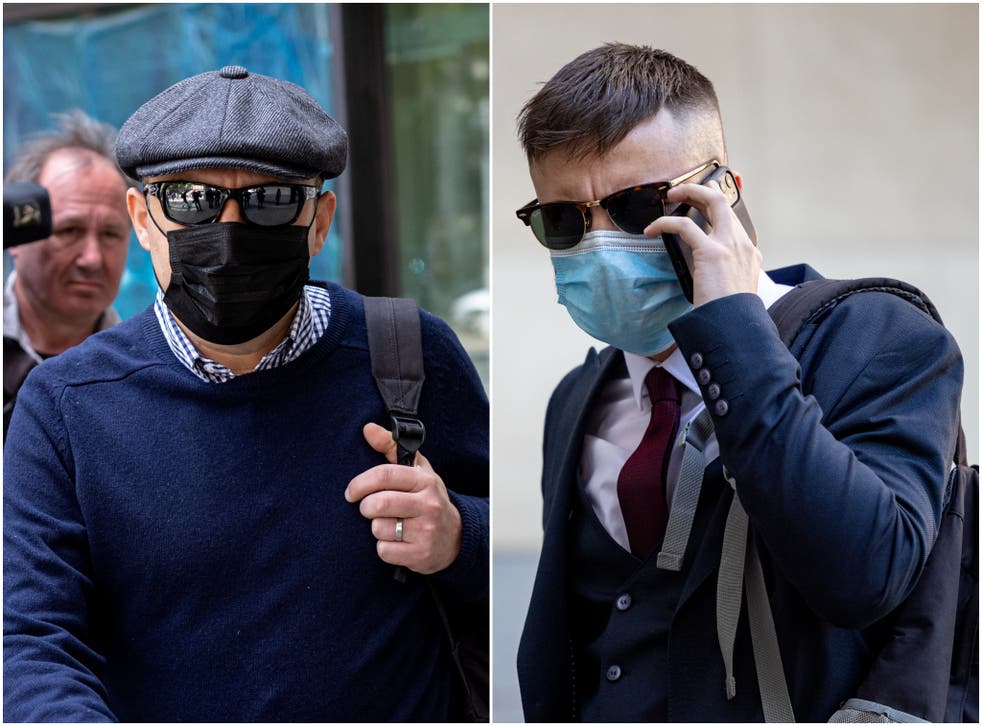 Leer en Español
Two Metropolitan Police officers have admitted sharing photos of the bodies of two murdered sisters on WhatsApp after being assigned to guard the crime scene.
PC Deniz Jaffer, 47, and PC Jamie Lewis, 33, pleaded guilty to misconduct in public office at the Old Bailey on Tuesday.
The court heard that both men were assigned to guard the cordoned-off area where sisters Bibaa Henry, 46, and Nicole Smallman, 27, were found dead in bushes in Fryent Country Park in Wembley.
The constables were stationed on the cordon overnight on 7 June 2020, and took photographs of their bodies after entering the crime scene without authorisation.
The court heard that Mr Jaffer sent information about his attendance to members of the public on WhatsApp, took photos and then shared them with other police officers and members of the public.
Mr Lewis also sent information about his attendance to members of the public on WhatsApp, took photos and then shared them with other police officers.
Judge Mark Lucraft QC, the Recorder of London, said it was "extremely likely" that the officers would be jailed.
He said they had been assigned their duty to preserve the scene where Ms Henry and Ms Smallman had been found stabbed to death.
"You took photographs of the bodies, you superimposed the face of another and sent the photographs to others," Judge Lucraft told the officers.
"These matters are extremely serious ... it is extremely likely that you will receive custodial sentences of some length."
The victims' mother, the Venerable Mina Smallman, condemned the officers as "Despicable 1 and Despicable 2".
She said: "Our family's grief was further compounded by the cordon officers who will now be known as Despicable 1 and 2 – any inner strength I had reserved had been torn away."
The Crown Prosecution Service (CPS) said both Jaffer and Lewis had left their posts and "approached the murdered women – risking contamination of the crime scene – to take pictures of them on their phones".
Lewis edited one of the pictures by superimposing his own face onto the photograph with the victims in the background.
Mother of sisters murdered in Wembley vows to 'not let killer out'
He sent the image to Jaffer, who then forwarded it unsolicited to a female officer also present at the scene.
The CPS said that Jaffer also showed one of the photos of the victims to a male officer as they left the park, and later with three friends on WhatsApp.
Lewis additionally shared photographs he had taken at the crime scene which did not show the victims with a WhatsApp group of at least 40 police officers called the "A Team".
They were arrested as part of a criminal investigation by the Independent Office for Police Conduct (IOPC) watchdog.
Regional director for London Sal Naseem said: "The actions of PC Jamie Lewis and former officer Deniz Jaffer, were sickening. They should have been protecting a crime scene but instead they treated it with contempt and disrespect.
"In doing so they insulted Nicole and Bibaa, their families, their loved ones, and their colleagues.
"There can be no place in policing for anyone behaving this way."
The Metropolitan Police is to instigate gross misconduct proceedings that will see the officers formally dismissed.
A separate investigation concluded three constables had a case to answer for misconduct as they were either aware of, received or viewed the inappropriate photographs and failed to challenge or report them.
"Sadly, as today's events highlight, police officers falling below the standards of behaviour expected of them are not one-off events," Mr Naseem said.
"A culture where some officers do not see anything wrong with sharing deeply offensive messages, and where others feel unable or unwilling to challenge this, has to change."
The pair, attached to the Met's northeast command unit, were both suspended from duty following their arrests on 22 June last year.
Jaffer, of Hornchurch, east London, and Lewis, from Colchester, Essex, were released on bail ahead of a sentencing hearing in December.
Paul Goddard, from the CPS, said: "These officers were tasked with protecting a tragic crime scene, but instead they violated it for their own purposes, with no regard to the dignity of the victims, or the harm they might do to a murder investigation.
"Their thoughtless and insensitive actions have no doubt caused immeasurable further distress and pain to the heartbroken family and friends of Nicole Smallman and Bibaa Henry who were already left reeling from the loss of their loved ones. Our thoughts are very much with them at this time."
Their killer, 19-year-old Danyal Hussein, was handed a life sentence on Thursday.
The Old Bailey heard he had made a handwritten pledge to a demonic entity called King Lucifuge Rofocale to kill six women every six months, which was signed in blood.
Hussain embarked on a "campaign of vengeance" against random women in a failed bid to win the Mega Millions Super Jackpot lottery prize.
The officers' actions caused Hussain's defence lawyers to question if incriminating DNA evidence from the crime scene could have been contaminated.
Prosecutor Oliver Glasgow QC rejected any suggestion that the bodies were touched or interfered with in any way by the officers.
He said the photographs were taken from some distance away and any suggestion that the bodies were touched was "utterly groundless".
Hussain was jailed for life with a minimum term of 35 years after being found guilty of two counts of murder and possession of a knife.
The murderer targeted the sisters after they went to Fryent Country Park to celebrate Ms Henry's birthday with friends, brutally stabbing them to death.
He dragged the bodies away and posed them in an embrace to "defile" them in death, a judge said.
On the evening of 6 June, the sisters' worried loved ones reported them missing, but officers were not deployed to the park until the next day. The bodies were found by Ms Smallman's boyfriend Adam Stone.
The IOPC found the level of service provided by the Met over the weekend when the sisters went missing was "below the standard that it should have been".
Register for free to continue reading
Registration is a free and easy way to support our truly independent journalism
By registering, you will also enjoy limited access to Premium articles, exclusive newsletters, commenting, and virtual events with our leading journalists
Already have an account? sign in