Grenfell Tower's unusual design 'contributed to speed of fire'
Unnamed investigation source claims design of building had more issues than just 'combustible' cladding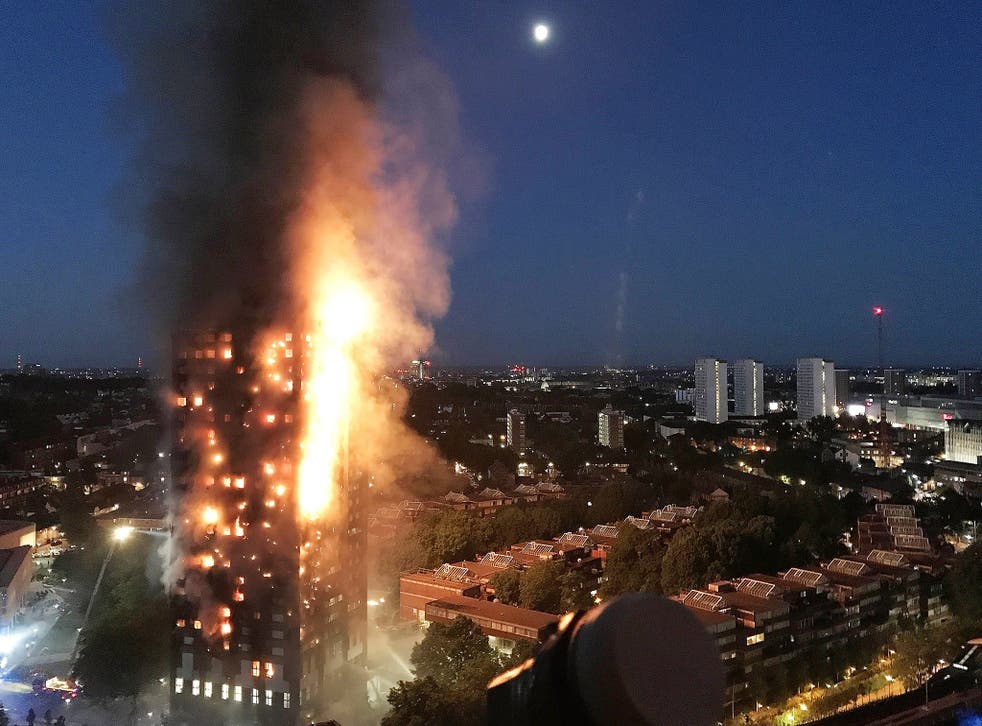 The design of Grenfell Tower itself may have contributed to the building becoming engulfed in flames in a matter of minutes, experts are reported to believe.
The 10 columns up the side of the building represent an unusual design, and when fitted with combustible cladding and flammable insulation they could create an air gap.
Investigators think the cladding and triangular-shaped concrete columns lead to a so-called 'chimney effect': a space through which the flames were able to race up the side of the tower, a source told The Telegraph.
"The investigation is not just looking at the materials but the design of Grenfell Tower. The triangular shape created by the cladding has created a void and the flames have shot up the side," the source said.
"The greater the gap, the more it acts like a chimney. It is one line of the investigation."
Witnesses to the tragedy described the flames racing up the side of the building much faster than they spread to the side, causing residents on the upper floors to become trapped.
The tower was built in the 1970s, when regulations did not require sprinkler systems, which experts believe might have halted the spread of the initial fire.
And while building regulations in Britain still do not require more than one staircase in a tower block, it is believed a second staircase may have acted as a fire escape for those trapped on higher floors.
Prime Minister Theresa May has confirmed that "a number" of tower blocks in the UK contain combustible cladding, a revelation which Harriet Harmon has called "chilling". So far, at least 34 buildings have failed tests in 17 local authority areas.
Residents of 650 households in tower blocks of Camden's Chalcots Estate have already been evacuated, after firefighters said they could not guarantee their safety. Thousands more across the UK may follow suit.
The Metropolitan Police believe that the fire was started by a Hotpoint fridge-freezer. Nevertheless, a fire investigator has said that the full public inquiry into the causes of the fire could take up to two years, considering issues such as council regulations and criminal negligence.
The latest figures suggest that at least 79 were killed in the blaze, but the death toll is still expected to rise. Shadow Home Secretary Diane Abbott has claimed that "hundreds of people died" in the tragedy.
Labour Leader Jeremy Corbyn said in the House of Commons that "every single one" of those deaths could have been avoided.
"[They] were let down, both in the immediate aftermath and so cruelly beforehand, The public enquiry most establish the extent and by whom.
"The Grenfell Tower residents and north Kensington community deserves answers, and thousands and thousands of people living in tower blocks around the country need very urgent reassurance."
Register for free to continue reading
Registration is a free and easy way to support our truly independent journalism
By registering, you will also enjoy limited access to Premium articles, exclusive newsletters, commenting, and virtual events with our leading journalists
Already have an account? sign in
Register for free to continue reading
Registration is a free and easy way to support our truly independent journalism
By registering, you will also enjoy limited access to Premium articles, exclusive newsletters, commenting, and virtual events with our leading journalists
Already have an account? sign in
Join our new commenting forum
Join thought-provoking conversations, follow other Independent readers and see their replies