British hostage Alan Henning killed in latest Isis video
The video comes after IS killed British aid worker David Haines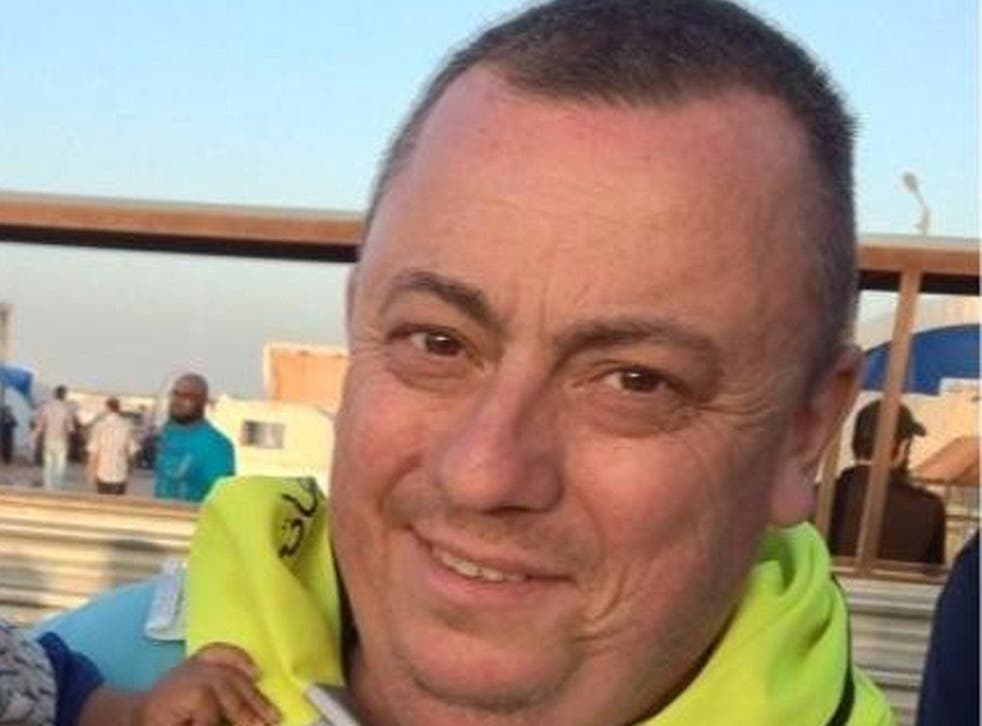 British aid worker Alan Henning was feared dead tonight as Isis released a video showing his apparent beheading.
His murder was carried out as "another message to America and its allies" from Isis to keep out of the Middle East.
As with previous videos, the footage released by Isis last night also showed another captive, Peter Edward Kassig from the US, this time threatening that he would be next.
There was no independent confirmation that the murder and video were authentic but they followed the same pattern as those of two US journalists and British aid worker David Haines.
The Foreign and Commonwealth Office said: "We are aware of the video and are working urgently to verify the contents."
"If true, this is a further disgusting murder. We are offering the family every support possible; they ask to be left alone at this time."
Mr Henning, 47, and nicknamed Gadget, was a taxi driver from Salford. He was kidnapped last December shortly after crossing the Turkish border into Syria while on a mission to deliver aid.
More than 100 high-profile Muslim leaders appealed for his release and said that killing Mr Henning, a father-of-two, would be against sharia law.
Prime Minister David Cameron said: "The brutal murder of Alan Henning by Isil [IS] shows how barbaric and repulsive these terrorists are..."
"We will do all we can to hunt down these murderers and bring them to justice."
He said his thoughts were with the family of Mr Henning, who had gone to Syria to "help people of all faiths in their hour of need".
Timeline: The emergence of Isis

Show all 40
Deputy Prime Minister Nick Clegg wrote on Twitter: "Barbaric actions of ISIL are held in complete contempt. We are resolved to defeat this evil."
"Our hearts go out to the British aid worker who we believe is in that video, and to the remaining hostages and to their families."
MPs responded with horror to the murder. Tim Farron, the Liberal Democrat president, said: "Alan Henning should be remembered for what he was - a kind hearted, selfless man who wanted to help others. My prayers are with his family."
Shadow cabinet minister Jonathan Ashworth described it as, "dreadful devastating news," while Labour's Pat McFadden said the "senseless killing of an innocent man" was "an attack on humanity".
Barack Obama's counterterrorism adviser, Lisa Monaco, said: "This is again yet another just very clear example of the brutality of this group, and why the president has articulated and is moving out in a comprehensive way to degrade and destroy ISIL."
British Muslims have condemned the murder of Mr Henning and accused the Isis killers of having "no regard" for Islam.
Dr Shuja Shafi, Secretary General of the Muslim Council of Britain, said: "This reported murder is a despicable and offensive act, coming as it does on the eve of the Muslim festival of Eid Al-Adha.
"It is quite clear that the murderers of Alan Henning have no regard for Islam, or for the Muslims around the world who pleaded for his life.
"Alan was a friend of Muslims, and he will be mourned by Muslims.
"In this period of Hajj and this festival of Eid, Muslims remember the mercy of God and the emphasis God places on human life.
"Alan Henning's murderers have clearly gone against that spirit of Islam. Our thoughts and prayers go out to his family."
Mohammed Shafiq, chief executive of the Ramadhan Foundation, called Mr Henning "a British hero" and said the "barbaric killing is an attack against all decent people around the world".
Earlier this week Mr Henning's distraught wife, Barbara, made a desperate plea to Isis to release him after he was shown in the video revealing Mr Hain's death. She said: "Some say wrong time, wrong place. Alan was volunteering with his Muslim friends to help the people of Syria. He was in the right place doing the right thing."
Friends and co-workers have described him as "caring", "funny" and someone who "gave more than they got". Henning made the decision to volunteer after being inspired by aid workers who had already been out to Syria, and even had the words "aid for Syria" tattooed on his arm. Henning raised money for Syrian-based charities by washing cars and chose to sleep in a van on his journey across the Middle East rather than spend money on accommodation that might be spent on those in need.
The video of his murder came shortly after the elderly father of British journalist John Cantlie delivered an emotional plea from his hospital bed urging Islamist militants to free his son.
Surrounded by monitors, his hand shaking and speaking with the assistance of an electronic voice aid, Paul Cantlie, 81, said: "To those holding John, please know that he is a good man. He sought only to help the Syrian people and I ask you from all that is sacred to help us to allow him to return safely to those he loves and those who love him," he said.