Alton Towers crash: Leah Washington, 17, has leg amputated after The Smiler accident
The teenager's left leg had to be amputated above the knee and she also suffered a fractured left hand
Lizzie Dearden
Monday 08 June 2015 16:20 Comments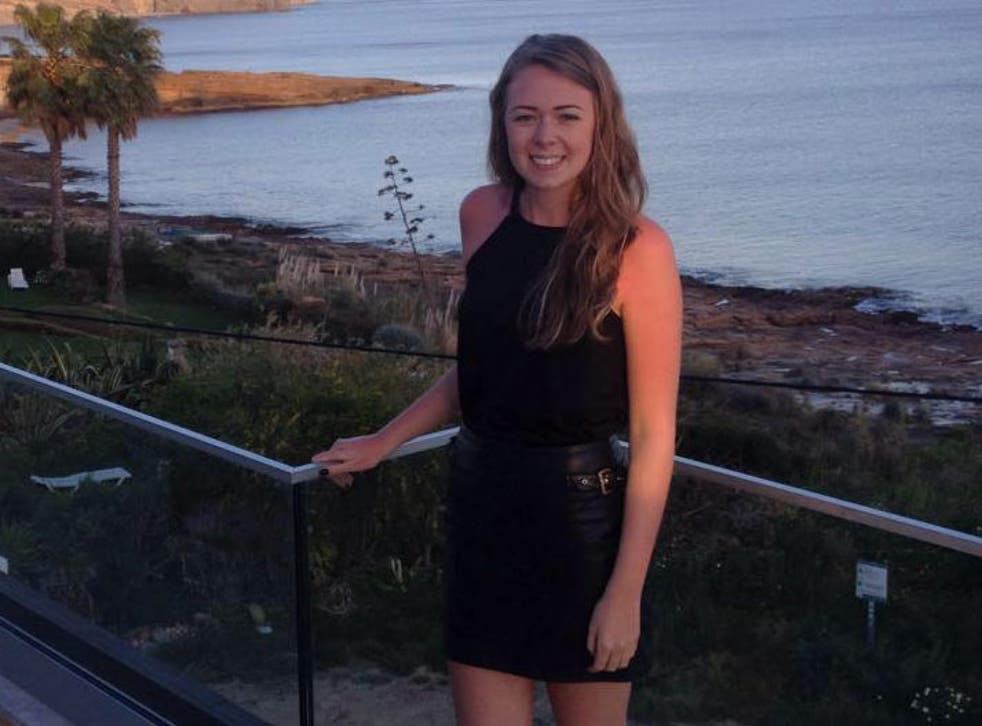 One of the teenagers hurt in the Alton Towers crash has had her leg amputated because of the extent of her injuries.
Leah Washington's father, Daniel, confirmed the extent of the 17-year-old's treatment today after days of rumours.
"We would like to thank our family and friends and all the well-wishers for their support," he said.
"Leah has suffered a life-changing injury and now has many months of rehabilitation ahead of her.
"We have done this to put people's minds at rest and we would also ask everyone to respect Leah's privacy as she undergoes this rehabilitation.
"We would like to thank all the emergency services at the scene and all the hospital staff who saved Leah's life."
Ms Washington has had her left leg amputated above the knee and is also being treated for a fractured left hand at the Royal Stoke University Hospital, which described her condition as "serious but stable".
Alton Towers re-opened today for the first time since she and three other people were seriously injured in a crash on The Smiler last week.
Her boyfriend Joe Pugh, from Barnsley, suffered two broken knees and extensive hand injuries and is in a stable condition at the same hospital.
The 18-year-old's father, Simon Pugh, said: "I would like to thank our friends and family for their support.
"We would also like to thank the staff at the hospital who have been very accommodating, have been lovely to us and have protected our privacy.
"We would ask people to respect Joe's privacy now and over the weeks and months ahead."
Vicky Balch, 20, from Leyland in Lancashire, suffered potentially life-changing injuries in the crash and is expected to make a "substantial claim for damages" to support her recovery.
A spokesperson for the Royal Stoke University Hospital said she was in a "serious but stable" condition but that her family did not want to comment.
Her boyfriend, 27-year-old Daniel Thorpe, was taken to University Hospital Coventry and treated for a collapsed lung and fractured leg.
They were in the front row of a carriage of The Smiler that was carrying 16 people when it smashed into an empty cart sitting stationary on the track after a test run.
Shocked onlookers described "blood everywhere" after the crash, which came minutes after people queuing were told the ride was having "technical issues" on 2 June.
Vanisha Singh, 29, who was sitting with her mother and sister in the carriage that crashed, told The Sun it was "terrifying".
"There was blood all over the floor because it was pouring out of their legs in the carriage and dropping down," she added.
"The doctors and firemen were covered in blood as they scaled the scaffolding to treat the guys on the front row."
Another man on the ride, who gave his name as Oli from Wimslow while speaking to Heart North West radio, said they saw the carriage a head "a second or two" before the impact.
"Obviously we all just screamed and held on for dear life as we hit the back of it," he added.
"The people in front where they hit it were obviously in quite a lot of pain so they were screaming.
"A lot of people were coming to the side of the barrier and the people in front were screaming 'Get some help, get some help'."
He described watching blood "dripping all over the floor" and seeing a young woman with a "severely damaged leg".
Another passenger on the ride reportedly underwent stomach after suffering internal bleeding caused by the accident.
Chanda Singh, 49, from Wednesbury in the West Midlands, was sitting in the second row of The Smiler with her daughters Meera, 26, and Vanisha, 29.
Meera told the BBC that the family returned home in a taxi after the crash, before going to Manor Hospital in Walsall, where her mother had surgery to her stomach and is receiving treatment for a damaged liver and blood clots.
An unnamed patient, who was not seriously injured, was taken to Royal Stoke University Hospital by ambulance from Alton Towers and discharged later on Tuesday.
The X-Sector of Alton Towers - which houses The Smiler - will remain closed until further notice to allow the Health and Safety Executive access to the ride for investigations.
Nick Varney, the chief executive of park owners Merlin Entertainments, said the Staffordshire attraction has a good safety record and is committed to ensuring people can visit "with confidence".
He added: "The accident last Tuesday was a terrible event for everyone involved. We are very aware of the impact it will have on those involved and we are doing all we can to provide our support to those injured and their families.
"We closed the park immediately whilst preliminary investigations took place and to give our staff time to come to terms with the accident and its aftermath.
"In recent days our management team have been engaged in a thorough review of our operating and safety procedures before making the decision (to re-open)."
Merlin is thought to have racked up losses of around £500,000 a day since the incident and has faced accusations that staff waited for 10 minutes before making the first 999 call, despite screams from injured passengers on board The Smiler.
Additional reporting by PA
Register for free to continue reading
Registration is a free and easy way to support our truly independent journalism
By registering, you will also enjoy limited access to Premium articles, exclusive newsletters, commenting, and virtual events with our leading journalists
Already have an account? sign in
Join our new commenting forum
Join thought-provoking conversations, follow other Independent readers and see their replies