Thousands of asylum seekers and migrants wrongly denied NHS healthcare
Exclusive: Cancer sufferers requiring urgent medical care erroneously turned away by NHS overseas departments amid crackdown on overseas patients accessing free healthcare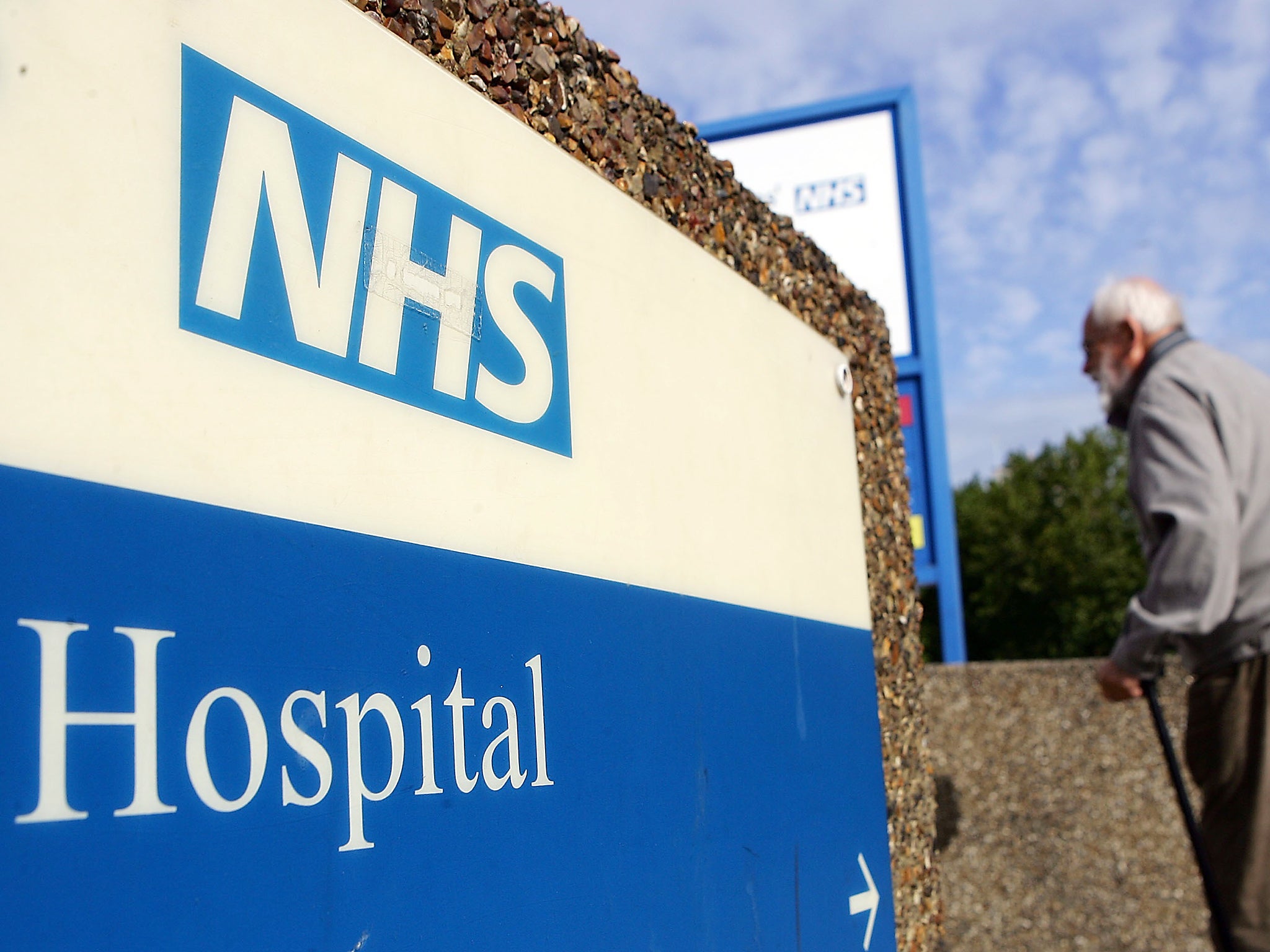 Thousands of asylum seekers and migrants have been wrongly denied NHS healthcare, in some cases being refused treatment despite suffering from life-threatening conditions such as cancer and heart disease, doctors have warned.
Undocumented migrants with urgent care needs have been refused treatment by hospitals, despite NHS guidelines that state no one should be refused urgent or immediately necessary treatment because they cannot pay, The Independent has learned. A large number of migrants have also been wrongly turned away from registering at GP surgeries on the grounds that they did not provide identification documents.
In other cases, The Independent has seen emails showing asylum seekers who have the right to free healthcare have been wrongly charged for hospital treatment, sometimes up to thousands of pounds each.
The erroneous refusals and charges come amid a crackdown on the cost of overseas visitors using the NHS. A memorandum of understanding published in January stated that NHS digital was required to share patient information with the Home Office, while new measures that came in at the start of April require hospitals to check whether patients are eligible for free care on the NHS before providing most kinds of care.
Doctors and campaigners have warned these changes are increasingly discouraging people from accessing healthcare, with potentially fatal consequences.
Doctors of the World, which runs clinics for undocumented migrants and asylum seekers in the UK, said more than a fifth (22 per cent) of its patients are wrongly turned away from an NHS GP or hospital because they did not have ID or address documents. The charity, which saw 1,758 people at its UK clinics last year, warned that the cases it encounters are the "tip of the iceberg", with thousands of vulnerable people across the UK also being affected but unable to access secondary support.
In one case seen by the charity, a man suffering from a heart condition was refused treatment by a hospital despite being in a "high risk" condition. Another male asylum seeker, who had been in the country for more than 10 years, was refused treatment for kidney cancer. In both cases, Doctors of the World intervened and ultimately had to involved solicitors, at which point the hospitals agreed to treat the patients.
Phil Murwill, Doctors of the World's UK programme manager of services, said: "The rules are very clear that these men should have been treated. Either the hospital somehow didn't consider it to be urgent or they just weren't applying to regulations that something that is urgent must be provided with care.
"In the end we had to get some legal advice. Once the solicitors had written an enquiring letter to the hospital, the bills were written off. But there are probably lots of cases where no one is advocating for the person, and they accept it.
"We've seen quite a few cases like this where someone requires care that is urgent or immediately necessary and so should be provided, but the overseas team has had information from the Home Office saying this person isn't eligible for this care, and they'll pass it onto the clinician.
"And we know that this is the tip of the iceberg and what we're seeing are not isolated cases, but situations that are happening across London and across the country. We are concerned that thousands of people across the UK are being affected by this."
Clinical staff working in NHS hospitals warned the new regulations that have come into force this month, which require hospitals to refuse treatment to undocumented patients unless their health needs are urgent or immediately necessary, could lead to an increase in these sorts of errors, with potentially fatal consequences.
Erin Dexter, a fifth year medical student at UCL and a member of campaign group Docs Not Cops, who has been working in London hospitals, told The Independent: "There's going to be a lot of confusion about this. There will be misunderstandings about things or rules will be applied wrongly in some cases. Human bodies and illness are unpredictable things. You don't know when someone's relatively stable condition is going to rapidly deteriorate.
"If you don't treat someone's diabetes then they're not going to die in the next 24-hours, but there will be serious consequences of that in the longer term. Someone was recently told by a hospital in Sheffield that they weren't going to treat his stomach ulcer, but that he should come back when it bursts. Emergency services are so much more costly, and when people get sicker of course it's more expensive to then treat them. It doesn't make fiscal or moral sense."
The Independent has also found that hospital overseas departments have also charged asylum seekers up to thousands of pounds in bills for medical treatment NHS guidelines state they should be exempt from. One male asylum seeker received invoices for a bill amounting to £2,205 for medical treatment he had on a broken knee cap, and it wasn't until an independent caseworker intervened that it transpired he was in the process of appealing his asylum claim, meaning he was exempt from the charges.
An email exchange between the caseworker and the overseas department at Barking, Havering and Redbridge University Hospital Trust shows that after the caseworker said the man was in the process of appealing his asylum claim, the department conceded that he was exempt from the charges, saying information it received from the Home Office had been "incomplete".
The email, signed by the overseas development officer Graham Nugent, read: "I have now obtained formal confirmation from the Home office X is no longer considered an asylum seeker. They also confirm X is still in receipt of section 95 support and has been since 26/05/2016 as X commenced outpatient services on 1st June 2016 whilst in receipt of section 95 support he was and remains exempt from NHS charges.
"The previous advice we received from the Home Office was incomplete, the NASS information being absent. I hope that you will accept our apologies and that we have acted as promptly as we could to confirm your assertion that X was in receipt of this support. Information which we are dependent on the Home office to provide to us."
When contacted by The Independent, Mr Nugent said he was unable to discuss individual cases, but he asserted that although mistakes "can happen on occasion" because there "may be communication issues", all asylum seekers are entitled to NHS services free of charge.
"As a general principle, all asylum seekers are provided with NHS services free of charge, and their access to service shouldn't be restricted. If information is unclear it needs to be clarified with the Home Office, but we expect this information to be definitive," said Mr Nugent.
"I can see mistakes happening on occasions, but it shouldn't occur on mass, and it shouldn't occur very frequently. If there was some contradiction of that information — from the person or solicitor — then you'd have to investigate that, but you'd have to go by what's in front of you.
"There will be problems because there may be communication issues, but asylum seekers are entitled in law to receive those services provided by the NHS Trust, and that is what we should do."
Caseworkers have said these sorts of errors have been on the rise since the start of the year, and prompt serious concerns that there is likely to be a large number of asylum seekers with a right to free healthcare who are trying to pay off heavy charges they should be exempt from.
Lucinda Hiam, a GP for Doctors of the World, said: "At our clinics, we see vulnerable people who've been refused healthcare or sent huge hospital bills, even though they have an official status that exempts them from charges.
"We've had to advocate for cancer sufferers and women who have just given birth to have these bills waived. These errors create a massive amount of stress and anxiety for people such as asylum seekers and trafficking survivors, who are often already afraid of going to the doctor."
It comes amid warnings that a growing number of undocumented migrants are not accessing healthcare for fear it interfering with their asylum claims, after the Home Office announced in January that NHS digital is required by law to hand over non-clinical patient details.
Doctors of the World said since the start of the year there had been a rise in numbers of asylum seekers, trafficking victims and undocumented migrants coming into their clinic saying they did not want to go to the GP or hospital because they were afraid they would be charged thousands of pounds or reported to the Home Office. More than one in 10 (11 per cent) of the charity's patients have refrained from going to a doctor or hospital because they feared arrest.
Last month, the charity revealed that pregnant women were refraining from getting antenatal care during their pregnancies because they were "too frightened" to seek NHS care due to their immigration status, despite NHS guidelines stating that "no woman must ever be denied, or have delayed, maternity services due to charging issues".
"People are worried about accessing healthcare and seeing a doctor. With the revelations in the last weeks and months that the Home Office has a memorandum under NHS Digital, meaning they're able to access NHS data, people have been left in doubt about what they can access and what they can access safely," said Mr Murwell.
"I can think very clearly of a few cases we've had this year. A woman who came to us initially and she see our GP and she had a breast lump. We arranged for her to see an NHS GP the next day for suspected cancer, but instead of going to the breast clinic appointment she turned up here because she was fretting and really anxious about going.
"It happens a lot with women requiring antenatal care. Last month we spent about 90 minutes with a woman just talking her through the fact that it wasn't going to be a good idea to wait until she's in labour and attend A & E. People are at the point where they know they really need treatment, but can't bring themselves to access it.
"A good proportion of surgeries are providing good practice and supporting vulnerable people in a good way, but where it's not happening, it is quite striking. And sometimes just discriminatory, abusive, racist treatment from frontline staff, which I would certainly attribute to the fact that society blames certain sectors of society for problems within the NHS."
When asked about the erroneous refusals and charges, a Department of Health spokesperson said: "Hospitals in England are legally obliged to check whether patients are eligible for free NHS treatment and recover costs where charges apply — but our guidance specifically says that some vulnerable groups including asylum seekers are exempt from charging for hospital care. Certain qualifying asylum seekers will also be exempt from other NHS charges, such as the prescription charge."
Join our commenting forum
Join thought-provoking conversations, follow other Independent readers and see their replies