Orphan threatened with deportation after mother's death granted temporary leave to remain
Supporters say 10-year-old was almost deported to 'a country he doesn't know and a language he cannot speak'
Lizzie Dearden
Home Affairs Correspondent
Tuesday 03 July 2018 09:03 Comments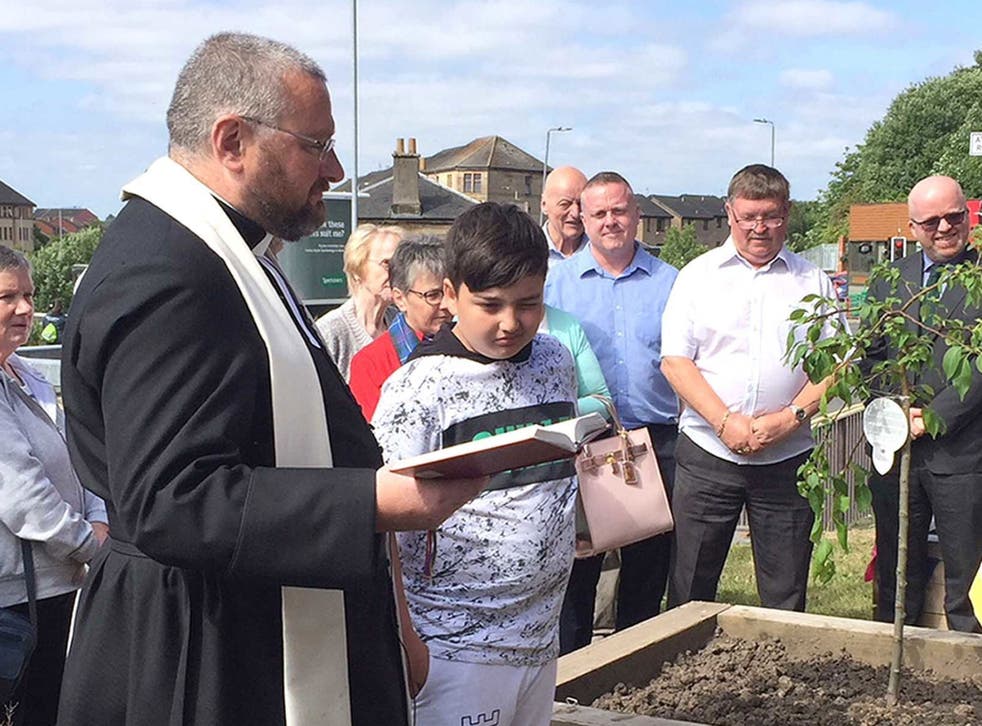 A 10-year-old orphan who was threatened with deportation after his mother's death has been granted temporary leave to remain in the UK.
Giorgi Kakava left Georgia when he was three and has no memory of the country, or knowledge of its language, and considers Glasgow his home.
His mother Sopio, known as Sophie, fled to Scotland after her husband was killed by gangsters and died in February of what friends described as a "long and painful illness".
She was awaiting the outcome of an asylum application and her death left Giorgi and his grandmother Ketino Baikhadze under threat of deportation.
Rev Brian Casey, of Springburn Parish Church in Glasgow, started a petition to the home secretary that has so far gathered almost 72,000 signatures.
"Giorgi is a gentle, thoughtful, intelligent and funny boy," he wrote.
"Sophie was in the middle of an asylum application when she died and this has left Giorgi at threat of deportation to a country he doesn't know and a language he cannot speak.
"Giorgi is, to all intents and purposes, Scottish and is doing well at his primary school. If he was returned to Georgia against his will, he would be under threat…this is the only home he has ever known."
Secret filming shows home Office official telling man facing deportation it is his job to 'p**s him off'
The campaign caused the case to be raised in the House of Commons by local MP Paul Sweeney and at the Scottish Parliament.
Theresa May promised Sajid Javid would take a fresh look at the application and Giorgi has now been told he will be able to stay in Glasgow with his grandmother for two-and-a-half years, when they will be able to lodge a fresh asylum application.
Mr Sweeney said he was delighted with the outcome but remains concerned about other asylum cases, amid outrage over the government's use of indefinite immigration detention and its treatment of the Windrush generation.
"The hostile environment policy raises serious questions about how it is actually harming people on a more systematic level," the Scottish Labour MP added. "It shouldn't take me to raise this issue with the prime minister
"There are more cases I am currently dealing with and these people are all motivated citizens that want to contribute to society."
Members of Springburn Parish Church were told of the decision on Monday at a service to dedicate a tree and bench to Giorgi's mother.
Rev Casey said he was pleased with the home secretary's intervention but feared what would happen when the term of leave ends.
"We have to think about what is happening then, so the fight continues and it has really shone a light on the immigration policy and how the Home Office works," he added.
UK news in pictures

Show all 50
Giorgi's grandmother feared his life would be in danger if he was sent back to Georgia and thanked the local community for supporting them.
Ms Baikhadze said: "I am very happy about Giorgi's life, it is very good. He has a nice life now."
Local MSP Bob Doris, who raised the issue at Holyrood, said the decision was a "victory for common sense".
"It is absolutely shocking that a 10-year old orphan was being threatened with deportation in the first place," he added.
"This this can't just be a reprieve for one young boy while thousands more across the country are threatened and sent back into danger."
Green MSP Patrick Harvie warned that other children could be left in a similar plight "unless the UK changes its morally bankrupt immigration system".
A Home Office spokesperson said: "We offer our sympathy to Ms Batkhadze and her grandson Giorgi.
"We considered their individual circumstances and their application on compassionate grounds.
"Ms Batkhadze and her grandson Giorgi have been granted discretionary leave to remain in the United Kingdom."

The government has performed several U-turns on planned deportations amid increasing pressure over its "hostile environment" policies and deportation targets.
Earlier this month it halted the removal of a Vietnamese modern slavery victim who was trafficked to the UK by a drugs gang and it previously cancelled a planned charter flight that was to take British residents to Jamaica.
In September, the High Court ordered the government to fly an Afghan asylum seeker who had been threatened with beheading by the Taliban back to the UK after he was deported to Kabul.
Britain is the only country in Europe to hold migrants indefinitely in immigration detention centres, where detainees have killed themselves and been abused by G4S guards.
Additional reporting by PA
Register for free to continue reading
Registration is a free and easy way to support our truly independent journalism
By registering, you will also enjoy limited access to Premium articles, exclusive newsletters, commenting, and virtual events with our leading journalists
Already have an account? sign in
Join our new commenting forum
Join thought-provoking conversations, follow other Independent readers and see their replies