As it happened
ended
1526741553
The alternative royal wedding - live: UK gripped by excitement as tree identification walk begins
Follow all the thrilling developments, as they happen, with no added sycophantic fawning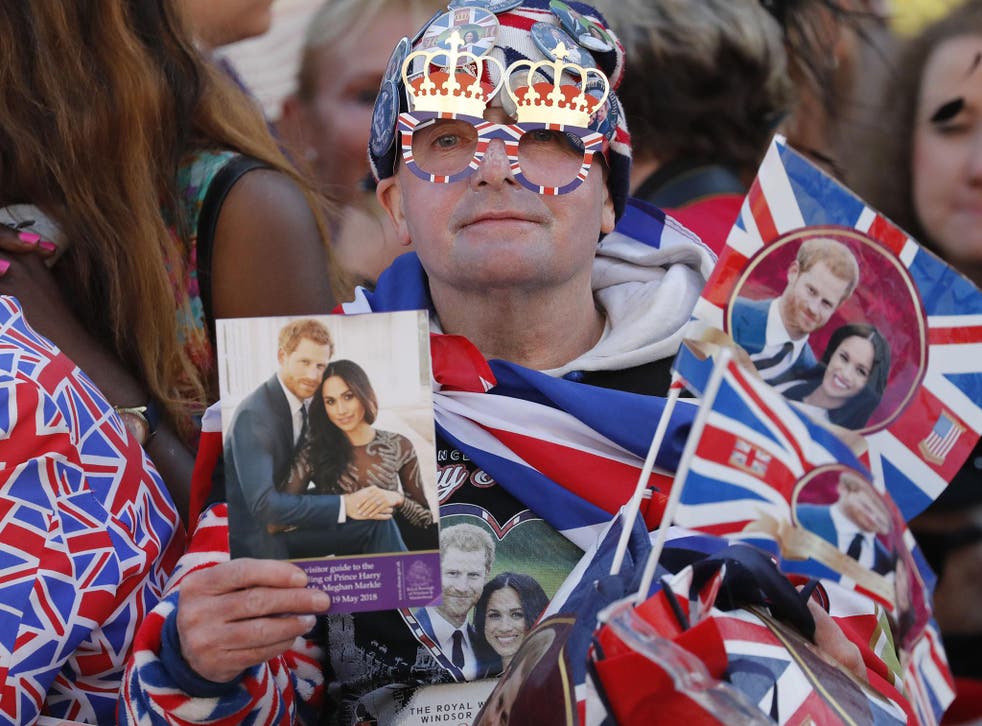 And so a momentous day draws to a close.
On Saturday May 19 2018 a tree identification walk was held in north London, and locomotive 7820 charmed everyone who saw her looking so radiant in her beautiful British Railways livery.
This was the day when the people of Britain got to enjoy American Dream followed by WTF (3.9 per cent alcohol by volume, at the Gloucestershire Warwickshire Spring Steam and Real Ale Weekend).
And apparently two people got married.
At considerable cost, to possible public indifference and definite media hysteria.
Relive all the excitement here, if you can bear to:
1526713937
We were right!  As exclusively predicted here just a minute ago, there IS a wedding happening somewhere.  
And not just in the register office, either.  They've booked the castle, because his grandma owns it. 
And they've invited a load of people along to join them
adam.lusher
19 May 2018 08:12
1526716106
So, apparently some people think this "Royal Wedding" thing is quite a big deal – The Independent is even running its own liveblog about it.
But, frankly, that's nothing compared to what Sky News is doing.
"In a world first for any royal event," says the Sky News story about Sky News, "Sky is to broadcast Prince Harry and Meghan Markle's big day in ultra-high definition (UHD)."
This, surely, is what HD TV was invented for.
John Ryley, head of Sky News, told Sky News: "It means that our viewers on Sky will be able to see the wonderful occasion in extraordinary clarity."
And if that were not clear and wonderful enough, it also means that British journalism and the British public will finally get what they have been crying out for all these years: ultra-high definition Kay Burley.  
She's the lead presenter, alongside Anna Botting.
We'll be dipping in and out of this wedding thing, while keeping you up to date with all today's steam railway, tree and Tokyo SexWail news.
adam.lusher
19 May 2018 08:48
1526716726
For an analysis of what to expect from this royal wedding, try Mark Steel's analysis here.
But perhaps being told by Kay Burley that "even the flies are buzzing with a joyful air" does not appeal,
So here are a few things you could be doing instead.
And here are a few more things:
Enjoy steam and heritage diesel train rides through the Cotswolds between Broadway and Cheltenham, while sampling 36 different beers chosen by the Campaign for Real Ale (CAMRA).
There's a chance to see steam locomotives like the restored Great Western Railway engine Dinmore Manor, and the way the beer list has been compiled, it looks almost as if someone is trying to tell us something.
American Dream (3.9 per cent alcohol by volume) is immediately followed by WTF (3.8 per cent).
Elsewhere, you can stop looking at the TV and start looking at the countryside at the Lincolnshire Wolds Walking Festival, featuring more than 100 walks through an Area of Outstanding Natural Beauty.
And if you can get there before the 11am start, there is the Great British Dog Walk, raising money for Hearing Dogs for Deaf People, in Lyme Park, Disley, Stockport.  The organisers say: "The walks offer glorious countryside and stunning views across Manchester. Lyme Park was also used as a filming location for the BBC Pride And Prejudice TV series which starred Colin Firth as Mr Darcy."
And of course, there's no forgetting that tree identification walk.  It sets off from the Highgate Wood information hut at 11am.
The wood has more than 50 species of trees and shrubs, including the wild service tree, an indicator of its ancient origin.  
It's an oasis of calm in the middle of London, which you might think is much needed today.
Plus it's wood, in springtime.  You're going to hear the twitter of birdsong, not the wittering of royal correspondents – and you can ignore that other Twitter.
And thank you, Chris Jacobsen, commenting below, who tells us that the tree nearest the camera in the photo above is a hornbeam.
But if you really are insistent on staying glued to the royal wedding TV coverage, maybe you'd like to know that today is also World Whisky Day.
adam.lusher
19 May 2018 08:58
1526717577
It's a tough job, beating ultra-high definition Kay Burley,
But the BBC's going to try.
Auntie has brought out all the big guns for this one: Edwards [Huw], Young [Kirsty], O'Leary [Dermot], and Moffatt [Scarlett].
"Radio 1's coverage," the BBC informs us, "Will be led by Moffatt, a former Gogglebox star."
Thank God the BBC has pulled its socks up since the days when it had to rely on rank amateurs like trained journalist Richard Dimbleby to anchor its coverage of the Queen's Coronation.
Moffatt has won I'm a Celebrity … Get Me Out of Here!  All Dimbleby did to get the Coronation gig was become the BBC's first war correspondent.  
adam.lusher
19 May 2018 09:12
1526718237
The BBC has just told us that one US channel has bought 15 anchormen and women down to Windsor, and that "the world is watching".
But is it?  And, in particular, is Britain?
In November, when Harry and Meghan announced their engagement, pollsters YouGov found that 52 per cent of Britons weren't interested.  
But perhaps now is not the time to mention such matters.  Or this week's YouGov poll that suggested that the proportion of Britons who were uninterested in the royal wedding had increased to 66 per cent.
The same poll suggested that rather than being glued to the royal wedding coverage, fully 60 per cent of people in the UK would just be carrying on with their weekend as normal.
Only 27 per cent of people - fewer than one in three – would be tuning in to at least some of the royal wedding coverage.
But now is not the time to talk about such matters.
No, now is the time to concentrate on how nice, how selfless, how down-to-earth Prince Harry is.
Which is what Dermot O'Leary is doing, with the help of a couple of his mates.
It might not be what the majority of the people want, but it's what they'll get.
adam.lusher
19 May 2018 09:23
1526719820
As Kay Burley gets excited about cappuccinos where the faces of Meghan and Harry have been drawn into the froth, here are a few other things that have been happening in the world.
America's mass shooting crisis has reached the point where one 17-year-old survivor of the latest school shooting can say: "I wasn't surprised [that there was a mass shooting at her school, I was just scared."
And Theresa May has been accused of cynicism for announcing some controversial, possibly hypocritical House of Lords appointments, on the eve of the royal wedding, when they would be subjected to no scrutiny.
If that was the intention, the ploy is working.
Sky News is talking about a beautiful floral arch; the BBC is discussing how hats are "very difficult".
adam.lusher
19 May 2018 09:50
1526721092
They're due to play Deptford Cinema's festival of movies charting almost a hundred years of filmmaking resistance to the monarchy".
Vocalist Luna Tico, 21, says they are a "punk prog-psych" fourpiece consisting of herself, Nai-ik on guitar, Dougie Wratt on drums and "Doomlord" on bass.
"We are not just a band playing music," she says, "We have a statement to make.  Which is that we are fed up with the way things are and the Establishment.
"We are constantly being bombarded with all these distractions like the royal wedding, like the whole royal family itself.
"Instead of concentrating on distractions designed to bring about loyalty, we really should be thinking about our government and what it is doing. 
"I'm interested in – metaphorically speaking – tearing it down, and using that kind of money for real social benefit and real social change."
Or as she put it on the band's Facebook page: "Let's tell them where to stick their paint brushes! Because we're truly sick of watching over privileged toffs galavanting all over the media, getting praise and money for doing absolutely F All!"  
Ms Tico (not necessarily her real name) says she is thinking of taking to the stage in a suitably regal Elizabethan ruff, while riding on a rocking horse painted in the colours of the Union Jack.
"And the drummer's considering wearing just a big crown and a nappy."
adam.lusher
19 May 2018 10:11
1526722320
And, as a glowering Victoria Beckham glides through them dressed all in black, aren't the streets of Windsor looking lovely?
All red and white bunting and not a beggar in sight.
In January he had reportedly been worried that rough sleepers might show the town in a "sadly unfavourable light" if they were seen on Meghan and Harry's big day.
He had demanded that the police act before the royal wedding to do something about an "epidemic of rough sleeping and vagrancy" that was producing aggressive begging by those who had made a "commercial life choice preying on residents and tourists".
In a letter to Thames Valley Police and Crime Commissioner Anthony Stansfield, Mr Dudley had said the "bags and detritus" of rough sleepers were a "significant security concern", adding: "The level of tourist interest is set to multiply with the royal wedding and there are increased concerns from our residents about their safety.
"The whole situation also presents a beautiful town in a sadly unfavourable light."
But now it seems that everything has been sorted out and it's going to be all right on the day.
Yes, some of the rough sleepers have whinged, with one of them telling The Independent he was worried about the police taking his stuff - (or would Mr Dudley prefer us to say detritus?) – on the basis that "All I've got is a sleeping bag and a couple of clothes."
And yes, that rough sleeper has been backed by a local shopkeeper who seemed to agree with the assessment that the authorities wanted to keep the homeless problem "out of sight and out of mind".
But on this the day of great royal celebration, we really mustn't have unsightly trivia like poverty, addiction or human misery distracting us from what really matters in this country
adam.lusher
19 May 2018 10:32
1526723661
Ah, the joys of royal wedding voxpops: you never quite know what they will bring:
adam.lusher
19 May 2018 10:54
1526725301
And one Independent writer is wondering whether it might be kinder to put everyone, including the royal family, out of their misery and abolish the monarchy altogether.
adam.lusher
19 May 2018 11:21
Register for free to continue reading
Registration is a free and easy way to support our truly independent journalism
By registering, you will also enjoy limited access to Premium articles, exclusive newsletters, commenting, and virtual events with our leading journalists
Already have an account? sign in
Register for free to continue reading
Registration is a free and easy way to support our truly independent journalism
By registering, you will also enjoy limited access to Premium articles, exclusive newsletters, commenting, and virtual events with our leading journalists
Already have an account? sign in
Join our new commenting forum
Join thought-provoking conversations, follow other Independent readers and see their replies