Brexit's architects are hated by British public, chart shows
Boris Johnson, Michael Gove and Nigel Farage's popularity has plummeted since last year's referendum according to polls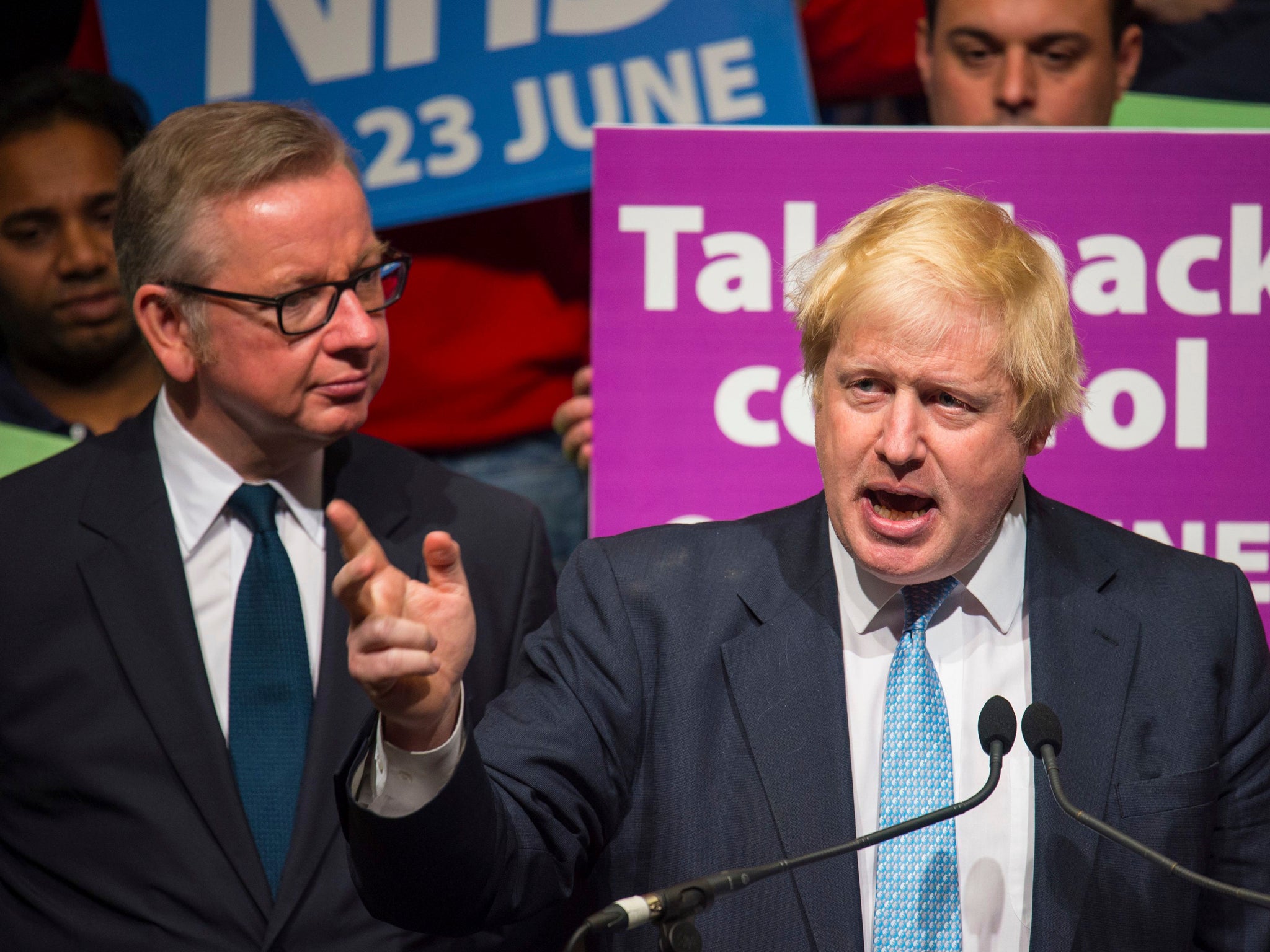 The popularity of some of the key Brexit campaigners, including Boris Johnson, Nigel Farage and Michael Gove, has fallen to record low as the UK marks a year since the EU referendum, a new poll shows.
The survey by YouGov found that the politicians who vigorously campaigned for Britain to leave the 27 nation bloc have become increasingly disliked by the public.
At the time of the referendum last June, a YouGov poll found 40 per cent of respondents said they disliked or really disliked Mr Johnson, while 49 per cent said the same of Mr Farage and 65 per cent for Mr Gove.
A year on and despite voters opting for Brexit, their popularity has plummeted.
A similar poll conducted by YouGov in June this year, showed the proportion of respondents who said they disliked Mr Johnson had increased to 53 per cent.
Dislike of Mr Farage had increased to 78 per cent, while Mr Gove scored a staggering 83 per cent.
During the referendum campaign, Mr Johnson and Mr Gove toured the country on a bus promising voters an additional £350m would be spent on the NHS if the UK left the EU.
Almost immediately after the vote, senior campaigners started to backtrack on it.
The UK Statistics Authority also described it as "potentially misleading". Mr Johnson nonetheless insisted in April that he still stood by his pre-referendum promise.
However, the move does not seem to have affected their politicial lives.
Mr Gove was sacked as Education Secretary in 2014 but was appointed Environment Secretary following the general election.
The move widely criticised by environmental activists, who pointed to his poor record on green issues.
Mr Johnson also continued in his role as Foreign Secretary.
However, Mr Farage, who resigned as Ukip leader following the Brexit vote, has seen support for the party collapse.
The impact of Brexit on the economy is also the cause of growing concerns and for some leave voters, the prospect of Brexit looks less appealing a year on.
Farmers, for instance, warned the price of British strawberries could soar as much as 50 per cent as the industry face the "disastrous and cataclysmic" effects of losing EU workers.
The findings also come as the Brexit negotiations, which started in Brussels this week, got off to a rocky start.
EU Council President Donald Tusk also torpedoed Ms May's proposal on the future of EU citizens living in the UK. He described the offer as "below our expectations" and warned it could make the situation "worse".
Join our commenting forum
Join thought-provoking conversations, follow other Independent readers and see their replies